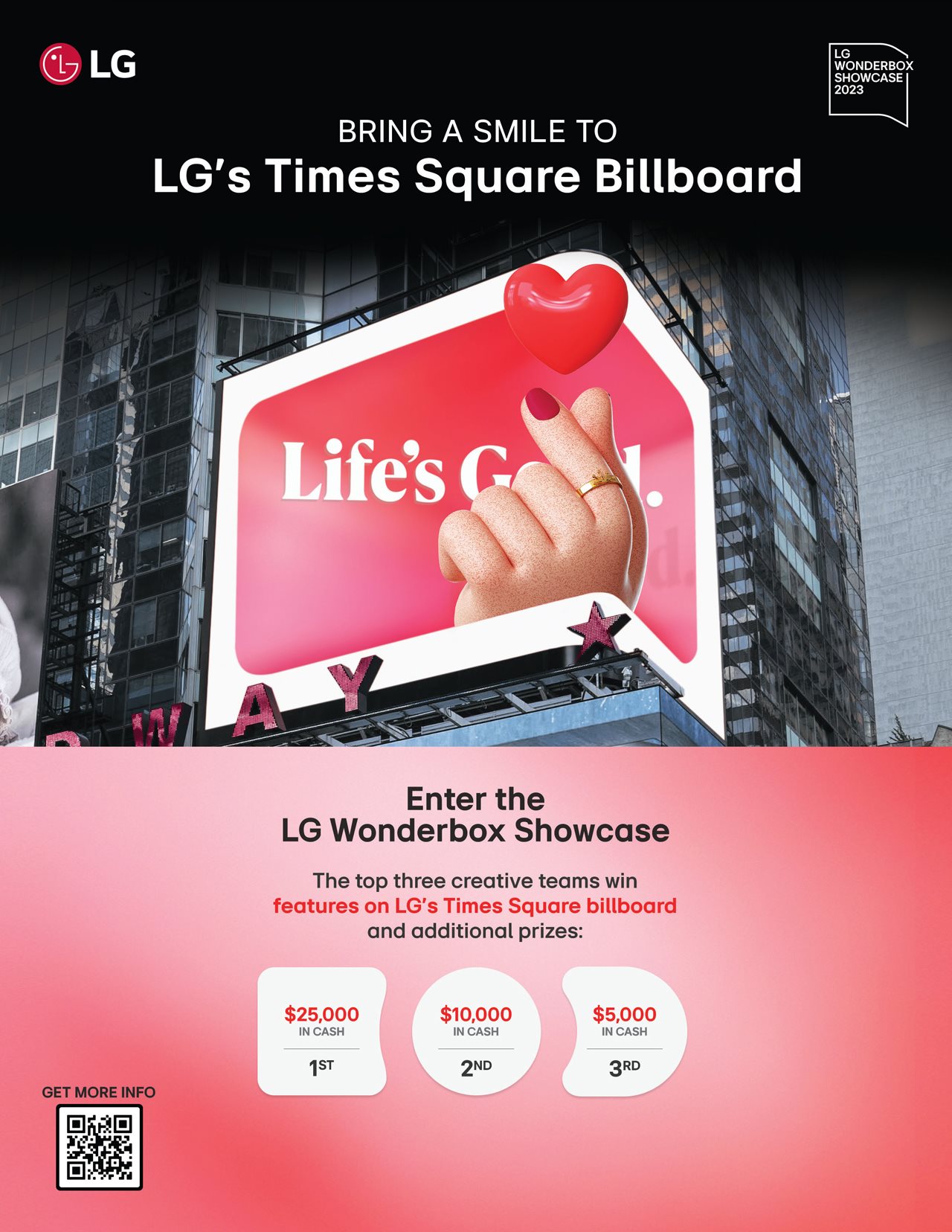 (BPT) - Picture this: your artwork is prominently displayed on an iconic billboard nestled in the heart of New York City's Times Square, where hundreds of thousands of visitors will be inspired by your creativity and feel motivated to make the world a better place. This moment doesn't merely represent artistic recognition — it symbolizes the immense potential of creative expression to inspire and uplift, something we need now more than ever.
Enter: The LG Wonderbox Showcase 2023, a digital art competition for college students that empowers participants to immerse themselves in a vibrant realm fueled by a deep passion for artistry and a steadfast belief that life can be good. Running from Oct. 16 to Nov. 20, the winner's entry will be showcased on LG's Times Square billboard.
Aimed at providing a launchpad for college-aged emerging artists, Wonderbox elevates participants' voices and gives them the tools to make a meaningful impact on the world through their art. This year's theme, "Life's Good with Optimism," harnesses the transformative power of the imagination and an optimistic outlook to bring hope and positive change to the world, encouraging participants to see possibilities and solutions instead of challenges and struggles.
Beyond mere creativity, the program pushes participants' boundaries through immersive and thought-provoking digital 3D experiences, offering a space for artists to break free from the constraints of conventional art mediums, allowing them to create canvases capable of transporting viewers to new realms of possibilities and wonders.
LG Electronics embraces the idea that optimism often thrives when creativity is given a platform to flourish, and that ingenuity fuels the ideas and innovations that make the world a better place. The intersection of art and technology has long been known to produce incredible innovations:
Immersive technology allows us to jump into a piece of artwork using virtual reality.
Artificial intelligence helps even the most amateur artists push their creative boundaries.
3D printing lets artists realize highly complex geometries with a high level of detail.
Mobile applications help us create with the swipe of a finger; no tools needed.
As we find ourselves at an exciting crossroads between art and technology, we are poised to embark on a journey that explores new connections in human creativity and the profound impact of ingenuity. It's a journey fueled by the hope that art can shape our perceptions, challenge our assumptions, and provoke deep thought and emotion.
Now picture this: a business executive is walking through Times Square in the hustle and bustle after a long, stressful day, when she looks up and sees something new and exciting moving across the LG billboard. All of a sudden, she feels inspired and after walking only two more blocks, comes up with the solution to the problem she has been faced with all week.
That is the transformative power of art and technology.