(Family Features) If spending hours scouring store shelves or browsing countless websites for the perfect gift for everyone on your list seems like a daunting task, opt for a more personalized approach: a handmade gift.
DIY mason jar gifts can be easy and affordable solutions when gift lists are running long but time is running short. Plus, crafting something for loved ones this holiday season can show them just how much you care.
From canning and crafting to storage, drinkware and even gardening, Ball Honeybee Keepsake Jars can be used in a myriad of ways, including creating simple yet endearing homemade gifts. Designed to honor the unsung hero of the garden, the honeybee, the collector's edition canning jars feature a unique bee and honeycomb design and highlight the important role these pollinators play in growing foods people love to preserve and enjoy.
Available in sets of four, the versatile, BPA-free jars come with bands and SureTight™ lids that seal for up to 18 months, making them perfect containers for hand-crafted holiday gifts like this Holiday Cookie Mix Jar, which features all the ingredients needed to bake a batch of cookies even Santa couldn't resist. Or share the joy of the season with Handmade Holiday Snow Globes that allow the recipient to shake up a little Christmas spirit anytime he or she desires.
Find more DIY holiday gift ideas at ballmasonjars.com.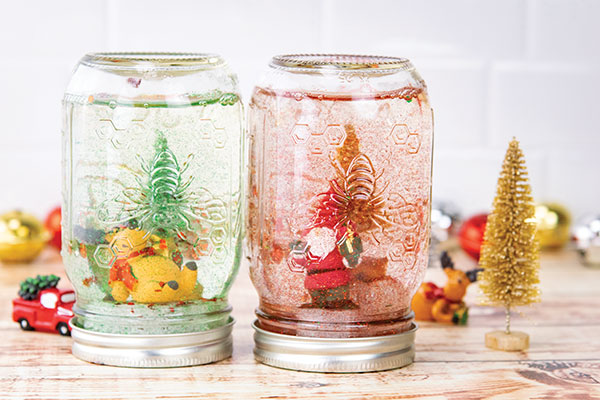 Homemade Holiday Snow Globes
Ball Honeybee Keepsake Jars
Hot glue gun
Hot glue sticks
Foam cubes
Plastic holiday-themed figurines
Glycerin
Water
Red, green or blue glitter
Remove lids from jars. Using hot glue gun, glue foam cube to inside of lids then glue figurines to foam cubes.
Place 1 tablespoon glycerin in jars then fill with water. Sprinkle glitter in jars.
Seal jars by placing lids over mouths of jars and screwing rings onto lids. Flip jars over so figurines are right side up. Shake for snow globe effect.
Holiday Cookie Mix Jar
1 Ball Honeybee Keepsake Jar
1/2 cup granulated sugar
3/4 cup brown sugar
1 3/4 cups flour
1 teaspoon baking powder
1 teaspoon baking soda
1/4 teaspoon salt
crushed walnuts
crushed pecans
white chocolate chips
holiday-themed bow
In jar, layer granulated sugar and brown sugar.
In bowl, mix flour, baking powder, baking soda and salt; add to jar on top of brown sugar. Then layer crushed walnuts, crushed pecans and white chocolate chips.
Seal jar. Wrap top of jar, just below lid, with holiday-themed bow.