(Family Features) Hosting a major holiday event is no small effort. It requires close attention to detail from planning, cooking and cleaning to entertaining guests on the big day. Fortunately, just like any good recipe, approaching your hosting duties one step at a time can allow you to create a magnificent final product.
This Thanksgiving, the experts at Finish are helping hosts everywhere get organized, from the initial planning all the way through clean up, with the Ultimate Thanksgiving Timer. Created in partnership with Gaby Dalkin of "What's Gaby Cooking," it's a personalized hosting timeline designed to help hosts stay on track up to and throughout the big day.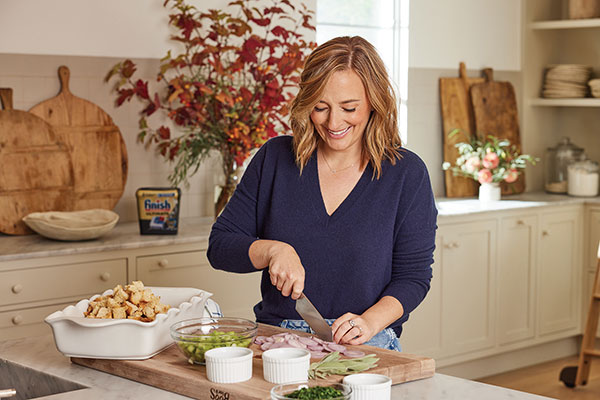 "I've been hosting holiday gatherings for years and know from firsthand experience that even capable hosts struggle to time everything just right," Dalkin said. "From planning your menu and designing your tablescape to accommodating dietary restrictions and even serving dessert, the Ultimate Thanksgiving Timer will support hosts every step of the way this year."
Plan Your Guest List and Menu
Deciding how many guests you'll be serving and what you plan to serve are two essential details that will guide the rest of your planning. When creating your guest list, be realistic about how many are likely to attend and plan your menu for a few extra people so you don't run out of food. Your menu may also be influenced by how many guests you plan to host; a whole turkey is practical for a large group, but a turkey breast may be adequate for a more intimate gathering. Remember to send your invites at least three weeks ahead of the event so guests have plenty of time to respond and you can prepare your menu.
Start Grocery Shopping Early
The rush at the grocery store can be one of the most stressful parts of getting ready to host. Give yourself enough lead time by picking up pantry staples and beverages 1-2 weeks out so your kitchen is stocked for the big day. For perishables, get to the grocery store early in the day 1-2 days before hosting to beat the rush and avoid any last-minute grocery runs the morning of your gathering.
Maximize Prep Time
While it's likely the majority of your work will come on the big day, you can work ahead to reduce some of the load. For example, you can wash and chop vegetables for stuffing and other side dishes and store them overnight to minimize prep time in the morning. You can also use the quiet of the night before to tackle tasks like setting the table and organizing your seating chart, restocking towels and replenishing other essentials in the guest bathroom.
Enlist Help with Cooking
The day of your event is the perfect time to pull extra hands into the kitchen. A simple but tasty recipe like this Ultimate Cheesy Herb Sourdough Stuffing from Dalkin is a sure crowd-pleaser to add to your table this year. Once you establish your cooking space and find your rhythm, you may even find sharing the preparations with a loved one is a great way to bond and create special memories.
Make Cleanup a Cinch
A few simple tricks can help you maintain a relatively clean workspace and keep up with all the dishes you need to prepare a lavish meal. First, be sure to clean up as you go. It may be tempting to throw all of your dirty utensils and empty mixing bowls in a pile in the sink to deal with later, but taking a few minutes to scrape dishes and load the dishwasher as you go can help prevent a messy mountain from forming. That also means you'll be more likely to find a clean measuring cup or spoon when you move on to prepare the next dish.
Hosts have enough to worry about, so let your dishwasher do the hard work and pull in reinforcements to help clean up while you relax after a long day. Use a detergent that works in the toughest conditions, from burnt-on stains to old dishwashers and hard water, like Finish Ultimate. It's the only dish detergent tab with CycleSync technology that releases the right ingredient at the right time to work with your dishwasher.
You can skip the rinse, even on tough stains like cranberry sauce and gravy, and save up to 20 gallons of water. Hosts are invited to put Finish Ultimate to the test and take the Ultimate Thanksgiving Challenge; if it can't tackle your burnt-on stains, the meal is on Finish via a rebate of up to $30.
For more hosting tips and tricks, visit UltimateThanksgivingExperience.com.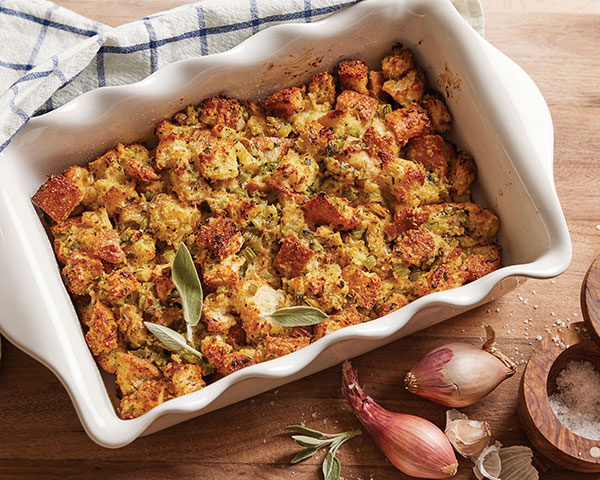 Ultimate Cheesy Herb Sourdough Stuffing
Recipe courtesy of "What's Gaby Cooking" on behalf of Finish
1 loaf sourdough bread with crust, cut into 1-inch cubes (roughly 8 cups)
10 tablespoons butter
2 shallots, finely sliced
2 celery stalks, finely chopped
2 bunches green onions, thinly sliced
3/4 cup chopped fresh Italian parsley
2 tablespoons chopped fresh oregano
2 tablespoons chopped fresh sage
2 tablespoons chopped fresh thyme
3 large garlic cloves, minced
2 teaspoons coarse kosher salt
1 teaspoon freshly ground black pepper
3 large eggs
2 cups chicken broth, divided
6 ounces coarsely grated Parmesan cheese
Preheat oven to 375 F. On large, rimmed baking sheet, spread ripped or cubed bread. Bake until bread is dry, about 15 minutes. Cool. Leave oven on.
In heavy skillet over medium heat, melt butter. Add shallots and celery; saute 5-6 minutes. Add green onions, parsley, oregano, sage, thyme, garlic, salt and pepper; saute until celery is tender, 6-8 minutes.
Generously grease large skillet or ceramic baking dish. Place bread cubes in large bowl. Add warm vegetable mixture; toss to combine.
In medium bowl, whisk eggs and 3/4 cup broth. Add egg mixture to stuffing and toss to coat. Mix in Parmesan.
Add 1/2-3/4 cup broth to stuffing if dry. Transfer to skillet or ceramic baking dish. Cover with buttered foil. Bake 30 minutes. Remove foil; bake until golden, about 30 minutes. Serve in baking vessel or transfer to serving platter.