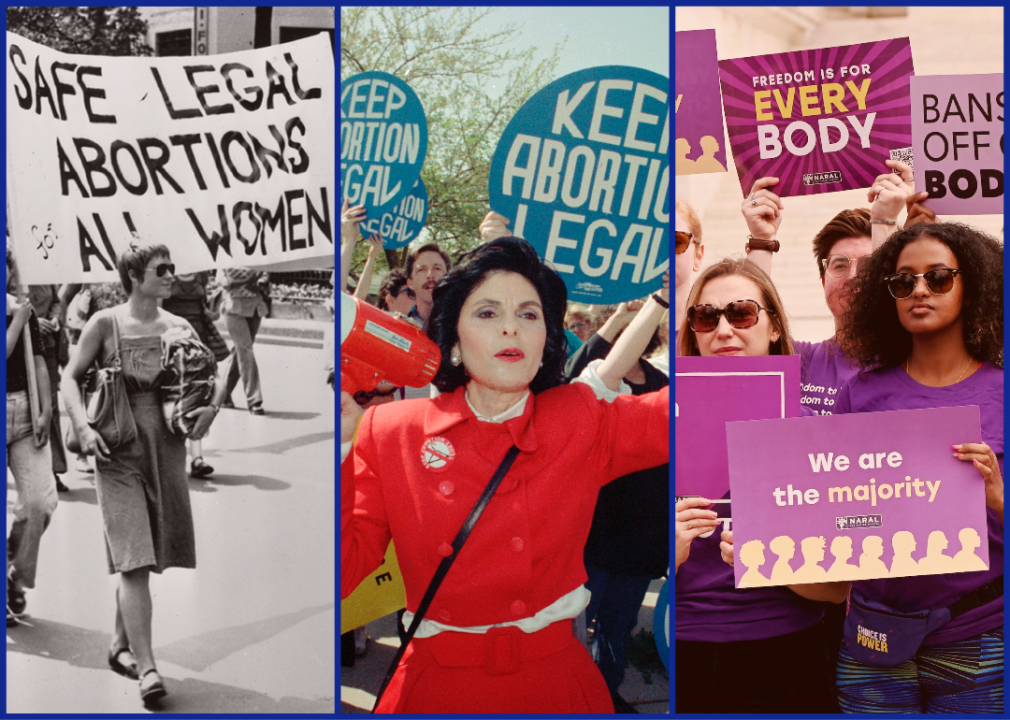 Keystone/Hulton Archive // Getty Images; Bob Riha, Jr. // Getty Images; OLIVIER DOULIERY/AFP via Getty Images
Protest is as American as apple pie—and the road to women's equality has been paved with frequent acts of civil disobedience and everyday rebellions.
Boycotts, public demonstrations, and other forms of protest have been used from time immemorial to further a myriad of causes and have often served to pressure legislators to adopt more progressive policies. Whether abolishing slavery, passing more just labor laws, affording all American adults the right to vote regardless of race or gender, or calling an end to an unjust war, protest at home and abroad has been central to society's advances.
When it comes to the use of protest to push for full gender equality, central is the fight over bodily autonomy; namely, the right for a pregnant person to choose whether to continue that pregnancy or legally and safely terminate it.
Stacker put together a slideshow of 20 photos illustrating the history of reproductive rights protests from 1970 through today.
The landmark 1973 Supreme Court decision in Roe v. Wade rendered criminal abortion bans unconstitutional. In so doing, the ruling cemented access to legal and safe abortions in the United States and fundamentally protected the right to choose for pregnant people, consecrating national values pertaining to rights to privacy, women's ability to control their own bodies, and foundational American concepts of equality and independence.
Prior to Roe, abortions were outlawed in 33 states; in 13 others, the termination of pregnancies was only permissible in special circumstances. Underscoring the reality of unintended pregnancies, researchers from Princeton University in the 1960s estimated that nearly 1 in 3 Americans not desiring more children were likely to have at least one unintended pregnancy before the end of their childbearing years. Further, more than 6 in 10 Americans who eventually wanted children were likely to have experienced at least one unintended pregnancy in their lives.
Since the Supreme Court overturned Roe v. Wade in its 2022 decision in Dobbs v. Jackson Women's Health Organization, 21 states banned abortion or limited its access to a narrower window of time than that established by Roe v. Wade.
Keep reading to learn more about the fight for reproductive rights from 1970 through today.
Aug. 26, 1970: Women's Strike for Equality in NYC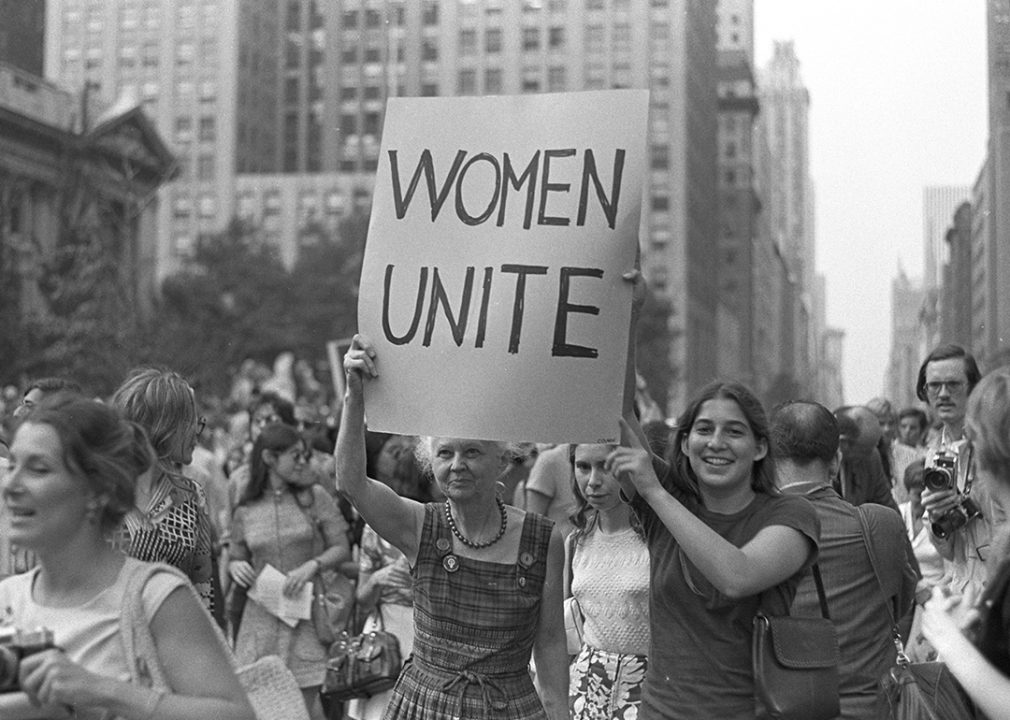 Bob Parent // Getty Images
The Women's Strike For Equality, which featured a march down Fifth Avenue in New York City, was organized by the National Organization for Women to proclaim that "women do not yet have the full freedom and equal status that is their birthright as human beings." The event also marked the 50th anniversary of the 19th Amendment's ratification and advocated for federally secured legal abortions, workplace equality, and free child care.
Nov. 20, 1970: Pro-choice demonstration in Washington D.C.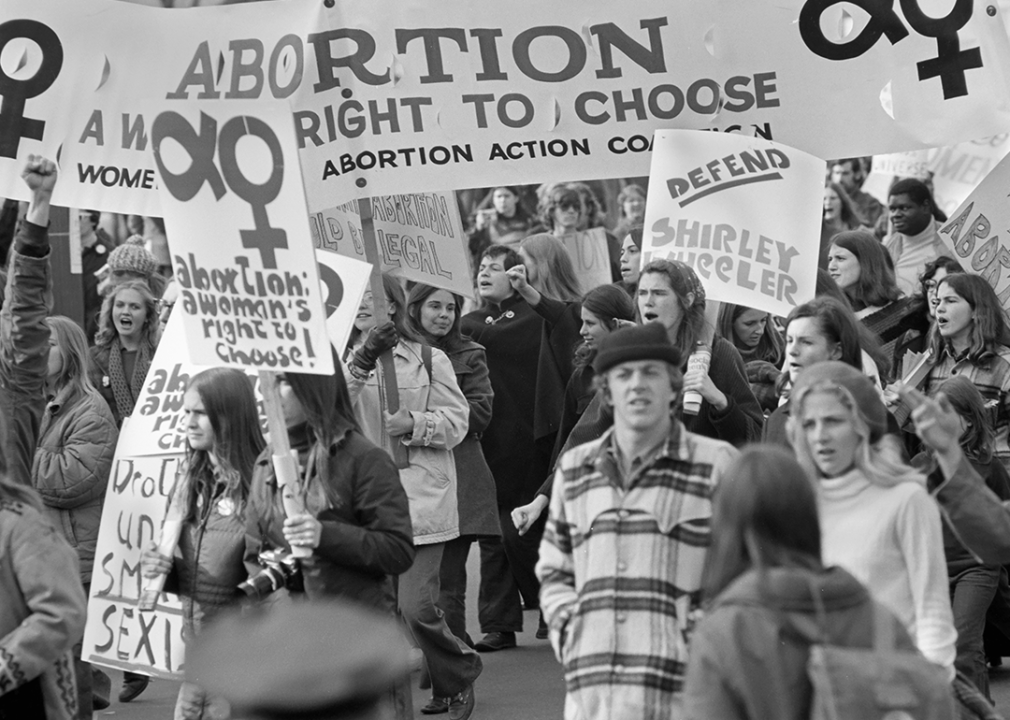 Leif Skoogfors // Getty Images
In this photo, pro-choice demonstrators march with signs on Pennsylvania Avenue in Washington D.C. One of the signs reads "Defend Shirley Wheeler," referencing the first woman prosecuted under Florida's abortion laws, and among the first in the country, for having an illegal abortion.
Wheeler was convicted the following year.
March 8, 1975: International Women's Day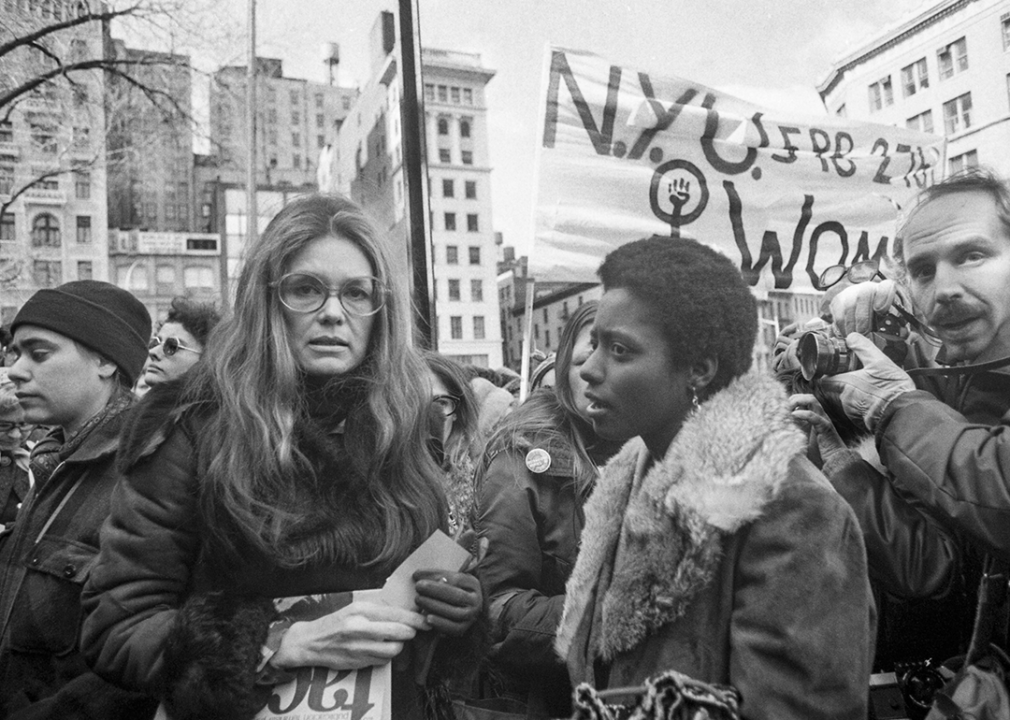 Bettmann Archive // Getty Images
International Women's Day was first observed in the early 1900s when 15,000 women in 1908 marched through New York City demanding equal rights. The United Nations officially marked the day in 1975; that year's event brought together famous activists to advocate for women's rights.
This photo shows feminist Gloria Steinem chatting with marchers and reporters ahead of the event's march, which commenced in Midtown Manhattan. About 2,000 women from all walks of life joined the solidarity march to advocate for full economic, political, legal, sexual, and racial equality and bodily autonomy.
June 18, 1979: Pro-choice rally in Boston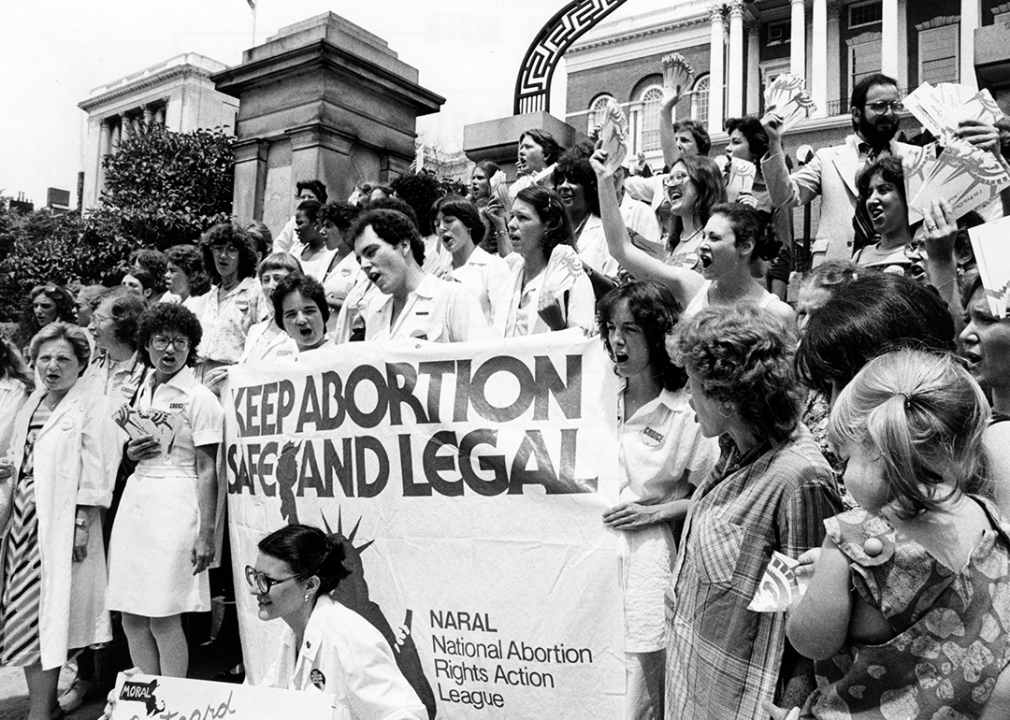 George Rizer // The Boston Globe via Getty Images
Demonstrators in this photograph stand on the Massachusetts State House steps during a pro-choice rally in Boston. Members of the National Abortion Rights Action League hold a sign reading "KEEP ABORTION SAFE AND LEGAL."
Aug. 10, 1980: People's Convention in NYC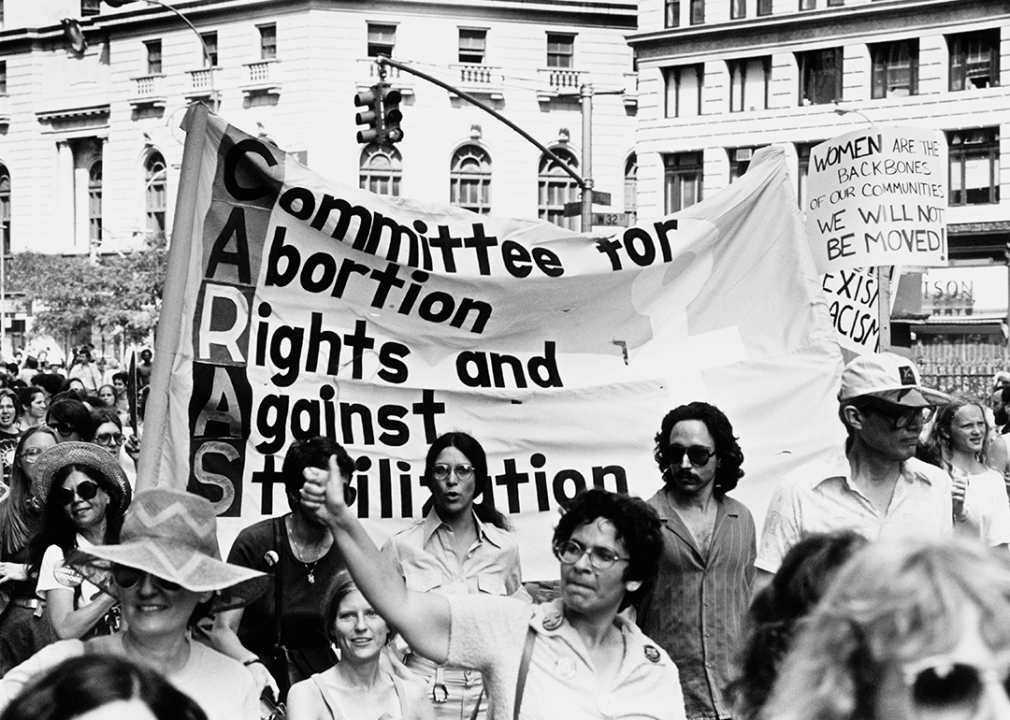 Barbara Alper // Getty Images
Members of the Committee for Abortion Rights and Against Sterilization take part in a People's Convention in New York City, just before the start of the Democratic National Convention on Aug. 11, 1980, which nominated President Jimmy Carter and Vice President Walter Mondale for reelection. Republican Ronald Reagan, the former actor and California governor who had strong antiabortion views, won in a landslide over Carter.
July 9, 1989: Rally against anti-abortion violence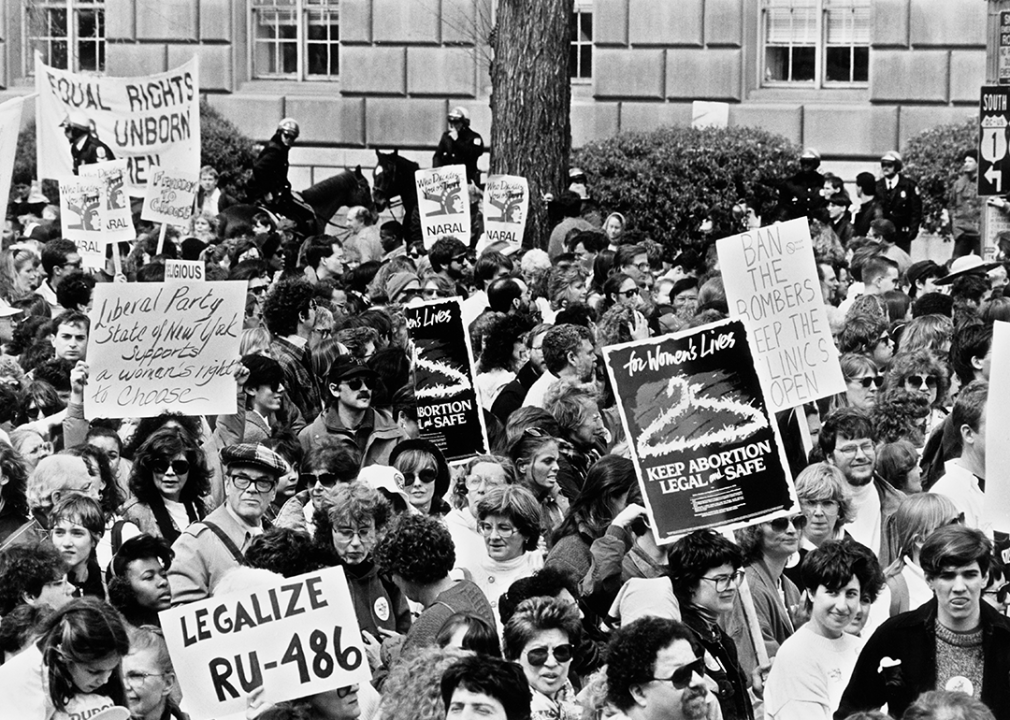 Barbara Alper // Getty Images
Pro-choice campaigners demonstrate at a March For Women's Equality in Washington D.C. One of the signs (middle-right) reads "BAN THE BOMBERS, KEEP THE CLINICS OPEN," likely a response to the wave of antiabortion violence from 1977 to 1988 in the United States, including 110 cases of arson, bombing, or firebombing—98% of which targeted clinics providing abortions in 28 states and the District of Columbia. In 1984 alone, 29 attacks were carried out.
July 4, 1989: California rally attracts Roe v. Wade attorney, plaintiff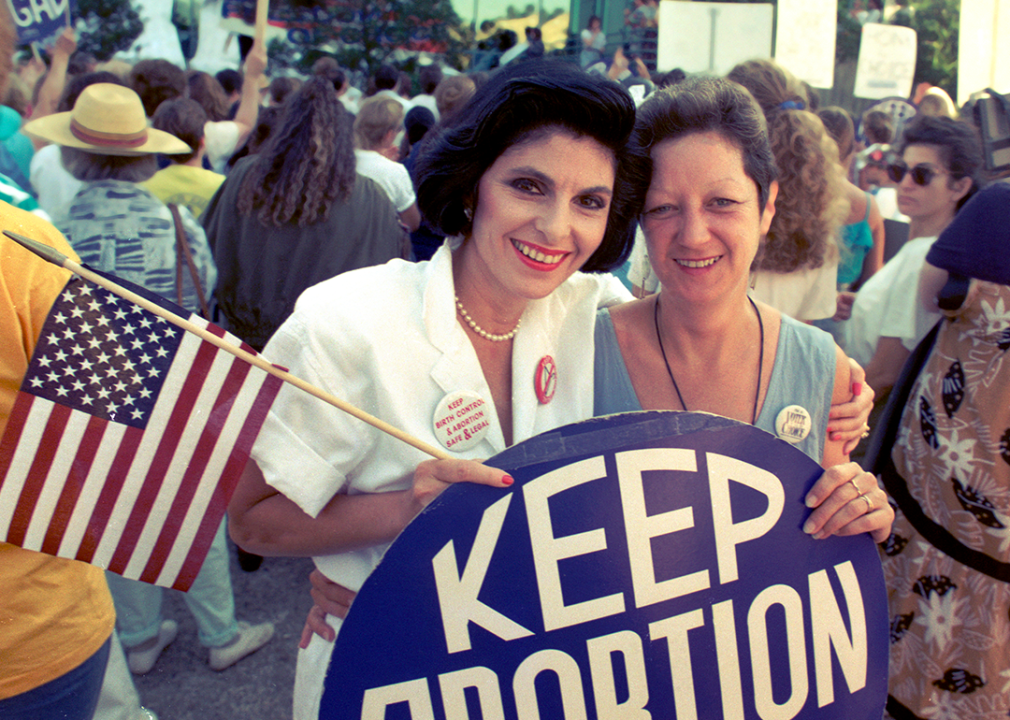 Bob Riha, Jr. // Getty Images
A 1989 pro-choice rally in Burbank, California, attracted Roe v. Wade attorney Gloria Allred, at left, and plaintiff Norma McCorvey, aka "Jane Roe." McCorvey proved in the years following Roe v. Wade to be an inconsistent figure on the abortion debate, eventually speaking out on behalf of the anti-choice movement.
Months before her death in 2017, McCorvey claimed in a documentary that she was paid by antiabortion groups for taking a public stance against a woman's right to choose.
Nov. 12, 1989: Molly Yard speaks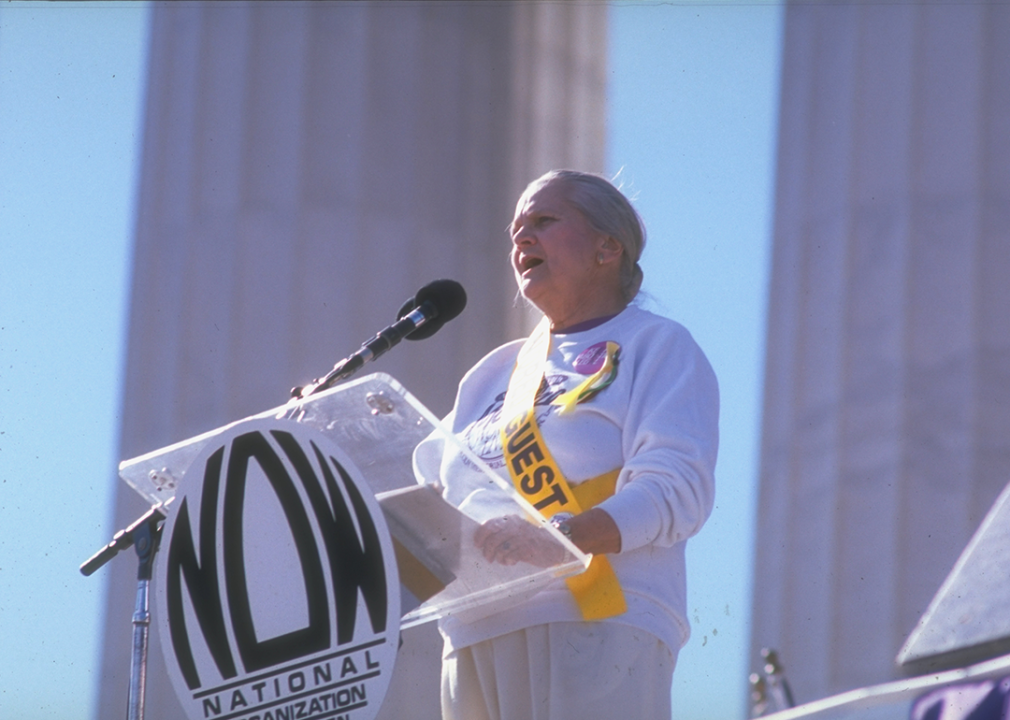 Cynthia Johnson // Getty Images
Molly Yard, then-president of the National Organization for Women, appears at one of many events held Nov. 12, 1989, around the country as part of an ongoing effort at the time to block additional abortion restrictions. Pro-choice leaders, including Yard and others from about three dozen organizations, scheduled demonstrations, religious services, voter registration drives, and other events.
April 5, 1992: March for Women's Lives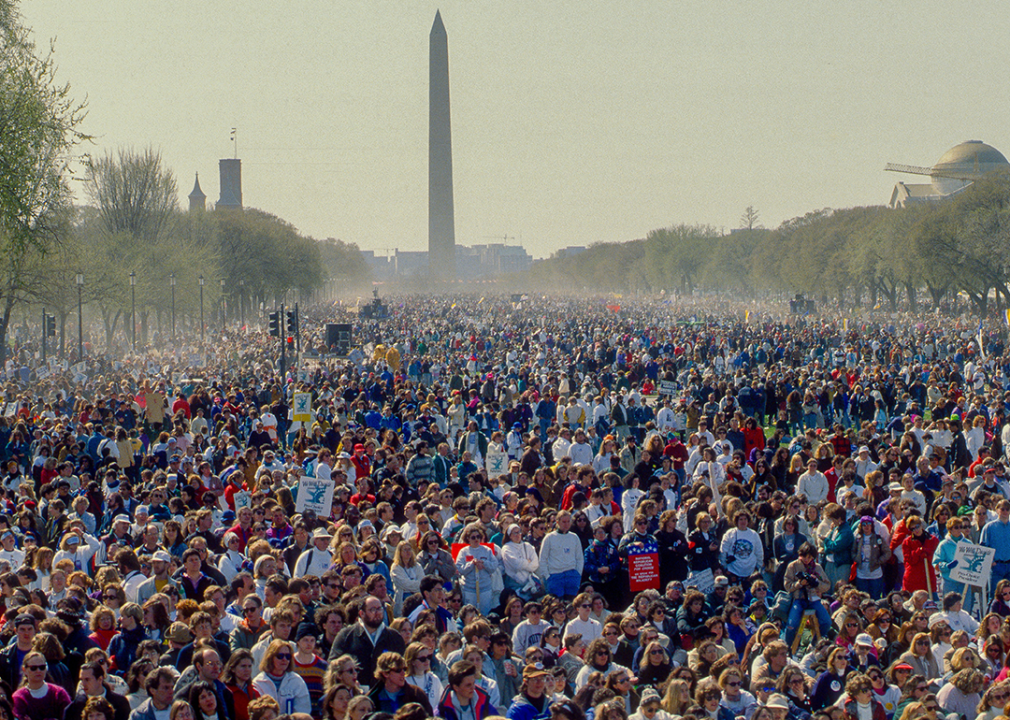 Mark Reinstein/Corbis via Getty Images
The National Organization of Women's 1992 March for Women's Lives was at the time among the most-attended political events in Washington D.C. NOW held the march in response to a pending Supreme Court case at the time, Planned Parenthood v. Casey, which was seen as a threat to the precedent of Roe v. Wade. In this view of the demonstration, the Washington Monument is seen in the background.
The march drew at least half a million people to Washington D.C., and was credited in part for influencing the presidential election later that year, in which Bill Clinton defeated incumbent George H.W. Bush.
Jan. 18, 2002: Reminding justices to uphold Roe
Tom Williams/Roll Call // Getty Images
Protests are designed to draw public attention to issues while putting pressure on the people at the very top whose decisions influence policy. In the fight for bodily autonomy, Supreme Court decisions have been integral.
In this photo, from left, Sonya Clay, Jamia Wilson, Justine Augeri, and members of Planned Parenthood are photographed wearing robes and displaying signs in front of the Supreme Court to remind justices of the importance of protecting Roe v. Wade.
April 25, 2004: March For Women's Lives 1 million+ people strong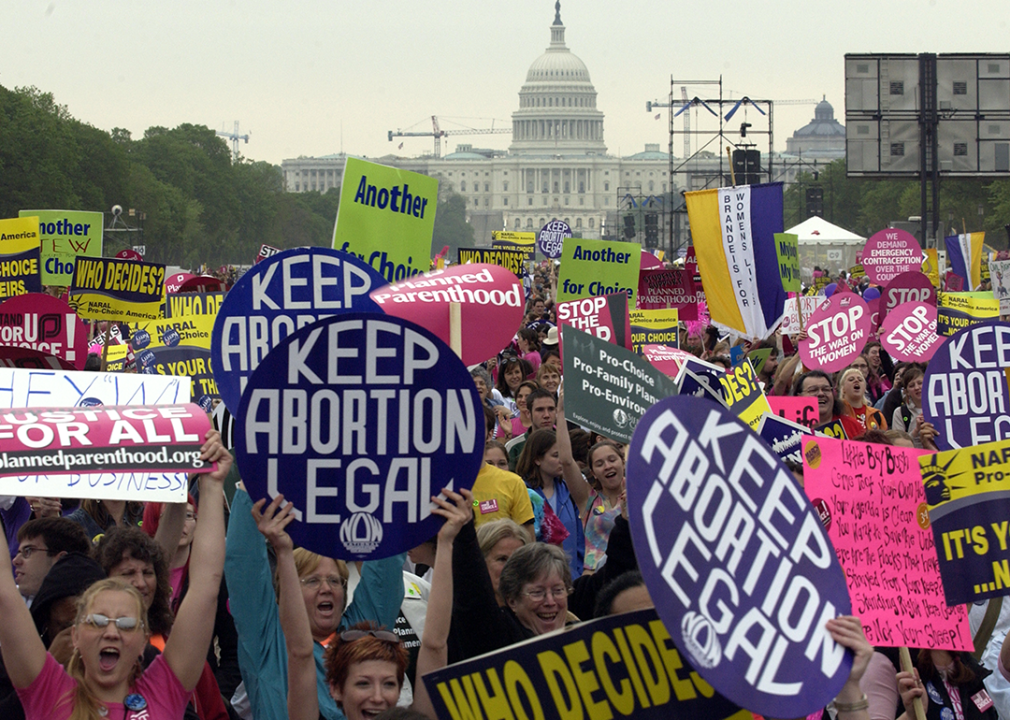 Stephen J. Boitano/LightRocket via Getty Images
Seven organizing groups spent more than a year planning the 2004 March for Women's Lives. The effort inspired more than 1 million people from all over the country to descend on Washington D.C. to demonstrate in support of abortion rights, birth control, and unfettered access to healthy reproductive health care options.
March 2, 2016: Toe-to-toe at Supreme Court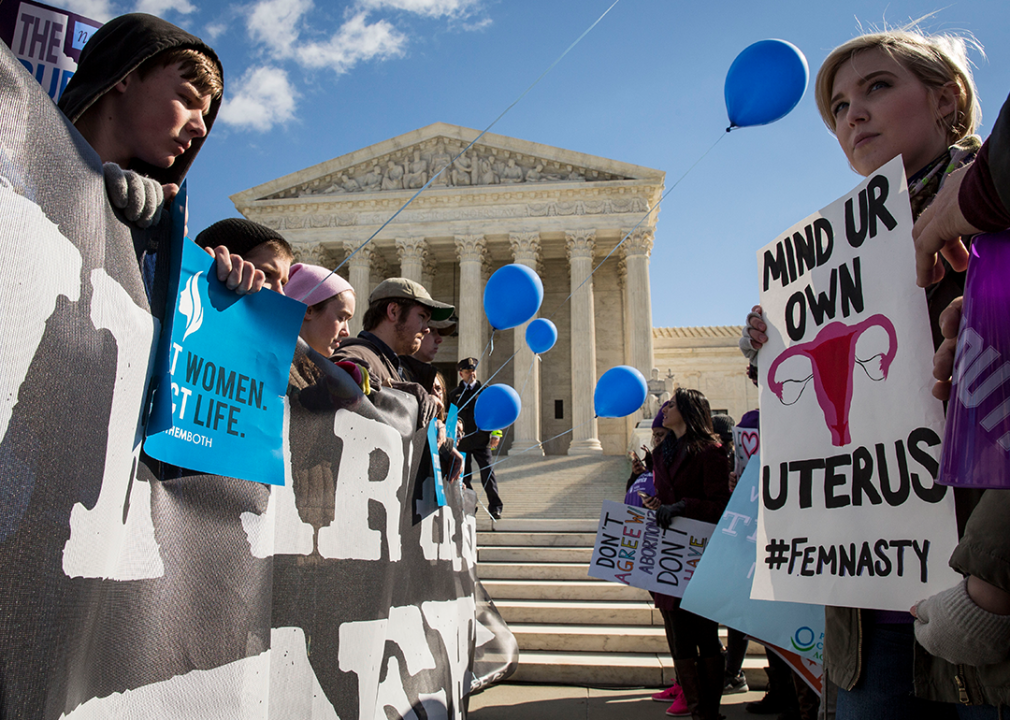 Drew Angerer // Getty Images
Pro-choice advocates, at right, and antiabortion advocates, at left, gathered outside the Supreme Court on March 2, 2016, in Washington D.C. ahead of the justices that morning hearing oral arguments in the Whole Woman's Health v. Hellerstedt case.
That case asked justices to consider the constitutionality of a law, Texas House Bill 2, with abortion-related provisions, including requiring physicians who perform abortions to have admitting privileges at a hospital within 30 miles of the abortion location; another provision required abortion clinics to be in compliance with standards set for ambulatory surgical centers.
The court determined Texas HB 2 to be unconstitutional for imposing an outsized burden on women seeking legal abortions.
Jan. 21, 2017: Making HERstory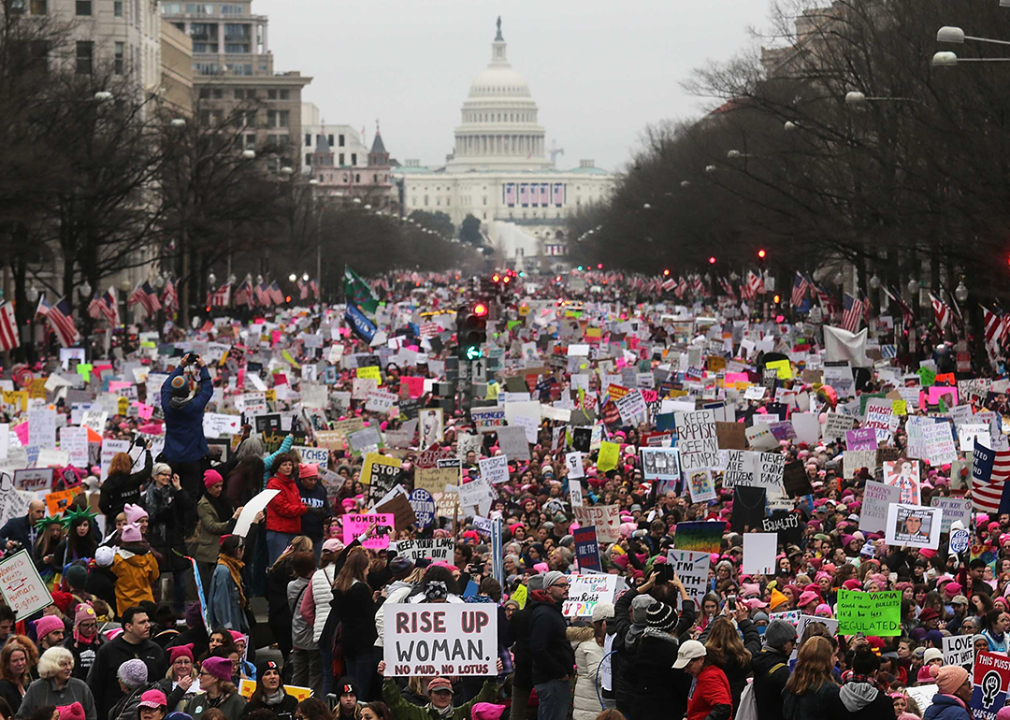 Mario Tama // Getty Images
One day after President Donald Trump's inauguration in January 2017, the largest single-day protest in American history took place as more than 500,000 people arrived in Washington D.C. for the Women's March on Washington, and hundreds of thousands more took part in sister marches around the U.S. and world.
In this photo, protesters are seen walking with the U.S. Capitol in the background.
May 21, 2019: US rallies protest new, restrictive abortion laws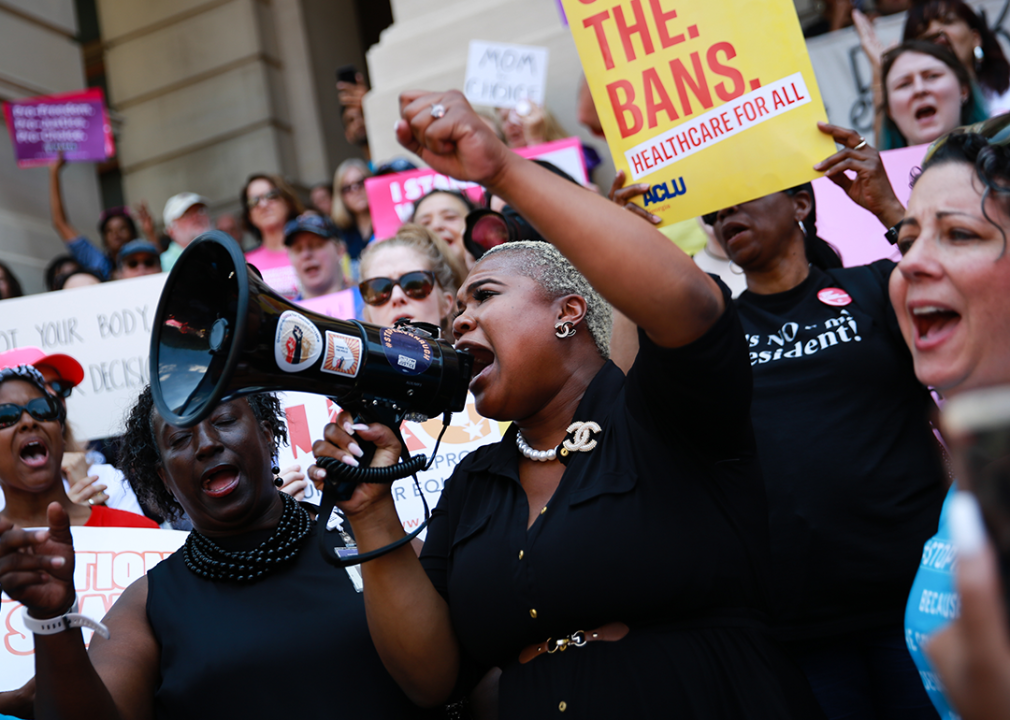 Elijah Nouvelage // Getty Images
In this photo, Georgia State Rep. Erica Thomas speaks at the Georgia State Capitol building during a protest against recently passed abortion ban bills. One bill, Georgia House Bill 481, also known as the state's "heartbeat bill," was signed into law to ban abortions once a fetal heartbeat is detected at six weeks of gestation.
The other, the Human Life Protection Act, was signed into Alabama law by Gov. Kay Ivey on May 15, 2019. That bill, which banned virtually all abortions in the state, included no exceptions for cases of rape and incest, and outlawed all abortions except when necessary to prevent serious health problems for the woman. Under the law, a doctor performing an illegal abortion in Alabama would be guilty of a Class A felony and could face life imprisonment.
The Human Life Protection Act was set to go into effect in November 2019 but was delayed by legal challenges. Meanwhile, Georgia House Bill 481 was ruled unconstitutional in July 2020.
After Roe v. Wade was overturned in June 2022, both laws went into effect: The Georgia House Bill ruling was reversed and an Alabama judge lifted the injunction on that state's abortion ban.
May 11, 2022: 'Never again!'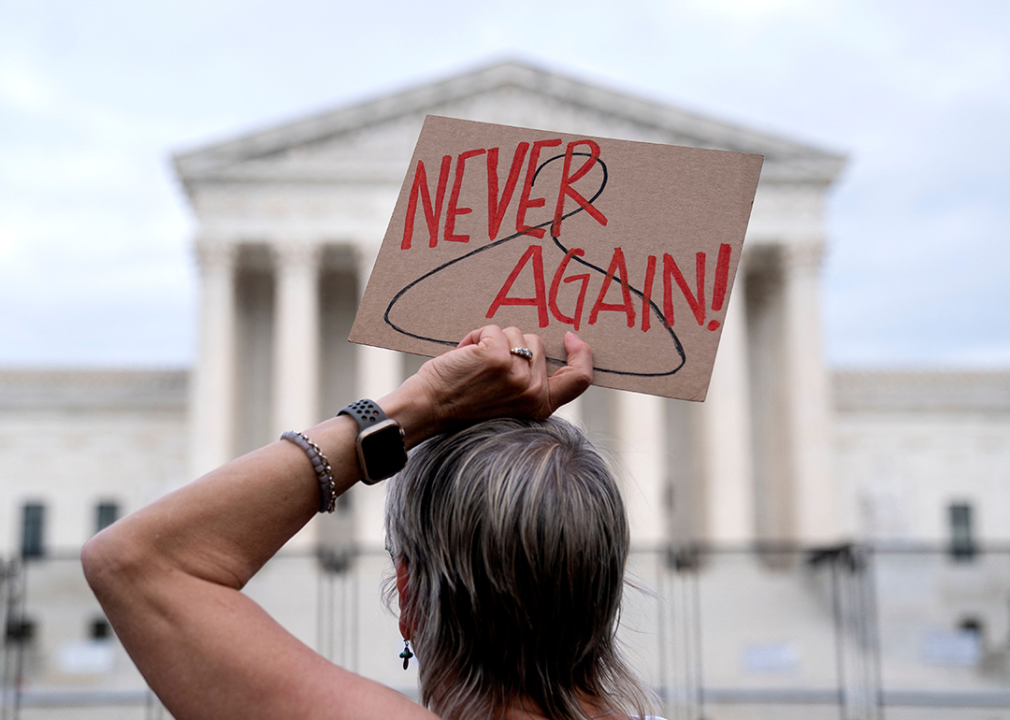 STEFANI REYNOLDS/AFP via Getty Images
A draft opinion overturning Roe v. Wade and signed by Supreme Court Justice Samuel Alito was leaked on May 2, 2022, to massive public outcry and media attention. Just over a week later, Senate Democrats were unsuccessful in passing legislation to codify Roe v. Wade.
In this photo, a pro-choice demonstrator holds a sign featuring a coat hanger, a symbol of the reproductive rights movement, with the words "NEVER AGAIN!" in front of the Supreme Court in Washington D.C.
June 24, 2022: Supreme Court overturns Roe v. Wade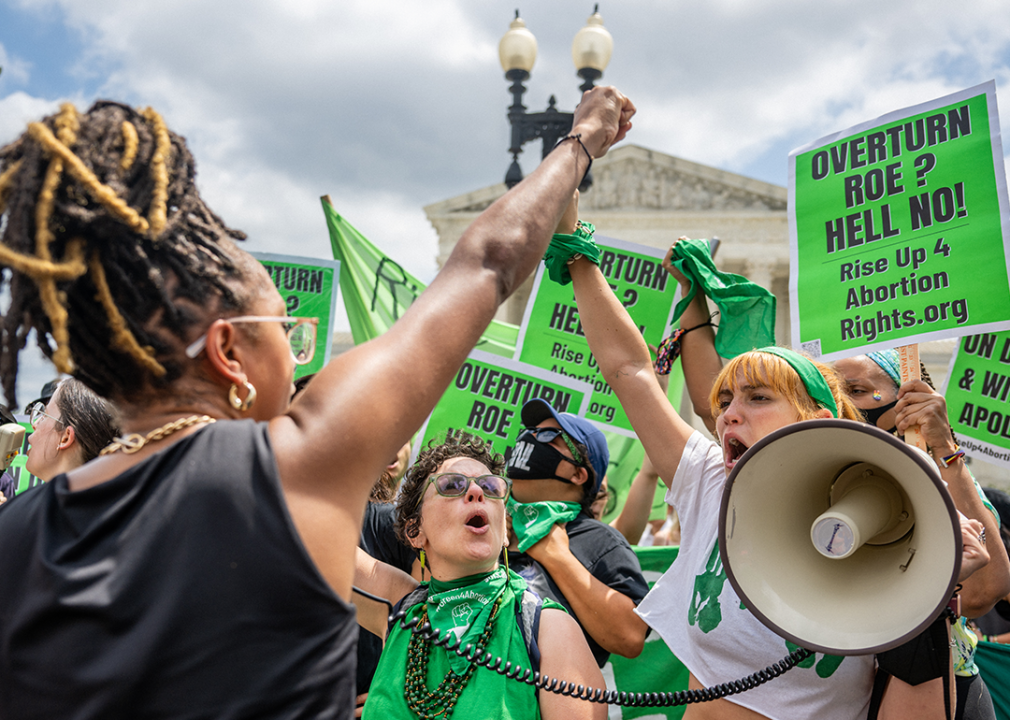 Brandon Bell // Getty Images
The stunning overturning of Roe v. Wade with the Dobbs v. Jackson Women's Health Organization decision, which erased a federal constitutional right to an abortion, inspired hundreds of protests nationwide. Here, abortion rights demonstrator Elizabeth White leads a chant in front of the Supreme Court.
June 27, 2022: Return to repressive policy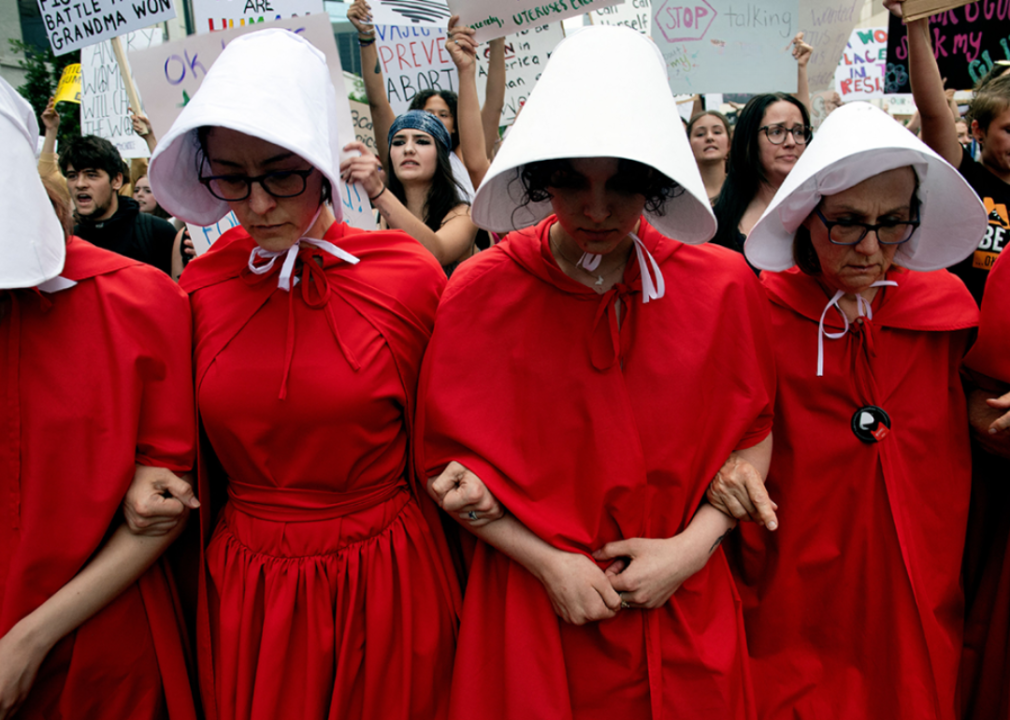 JASON CONNOLLY/AFP via Getty Images
The TV adaptation of Margaret Atwood's 1985 novel "The Handmaid's Tale," which premiered in 2017, served as a sobering view of what repressive policies for women's rights can mean for a society. Activists took to wearing the "modesty costumes" of the fictional Gilead to drive home messaging at protests for women's rights.
In this photo, pro-choice activists donning outfits from "The Handmaid's Tale" lead protestors during a march in Denver, Colorado, just four days after the Supreme Court struck down the constitutional right to legal and safe abortions.
Jan. 22, 2023: Women's March marks 50th anniversary of Roe v. Wade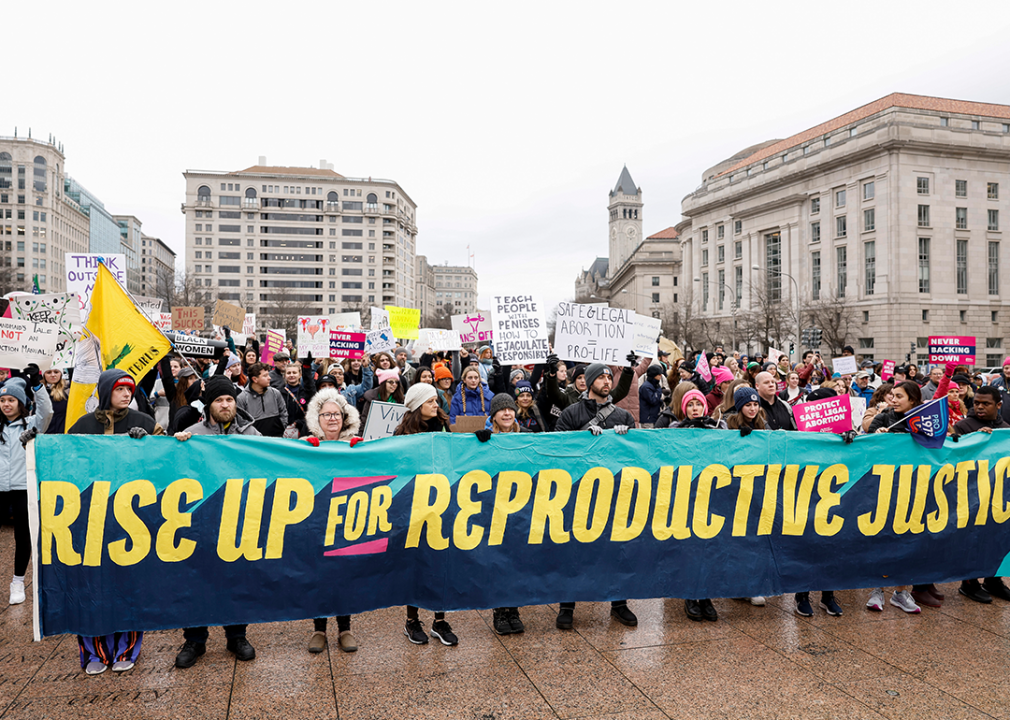 Anna Moneymaker // Getty Images
Still reeling from the overturning of Roe v. Wade, the annual National Women's March in January 2023 brought together thousands of people to protest the Dobbs v. Jackson Women's Health Organization decision. The event was coined "Bigger than Roe" and marked the 50-year anniversary of the original Roe v. Wade ruling.
April 14, 2023: In defense of mifepristone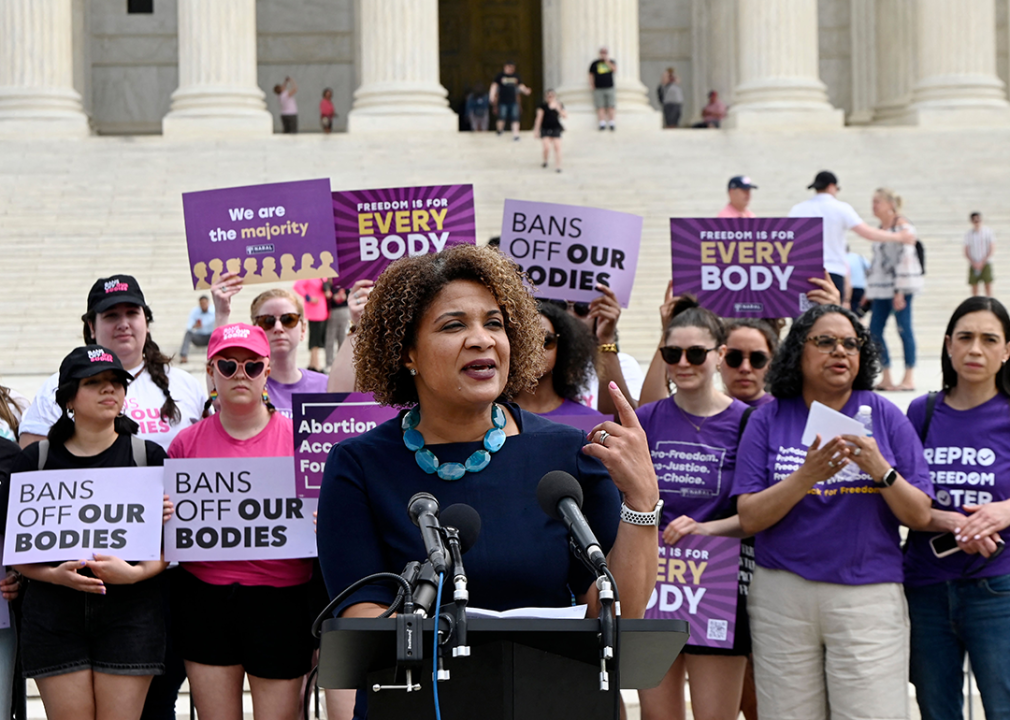 OLIVIER DOULIERY/AFP via Getty Images
Pro-choice advocates gathered at the Supreme Court one week after a federal district court judge in Texas repealed the Food and Drug Administration's approval of the abortion pill mifepristone, which since 2000 had been approved for use up until 10 weeks of pregnancy.
In this photo, Fatima Goss-Graves, president and CEO of the National Women's Law Center, speaks to abortion rights advocates outside the Supreme Court.
A federal district court judge in Washington state quickly issued a ruling to uphold the FDA's approval while the Biden administration sought to pause the Texas district court's order from going into effect. The Supreme Court on April 21, 2023, blocked the lower court decisions, maintaining access to mifepristone until the court makes its final ruling on the FDA's approval of the drug in 2024.
Nov. 7, 2023: Activists cheer for Ohio Issue 1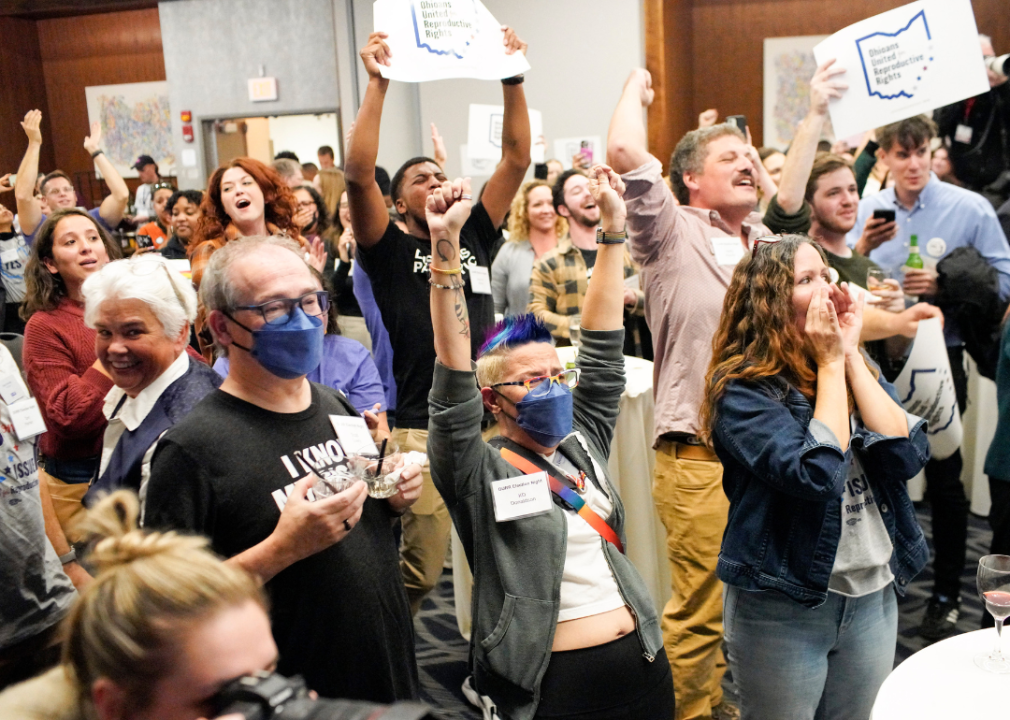 Andrew Spear // Getty Images
Ohio's "Right to Reproductive Freedom With Protections for Health and Safety," listed on the state's Nov. 7, 2023, ballots as Issue 1, is a constitutional amendment put forth by the state's citizens and adopted by a 56.6% favorable vote.
In this photo, Issue 1 supporters cheer its success at a watch party hosted by Ohioans United for Reproductive Rights in Columbus, Ohio. The amendment codifies reproductive rights in the Ohio Constitution, including contraception, fertility treatment, and the right to abortion up to the point of fetal viability while permitting restrictions after.
Story editing by Jeff Inglis. Copy editing by Lois Hince.