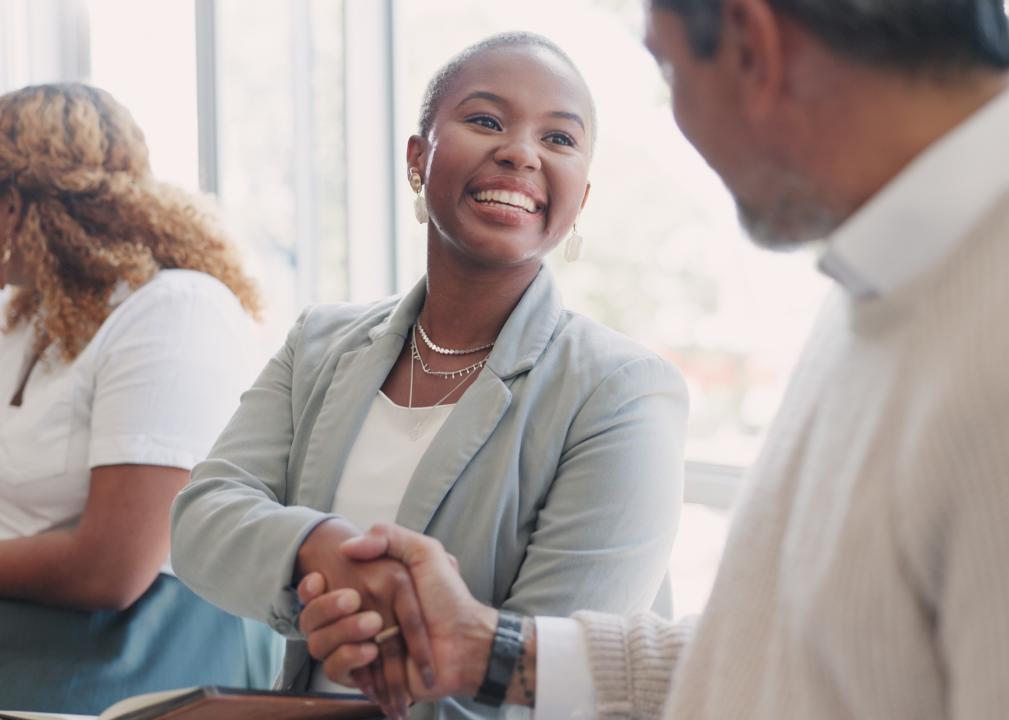 PeopleImages.com - Yuri A // Shutterstock
Networking events can elicit feelings of anxiety, awkward memories of canned sales pitches, forced schmoozing, and the need for lots of liquid courage—but it doesn't have to be.
Social events like these can help achieve many business goals, from finding a new job to identifying exciting collaborators. There are even experts who say that networking should be an ongoing career-long activity.
"[Networking] has value at all stages of your career, particularly when you aren't job searching," Demisha Jennings, career coach and founder of Career Moms in Command told LinkedIn News, "A lot of the time, people think that just because they're employed, they don't need to network, attend events or put themselves out there. But as far as I'm concerned, there is no job security ever. You always need to lean into networking opportunities so that when future opportunities arise, you are the top candidate."
For hosts of networking events, it can be difficult to balance being seen as a thought leader in their industry who can influence the biggest players in the room while also ensuring their marketing efforts aren't too overt and, as a result, off-putting.
To help organizers, Giggster conducted interviews with event industry experts to suss out how to plan an event attendees won't soon forget.
Do: Be clear about the event's purpose and goals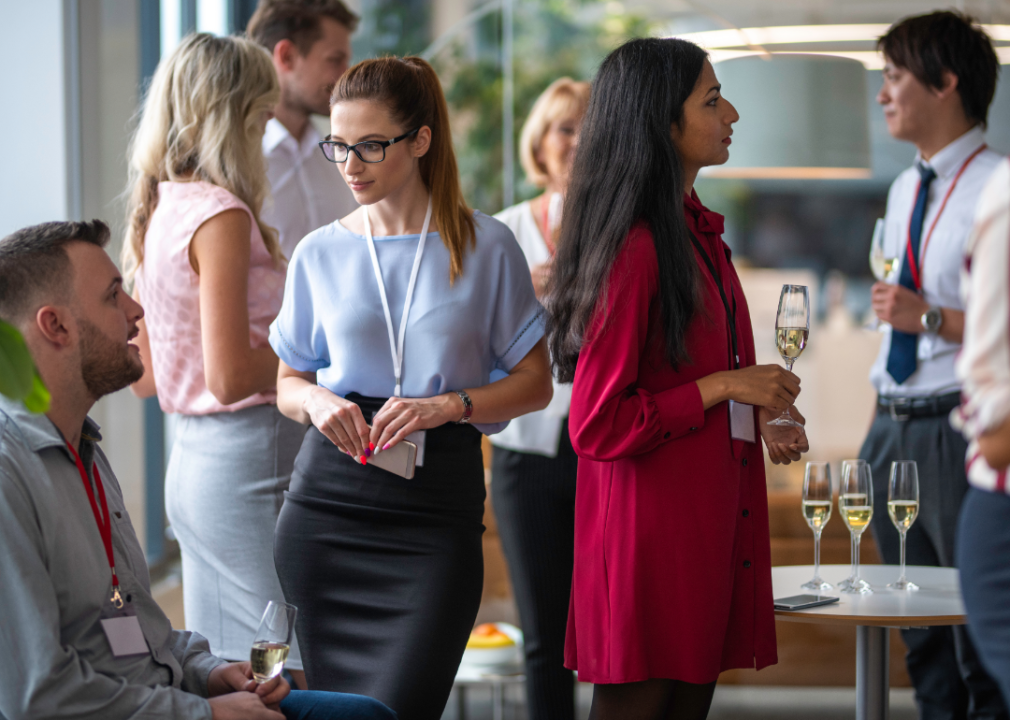 Canva
Since event planning takes up valuable time, resources, and budgets, businesses must have a clear purpose and goal in mind. Clear metrics for success help businesses determine whether an event was worth the effort—or if it should have been a curated virtual community or LinkedIn webinar instead. Set SMART goals (specific, measurable, achievable, relevant, and time-based).
If the purpose is to gain more awareness or be seen as an industry thought leader, it's useful to measure how many people attend and who they are (business prospects, customers, prospective employees, media, etc.). Surveys can help get a pulse on how attendees felt about the event, the amount of conversations they had, and new connections that were formed. If increasing social media presence is important, then activities tied to getting new followers or an increase in social reposts should be planned and measured.
If quantitative event evaluations are outside of the budget, companies can opt to have their staff mingle with attendees as much as possible to understand better how well the event is going and what attendees really care about, as well as to bridge connections between guests.
Don't: Gloss over the nitty-gritties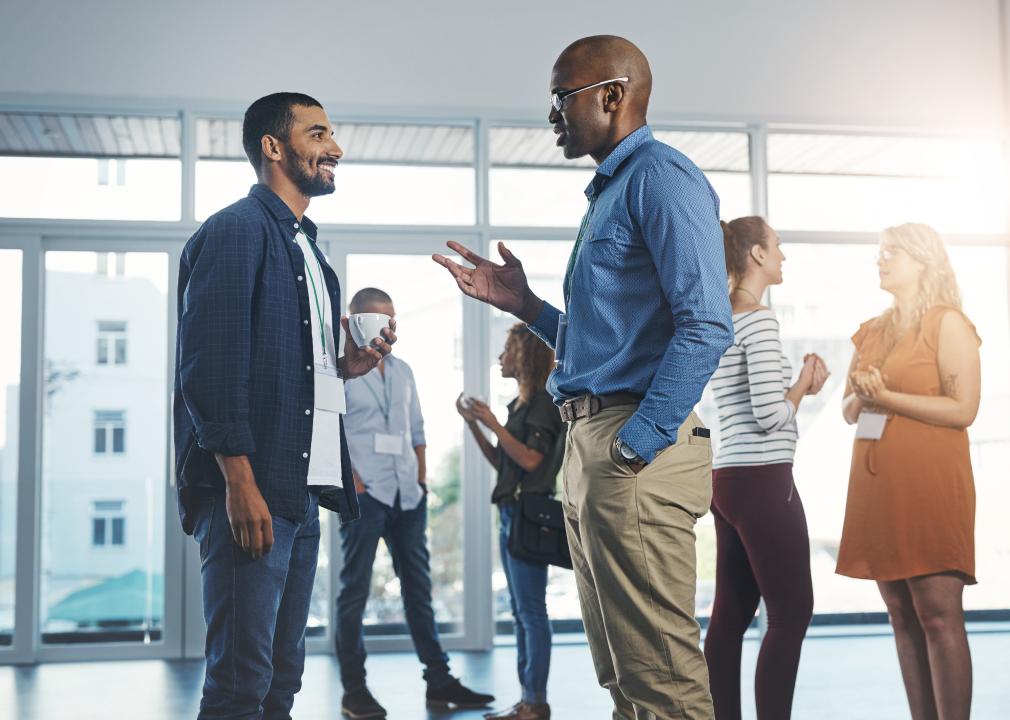 PeopleImages.com - Yuri A // Shutterstock
Jessica Lore, director of events and customer advocacy at Visier, told Stacker that event organizers could plan a short program, such as a 30-minute panel, that would engage attendees and help set the agenda from the beginning. The choice of topic also shows that the brand understands the industry and its trends, but Lore cautions brands to not get too specific, for instance, by claiming to answer the one question that is plaguing the industry most.
Lore said having designated lounge spaces for people interested in discussing specific topics (like the future of artificial intelligence or how remote work is changing workplaces, for example) can also be effective for encouraging conversation starters with different groups of people.
"If you're not designing for the person that knows no one walking into that room, I think it's a huge missed opportunity," Grant Plotkin, co-founder and CEO of meet the edge, a design studio that helps create experiences, told Stacker. He recommended assigning "connectors" who know everyone's names and can make introductions from the onset of the event, for example.
Do: Bring the excitement and personal touches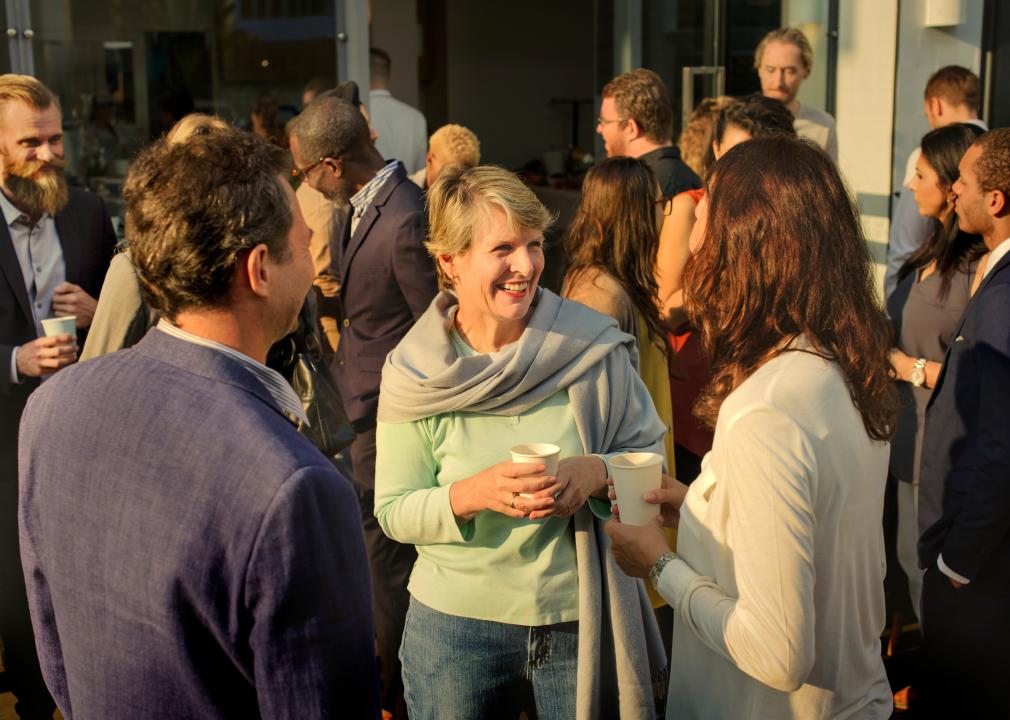 Rawpixel.com // Shutterstock
Plotkin said that networking event invitations could be as exciting as ones from a music festival. While keynote speakers can be central to an event, brands can set the tone by building a well-designed landing page that takes invitees on an adventure online or sending a physical item like a key in the mail so that people invited are motivated to join the event to see what kind of special space is "unlocked."
Name tags are another place to innovate. Rather than having stickers with names and company credentials, Plotkin once produced an event where attendees were given a photo with just half of another attendee's face. People who were at the event were then challenged to find the other half, opening myriad opportunities to engage in conversation throughout the room.
"I feel like people that are of a younger generation have a hard time talking to each other. We're so primed to be on the phone. It's a lot easier to DM [direct message] … email or text," Plotkin said. "Can you prime the space so you have that intentionality of different meeting points, whether it's at a bar or even an underutilized real estate like the bathroom?"
Do: Use creative ways to connect attendees meaningfully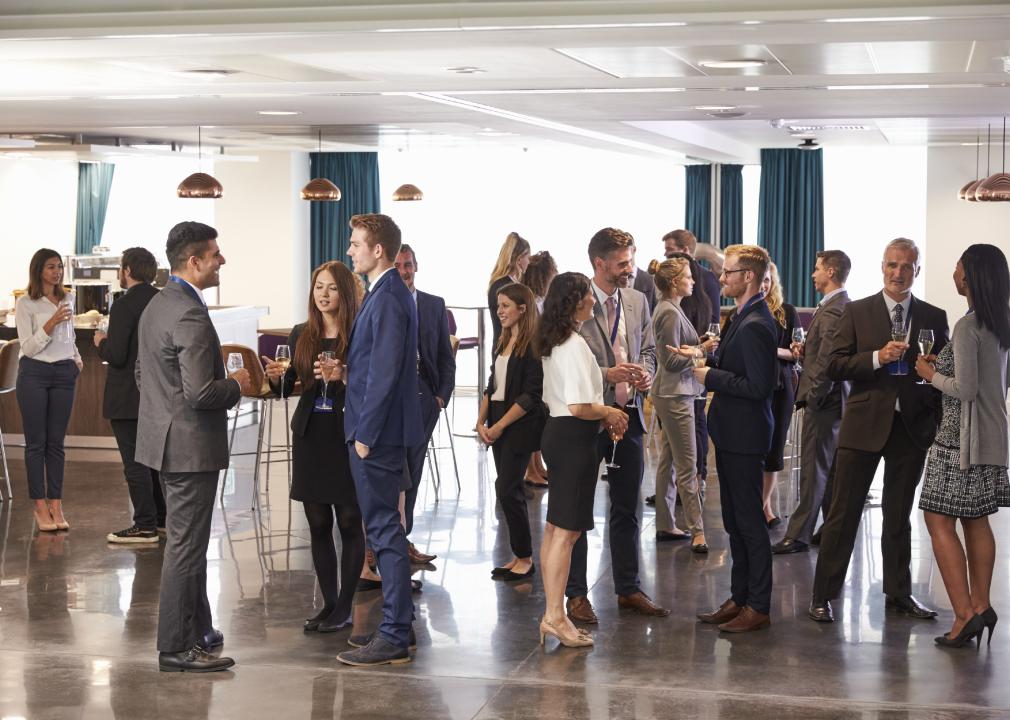 Monkey Business Images // Shutterstock
When faced with a room full of strangers, it may be daunting to start conversations. To help break the ice, event organizers can have attendees choose colored wristbands or pins that showcase their interests (e.g., "dog-lover!") at registration to make starting conversations easier for attendees, especially introverts.
Planners can also plan activities that ask attendees to create something together, Plotkin suggested, like adding their thoughts to a topic with sticky notes on a physical wall or perhaps giving every attendee a piece of a puzzle that the whole group then has to put together.
But whatever you do, don't use QR codes or encourage phone use at your event, Plotkin said, because "it automatically takes you away from the magic that's being crafted in that room."
Don't: Think connection-building is over post-event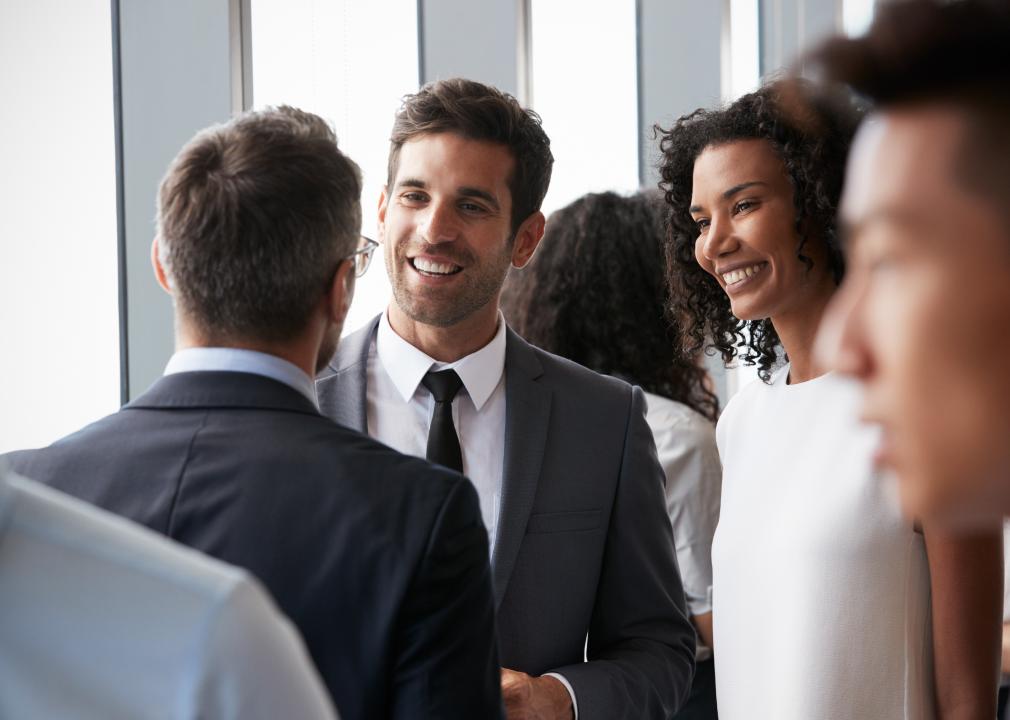 Monkey Business Images // Shutterstock
By providing ways for attendees to stay in touch, networking events don't need to feel like a blip in time, where attendees have only one shot to strike up a networking match that could bring mutual benefits.
Some organizers provide contact lists in advance with one-line bios and LinkedIn URLs to prepare invitees. However, that approach can feel overly intrusive. Others release personal information only upon the contact's approval, sometimes with the aid of a software platform.
Lore said since professionals tend to use Slack throughout the day, vendor-moderated or sponsored Slack channels are valuable for more frequent, peer-to-peer communication. This mode of communication also allows investors to participate without getting barraged by emails.
Don't: Make it all about your brand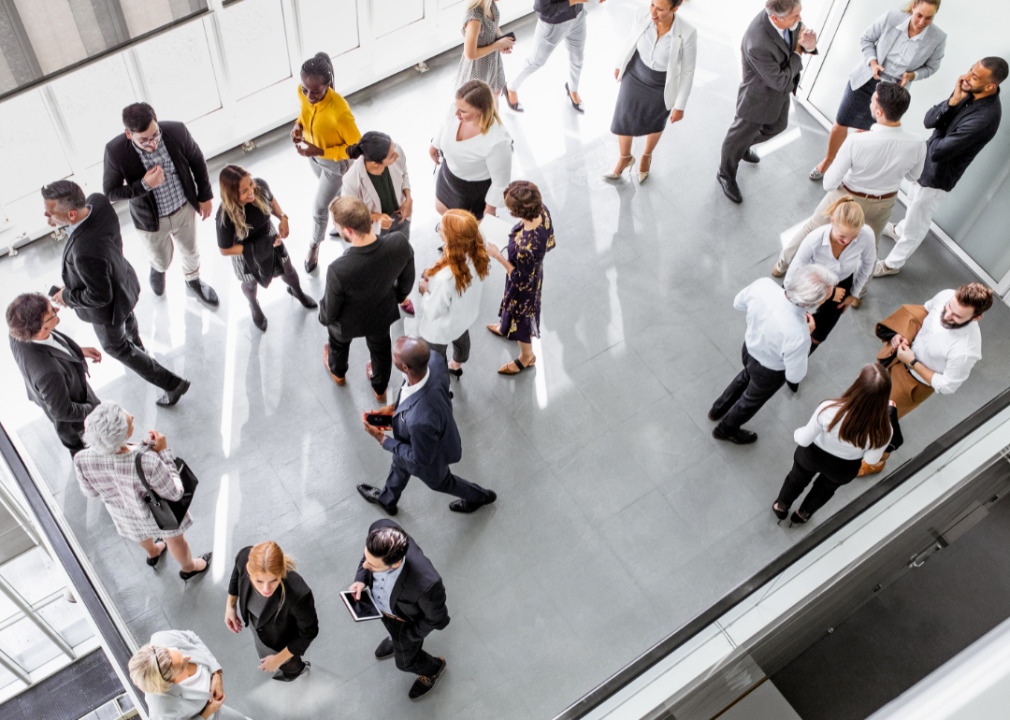 Canva
It can feel cringey when consumers feel they're being targeted with sales pitches. Plotkin suggests that any advertising or branding used should be strategic and aligned with the brand's identity. "Let yourself be known by association; don't go in heavy," Lore said. 
Lore also added a recommendation to avoid handing out marketing materials. Instead, brands can offer "swag" that keeps the event light-hearted and fun. Lore said attendees are looking for something that surprises, "something that's a little bit cheeky and relates to the topic." If someone is interested in marketing materials, they'll reach out to the event team, she said.
Branded swag should also ensure it impacts brand awareness and return on investment, and should be designed for the conscious consumer, said Plotkin. Or else, he said swag will "end up in a trash can. That doesn't help the Earth—and doesn't help move the needle."
Story editing by Carren Jao. Copy editing by Tim Bruns. Photo selection by Clarese Moller.
This story originally appeared on Giggster and was produced and distributed in partnership with Stacker Studio.