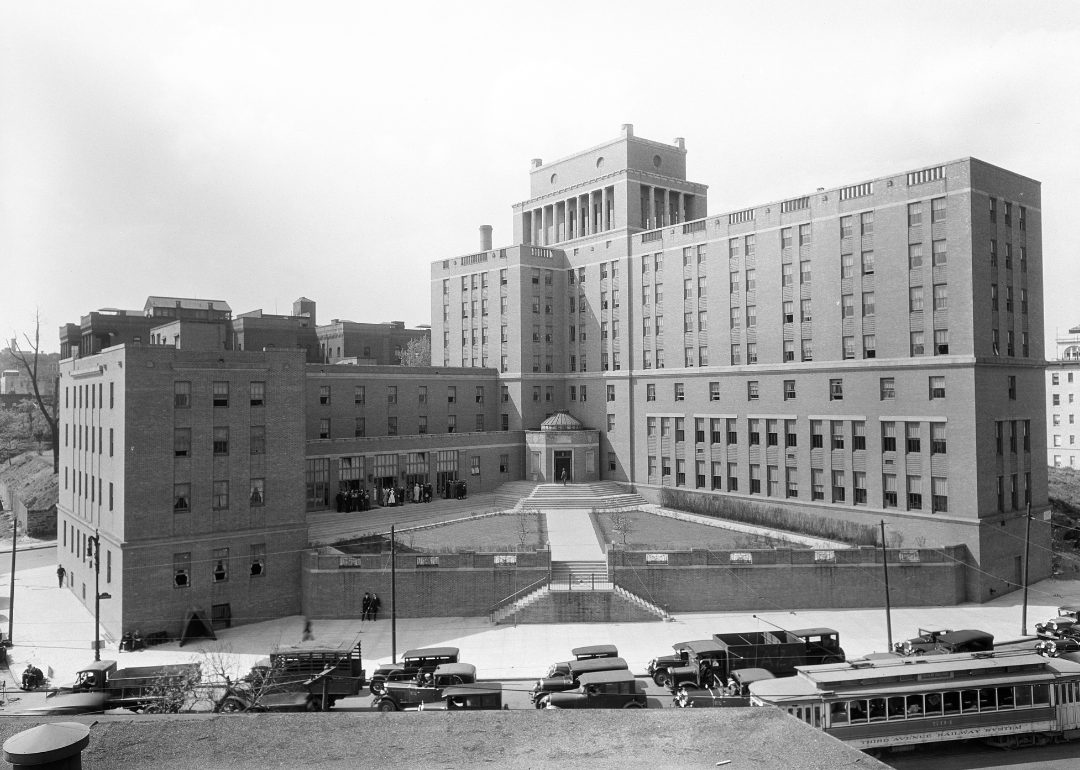 MCNY/Gottscho-Schleisner // Getty Images
Nurses have long been credited as the backbone of the medical industry. 
Without nurses, their expertise, their patient support, the day-to-day advocating, and the emotional and physical labor they expend, our health care system would stand still. 
Despite the hard work of many, nurses from marginalized populations have consistently received the short end of the proverbial stick within health care—whether as employees, students, or patients. 
As students, nurses of color experience a health care education fraught with implicit racial bias. According to a 2021 review by the International Journal of Environmental Research and Public Health, health care students of color reported receiving less peer support, experiencing racial discrimination, and overall having "negative learning environments." Unfortunately, that experience often does not end once they complete their degree.
The health care system in the U.S. has a long way to go to reverse its ingrained structural racism. While racist policies have changed over time, health care disparities among marginalized populations continue to prevail and remain mistreated or undertreated, partly due to the lack of health care workers of color. Just 1 in 5 registered nurses identify as Asian, Black, or Hispanic, according to the 2020 National Nursing Workforce Survey.  
As these disparities can also be connected to the ongoing effects of systemic racism and the historical neglect and mistreatment of patients of color, patient advocacy has long been a vital part of the nurse of color's job.
Many nurses of color throughout history have provided positive representation by making cultural competency, improved conditions, and medical advancements for communities of color their mission and life's work. Though Indigenous people in the U.S. have health care practices that predate modern nursing—many of which became the backbone for it—their contributions to the field are overlooked, along with those of other nurses of color.
Incredible Health offered a snapshot into the centuries of work that has been (and continues to be) done by highlighting seven nurses of color who have made history, drawing information from the American Society of Registered Nurses, Chamberlain University, the National Association of Hispanic Nurses, and other sources.
1. Mary Eliza Mahoney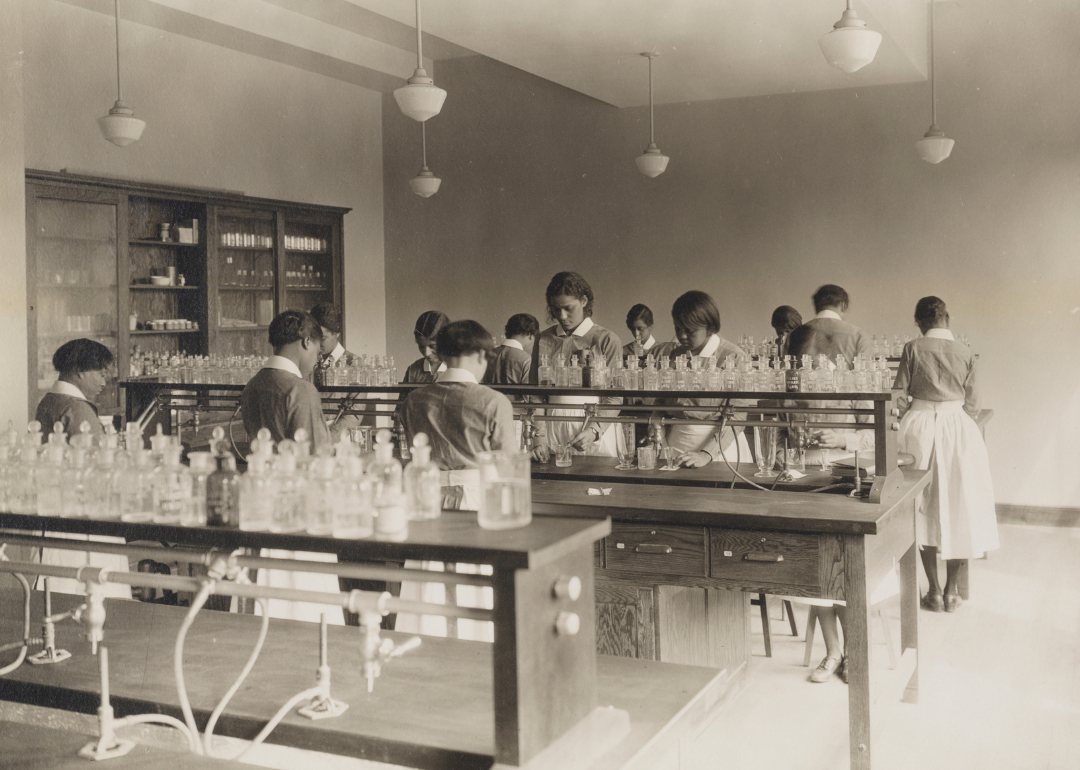 MCNY/Gottscho-Schleisner // Getty Images
Born in 1845, Mary Eliza Mahoney was the first Black woman to receive licensure as a nurse.
Starting in her teens, Mahoney held various jobs at the New England Hospital for Women and Children for 15 years. One of her roles was as a nurse's aide, leading her to learn about the profession before attending nursing school.
In 1878, Mahoney gained admittance to the New England Hospital for Women and Children's professional graduate school for nursing—one of the first in the U.S. The 16-month program was intense: Of the 42 enrolled students, she was one of four to complete the program the following year.
After gaining her license, Mahoney opted to pursue a private nursing career due to the ongoing racism in the public health care sector. She experienced related issues within cohorts for nurses, leading her to co-found the National Association of Colored Graduate Nurses, supporting Black nurses in advocating for their rights and a safe place to convene. At the organization's first convention in 1909, Mahoney was elected the national chaplain and received a lifetime membership.
Mahoney's contributions to racial justice, nursing, women's rights, and later orphanage work have been honored long beyond her death in 1926. In 1936, the NACGN founded the Mary Mahoney Award. She was also posthumously inducted into the American Nurses Association Hall of Fame in 1976 and the National Women's Hall of Fame in Seneca Falls, New York, in 1993.
2. Susie Walking Bear Yellowtail
Susie Walking Bear Yellowtail was the first registered nurse of Apsáalooke, or Crow, descent. She was also one of the first American Indian RNs to receive a degree and one of the first Crow people to receive higher education.
Yellowtail, born in 1903 on the Crow reservation near Pryor, Montana, was orphaned as a child. Like many Indigenous children at the time, she attended a boarding school that eschewed Native culture. Eventually, her mission foster parents moved her off the reservation to Oklahoma for a time, then sent Yellowtail to Northfield Seminary in Massachusetts. Following graduation, she attended Boston City Hospital's School of Nursing and graduated in 1923 with honors.
She spent the next several decades traveling the country to visit reservations and see firsthand the health care challenges faced by Indigenous communities, including a staggering lack of access to hospital care. Yellowtail fiercely advocated for better treatment of American Indians within health care and served on various health and education councils to reach these goals.
Yellowtail received the President's Award for Outstanding Nursing Health Care in 1962, and throughout the '70s acted as an appointee to the President's Council on Indian Education and Nutrition and the Department of Health, Education and Welfare Council on Indian Health. She used her experience and influence in each of these roles to push for increased health care access and improved living conditions for her community.
The American Indian Nurses Association named Yellowtail the "Grandmother of American Indian Nurses" in 1978. She died in 1981.
3. Ildaura Murillo-Rohde
Dr. Ildaura Murillo-Rohde was born in Panama in 1920 and moved in 1945 to San Antonio, where she launched her nursing career.
Despite San Antonio having a heavy Latino population, the city had a disproportionately low number of nurses of Latin descent in the workforce. She believed the Latino community's needs were not being met and faced this head-on through her own continued education, which culminated in a bachelor's degree in psychiatric mental health nursing from Columbia University and master's and doctorate degrees from New York University. In 1975, Murillo-Rohde founded the National Association of Hispanic Nurses.
Throughout her career, Murillo-Rohde earned a fellowship from the American Academy of Nursing; worked as a professor, dean, and grant reviewer; and was named a permanent representative to UNICEF for the International Federation of Business and Professional Women.
Since Murillo-Rohde died in 2010, the NAHN has continued her commitment to cultural competency and accessibility by creating the Dr. Ildaura Murillo-Rohde Award for Education Excellence by a Hispanic R.N. The Dr. Ildaura Murillo-Rohde Scholarship was also created in her honor.
4. Adah Belle Thoms
Born in Richmond, Virginia, in 1870, Adah Belle Thoms moved to New York City in the 1890s to study at the prestigious Cooper Union. She went on to study nursing at the Women's Infirmary and School of Therapeutic Massage, where she was the only Black woman in the 1900 graduating class.
Thoms earned her next degree in 1905 from the Lincoln Hospital and Home School of Nursing. She was named supervisor of the school the following year. Despite serving in this "acting" role until 1923, firmly established racist policies prevented Thoms from ever officially being named director.
She became president of the Lincoln Hospital Alumnae Association, and through direct work with fellow nursing heavyweights Martha Franklin and Mary Mahoney, Thoms conducted a meeting in 1907 that directly led to the creation of the National Association of Colored Graduate Nurses the following year. She served as president of NACGN from 1916-1923.
NACGN was founded to advocate for the full integration of Black women into nursing, including equality within pay offers, employment, and educational opportunities. Thoms and the NACGN's relentless push for the inclusion of Black nurses into the Army Nurse Corps and American Red Cross during World War I directly led to their admission in the Army and the American Red Cross in the final months of World War I and the full inclusion and integration of Black nurses in World War II.
Due to Thoms' impactful racial justice work within the nursing community, she was the first recipient of the NACGN's Mary Mahoney Award in 1936. She died in 1943 and was posthumously added to the American Nurses Association Hall of Fame in 1976.
5. Hector Hugo Gonzalez
Hector Hugo Gonzalez, born in Roma, Texas, in 1937, earned bachelor's and master's degrees before serving in the Army Nurse Corps from 1966-1968. In 1974, he became the first Mexican American RN in the U.S. to earn a doctorate.
Gonzalez served in many leadership positions throughout his career that offered impactful representation for those of Hispanic and Latin American descent, including as president for District 8 of the Texas Nurses Association and chairing the Department of Nursing Education at San Antonio College. 
During his time as chair of the Department of Nursing Education, the San Antonio program gained national accreditation from the National League for Nursing and began the first accredited continuing nursing education program in a two-year nursing program in the country. Gonzalez used his position to address some of the biggest barriers to education for the Latino community—namely issues of accessibility, such as time and duration of classes—helping to develop programs that allowed nurses to complete their degrees in the evening or on a part-time basis. His work ultimately helped to increase the rate of involvement for marginalized students and faculty at the college.
Gonzalez is retired from practicing health care but continues serving on the advisory committee of the Department of Nursing Education at San Antonio College.
6. Betty Mae Tiger Jumper
Betty Mae Tiger Jumper, the Seminole Tribe of Florida's first woman chief, was born in 1923 in a Seminole camp near Indiantown. She was discriminated against by people within her tribe for having mixed-race parents—born to a Seminole mother and a French father. Barred from accessing Florida schools due to racist segregation laws, a 14-year-old Jumper enrolled in a federal Indian boarding school in North Carolina and began learning English.
In 1945, she became one of the first Seminole people to gain a high school diploma. Jumper continued her education by earning a diploma from the Kiowa Indian Hospital in Oklahoma before returning to Florida to work as a nurse at Jackson Memorial Hospital, then as a traveling nurse for the Seminole community.
In addition to becoming the first woman chief of the Seminole Tribe, Jumper also served as the tribe's first health director. In her tenure, she worked to improve financial conditions and education opportunities for the tribe and acted as a translator and health care navigator for Seminole patients.
President Richard Nixon named Jumper chairperson of the National Council on Indian Opportunity in 1970. In 1994, Florida State University awarded her an honorary doctorate for her years of dedication to the health and wellness of the Seminole community; the same year, she was inducted into the Florida Women's Hall of Fame. Jumper died in 2011.
7. Margaret Moss
Margaret Moss—a member of the Mandan, Hidatsa, and Arikara Nations in addition to ties as Canadian Sioux/Saskatchewan—is known for uplifting the importance of cultural competence within nursing care for Indigenous people.
Born in 1957 in Fargo, North Dakota, Moss earned a Bachelor of Science degree in biology from Washington State University, a master's degree in nursing from the University of Phoenix, and her Ph.D. in nursing from the University of Texas-Houston Health Sciences Center. During her postdoctorate fellowship at the University of Colorado's Native Elder Research Center, Moss earned a Juris Doctor degree from Hamline University School of Law.
She is the only American Indian to hold nursing and Juris Doctor degrees.
After receiving an American Fulbright Scholar Award to research solutions for health care disparities experienced by Canadian Aboriginal people in 2014 (and before joining the Forbes "50 Over 50 Impact" list in 2021) she wrote the first American Indian Health and Nursing textbook with the goal of improving cultural humility within health care. 
Instead of focusing solely on physical experiences—a common perspective in Western medicine—Moss' work provides information from a lens of spiritual, mental, emotional, and physical health.
Moss currently works as an associate professor at the University of British Columbia's School of Nursing and as director of the First Nations House of Learning.
Story editing by Nicole Caldwell and Kelly Glass. Copy editing by Paris Close.
This story originally appeared on Incredible Health and was produced and distributed in partnership with Stacker Studio.