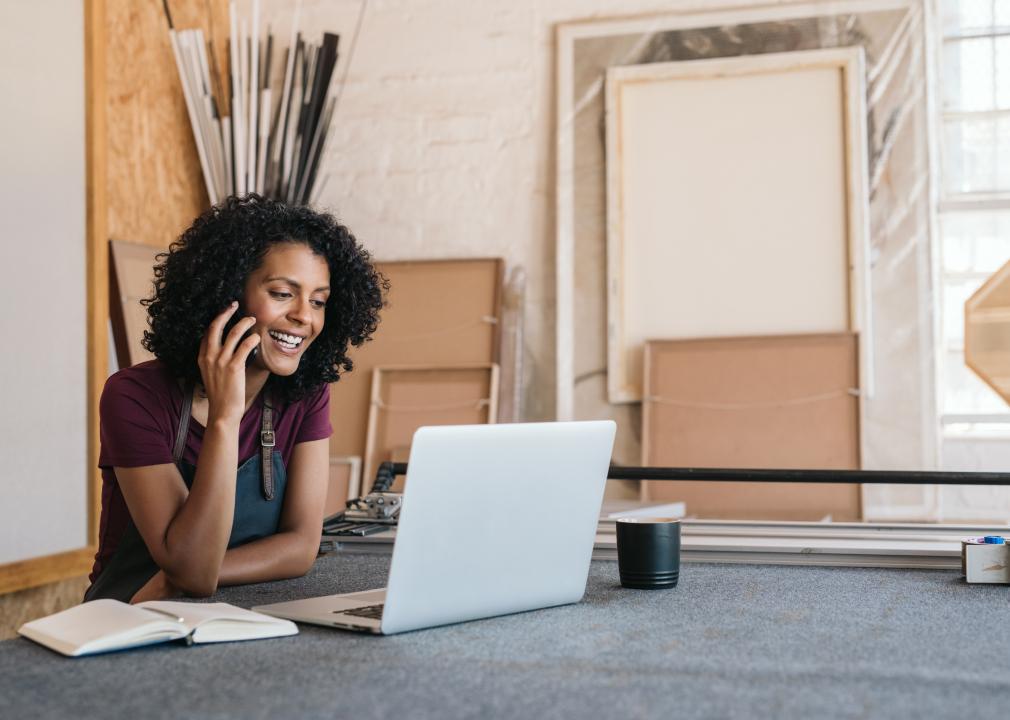 mavo // Shutterstock
Inflation has nothing on the American entrepreneurial spirit, which, judging by the volume of new businesses formed, continues to see potential in the post-pandemic economy.
To better understand the post-COVID-19 outlook for entrepreneurship in the U.S., altLINE analyzed data and reports from the National Bureau of Economic Research and the Census Bureau. The data shows that Americans are on track through July of this year to submit 54% more applications to start new businesses compared to the same period in 2019, before the onset of the pandemic.
New business applications soared initially at the start of the COVID-19 pandemic as brick-and-mortar businesses were forced to close their doors in compliance with local social distancing mandates. Stores saw business plummet and many were never able to reopen their doors, even as public health restrictions eased. The seismic shift in shopping habits spurred many Americans to start new business ventures at rates not seen since before the Great Recession, when the U.S. consumer took a hit from one of the deepest recessions on record.
As the current economic situation puzzles economists who debate whether a recession may be in the future, the continuing creation of businesses could mitigate some of the pain of a slowing economy.
Studies have suggested that the growth of the smallest businesses can help an economy's resilience. Young, tiny companies, sometimes called "microbusinesses," reduce local unemployment rates in their communities and have been related to rising household incomes, according to GoDaddy's July 2021 Venture Forward Report.
COVID-19 recession provides shot in the arm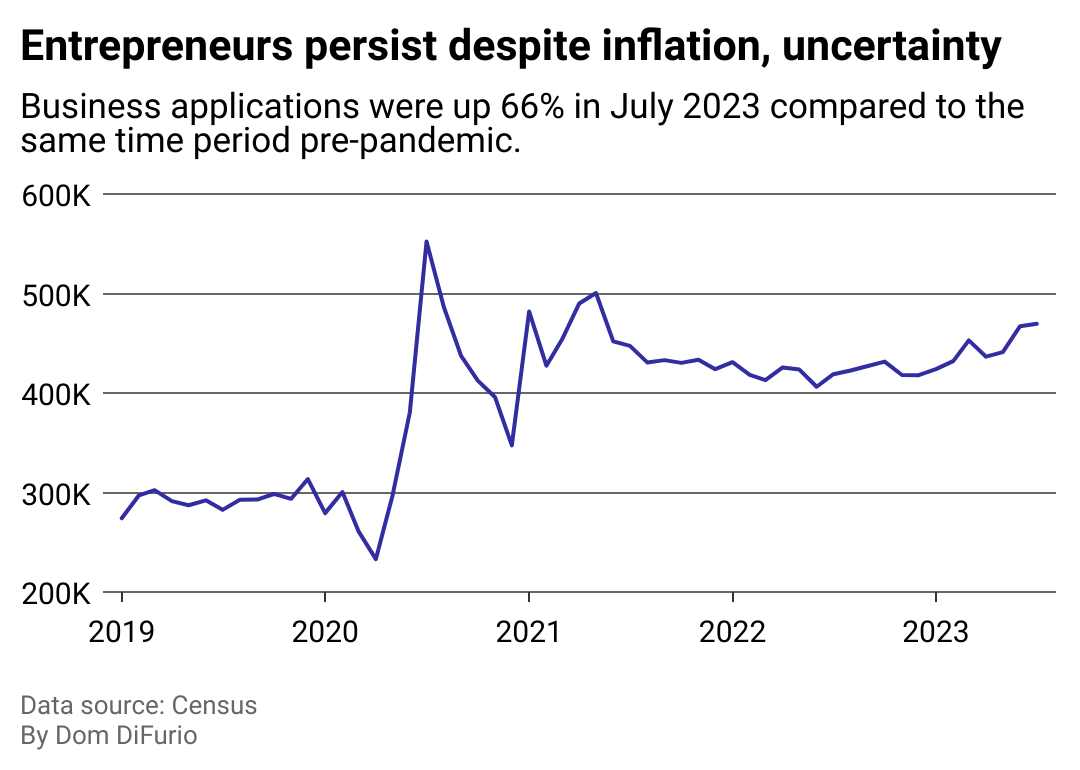 altLINE
Advancements in technology made it easier for business owners to set up and run online storefronts and services. Leading up to 2020, ecommerce platforms integrating new technology for enhanced shopper experiences provided a critical foundation for the spike in new businesses. As Americans stayed at home during the height of the pandemic, they shopped online for everything from personal care to groceries. Ecommerce sales nearly doubled in 2020, jumping by 43% to a whopping $815 billion in annual retail sales. Thousands in stimulus checks also did their part to keep Americans afloat—and spending. On top of those factors, interest rates for loans to buoy new companies and purchase real estate were at historic lows.
In the first year of the new business surge, retailers in the fashion space made up the lion's share of new small businesses, according to the GoDaddy Venture Forward Report.
Today, those new business owners face a much more expensive economy. Costs for labor, gas, clothing, food, and other critical inputs for businesses have risen considerably since 2020.
New business class faces considerable headwinds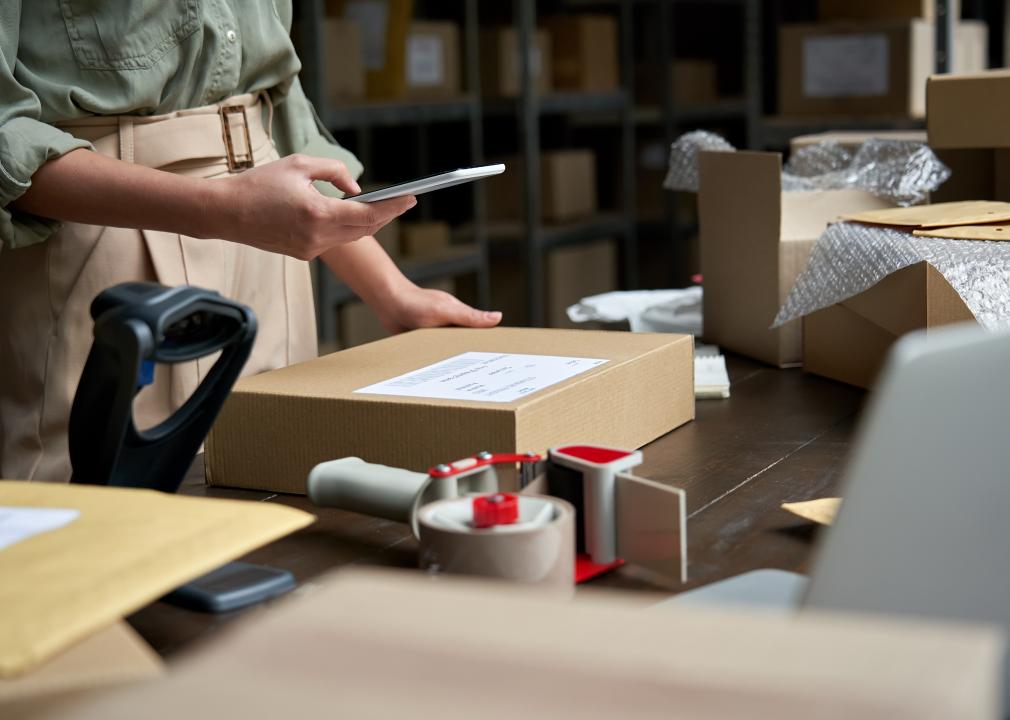 Ground Picture // Shutterstock
The typical new business faces its most difficult time in its first years of operation. Historically, 4 in 5 new businesses make it beyond their first year, according to Bureau of Labor Statistics data. But the odds of survival dwindle in each subsequent year of operation. Based on trends, just 1 in 2 businesses created in 2020 will likely survive beyond 2025.
The entrepreneurs looking to survive now face mounting headwinds in the face of rising interest rates, which has made borrowing money more expensive for both consumers and small business owners.
For small businesses seeking venture funding, seed-stage venture capital has stagnated as the venture capitalist ranks have grown wary of investing in early-stage companies. For those seeking loans, the cost of borrowing money today is at its highest since 2001, when the tech bubble burst, throwing the U.S. into recession.
Story editing by Ashleigh Graf. Copy editing by Kristen Wegrzyn.
This story originally appeared on altLINE and was produced and distributed in partnership with Stacker Studio.