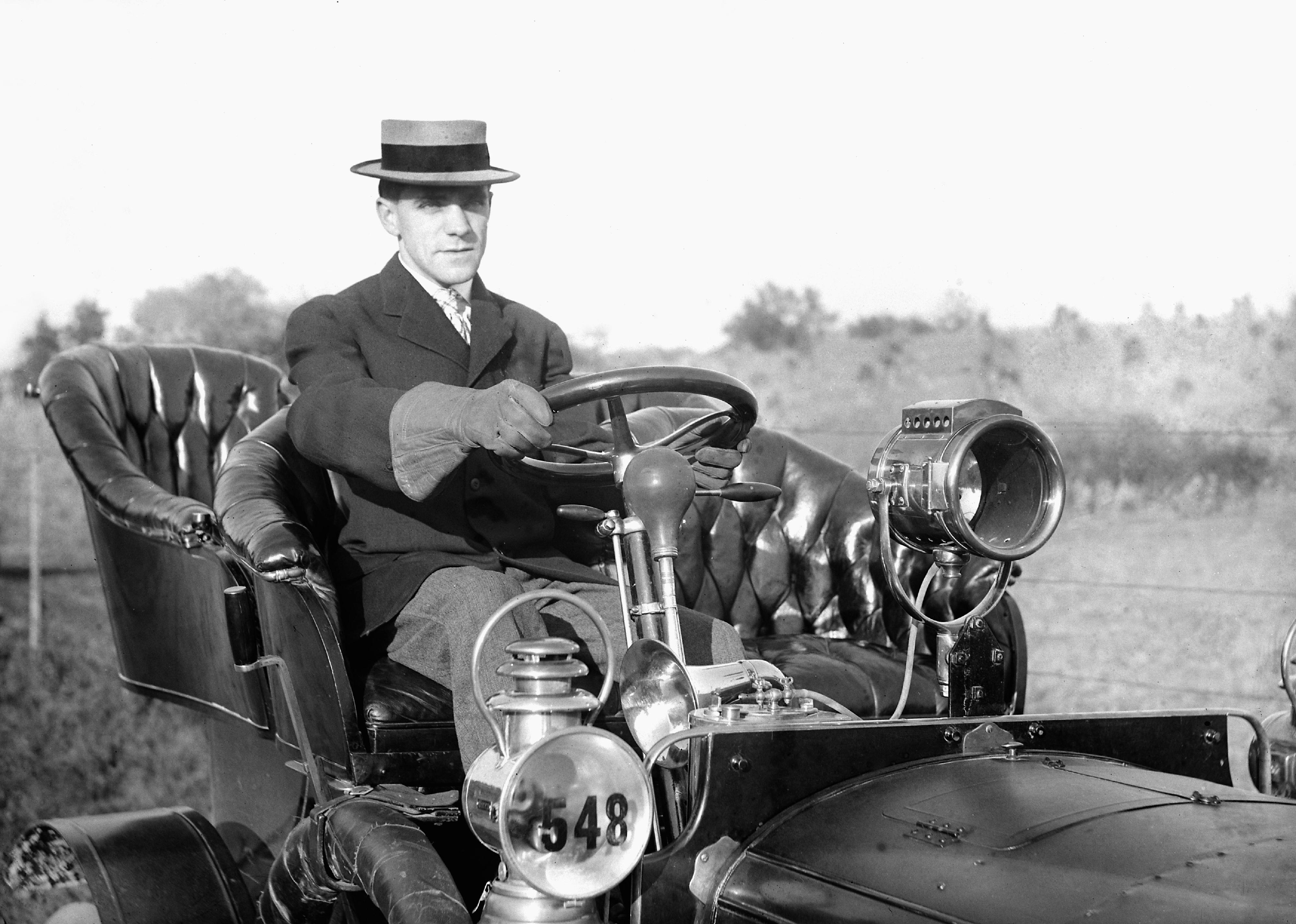 Kirn Vintage Stock // Getty Images
In 1903, Horatio Nelson Jackson, a physician from Vermont, his mechanic, Sewall Crocker, and Jackson's dog, Bud, made the first cross-country road trip. It took the group about 63 days to drive from coast to coast.
Mudslides, torrential rain, breakdowns, and a complete lack of roads and bridges at several critical junctures impeded their travels. The adventure was an exciting and expensive one (it reportedly cost Jackson $8,000), and it absolutely captured the imaginations of Americans. In the years that followed, hundreds of other folks would set out on their own long-haul car journeys.
More than a century later, road trips remain a popular mode of vacation travel for Americans. In the summer of 2023, approximately 79% of Americans reported they'd be hitting the pavement for a leisure trip. These road trips have obviously changed significantly since those early days—for one thing, the national highway system makes long-distance travel much easier and faster—but some things, like our affinity for greasy fast food and love of a gorgeous view, have remained the same.
CheapInsurance.com explored the history of American road trips featuring photos from news agencies and media hubs. This collection of 25 images shows what driving in the country has been like over the last century. From dusty beginnings to infrastructure feats like Route 66, hit the road through images that show America's unique and magical love affair with car travel.
A dusty beginning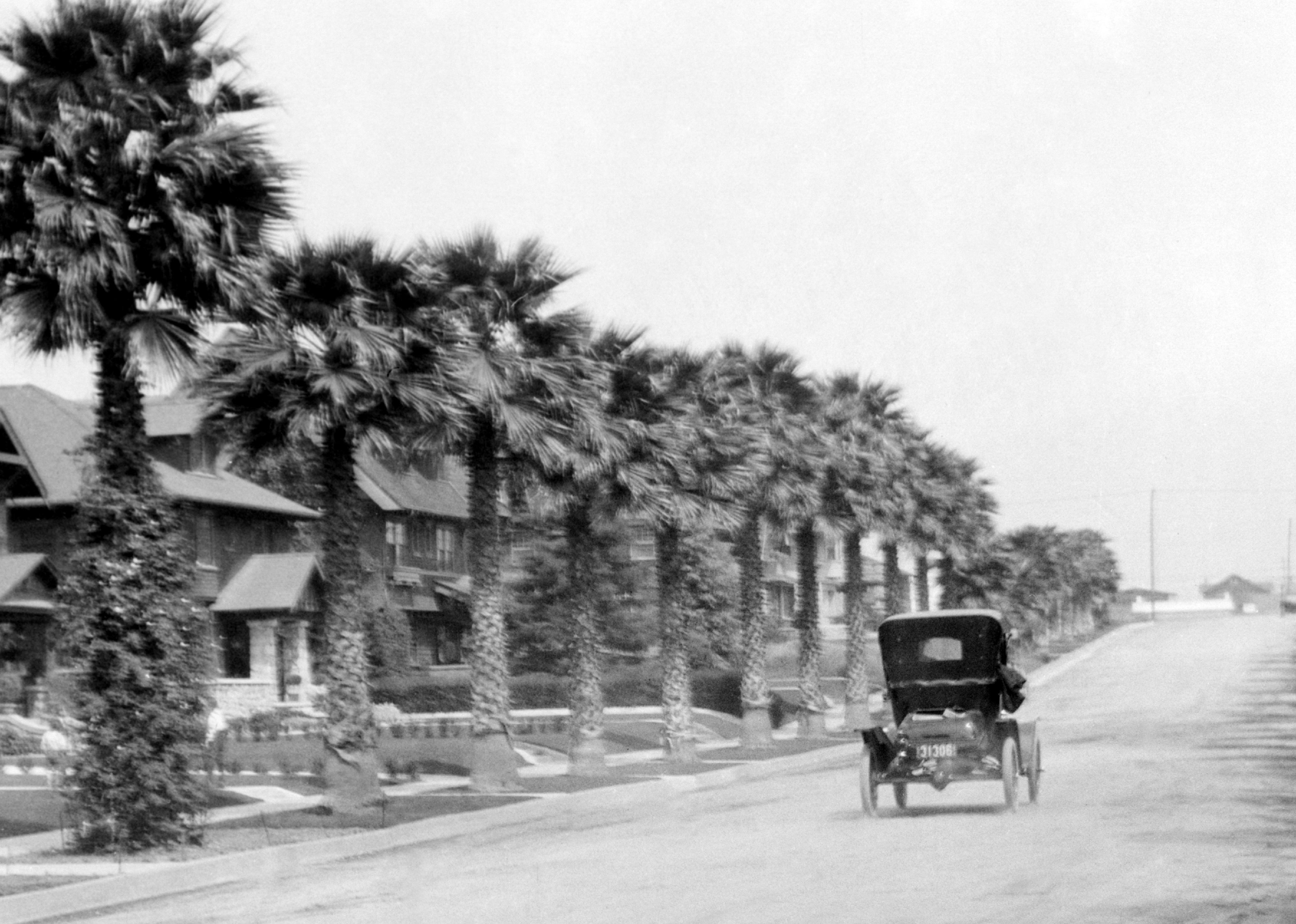 Kirn Vintage Stock // Getty Images
In the early 20th century, when most roads were still unpaved, road trips were a much dirtier, dustier affair. It wasn't until the 1956 Federal-Aid Highway Act, which called for uniformity in the nation's major thruways, was passed that many of these oft-traveled highways and byways were finally covered in asphalt.
A family affair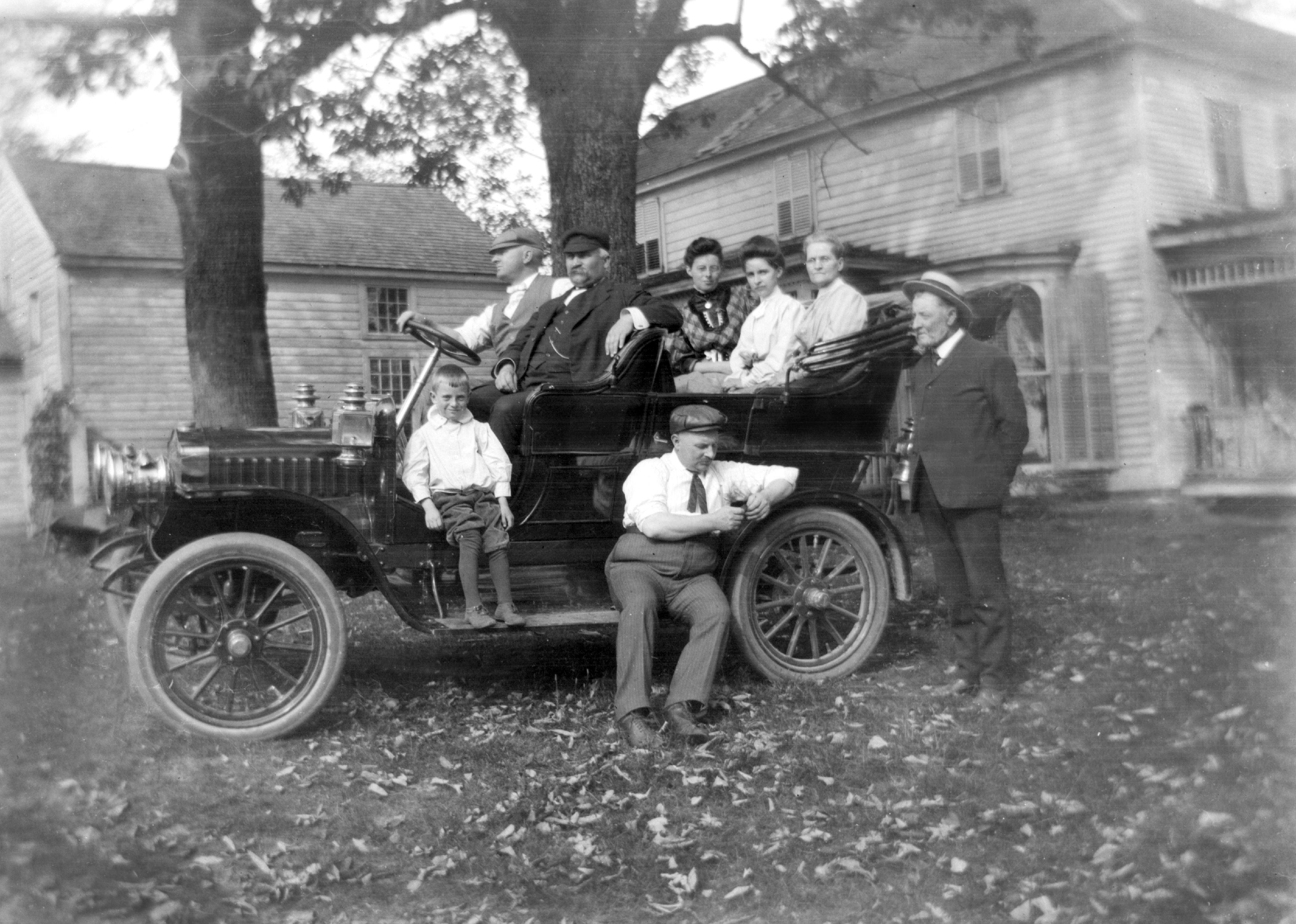 Kirn Vintage Stock // Getty Images
Road trips have always been a way for families to bond and create new memories. But 100 years ago, before SUVs and minivans were even a thought, the time spent on the road would have been much less comfortable.
A roadside picnic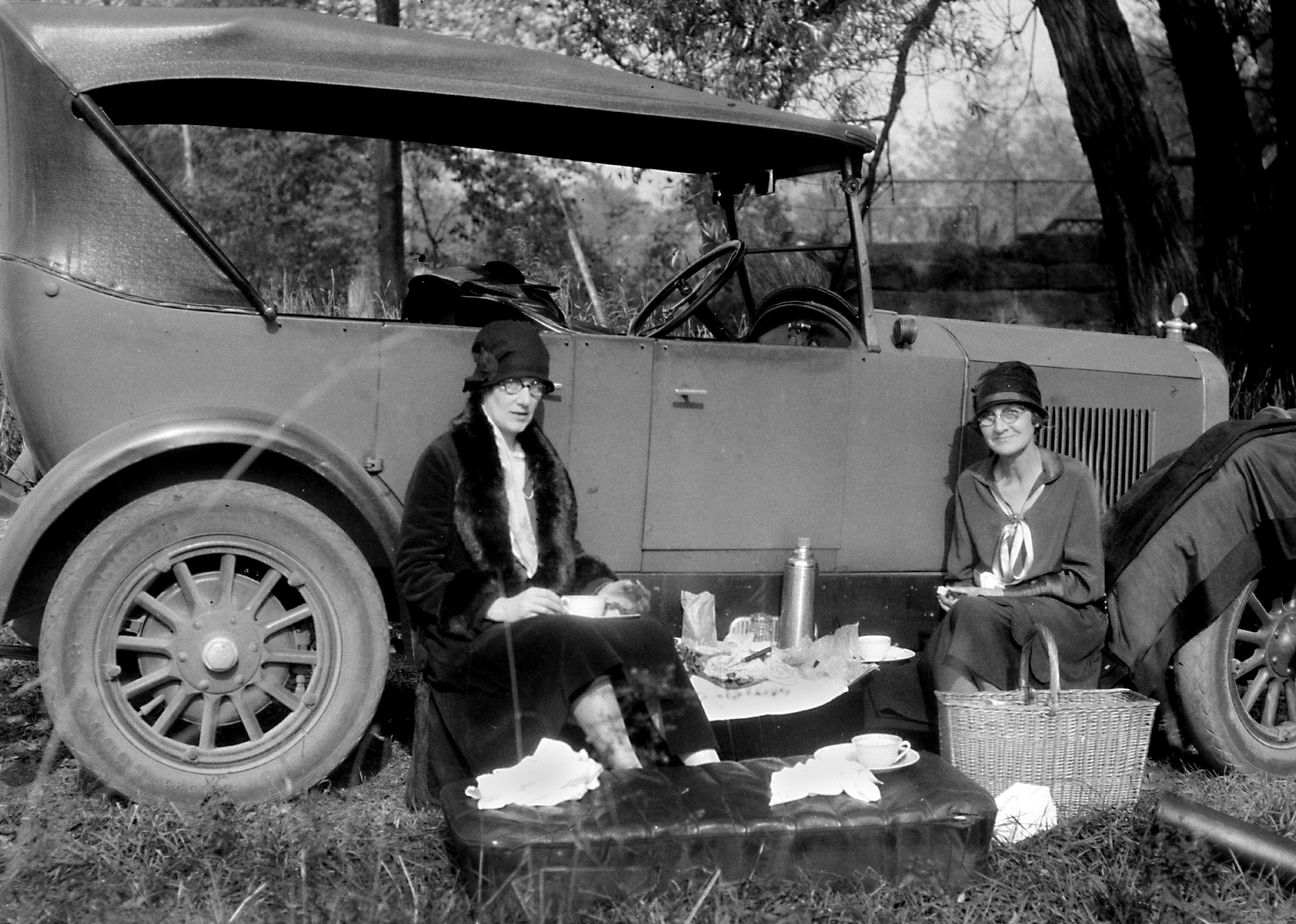 Kirn Vintage Stock // Getty Images
Before there was a unified, cross-country highway system and fast food restaurants dotting those thruways, finding places to eat on long car journeys could be difficult. Many travelers took matters into their own hands, bringing packed picnic lunches to chow down on whenever hunger hit.
Bumper stickers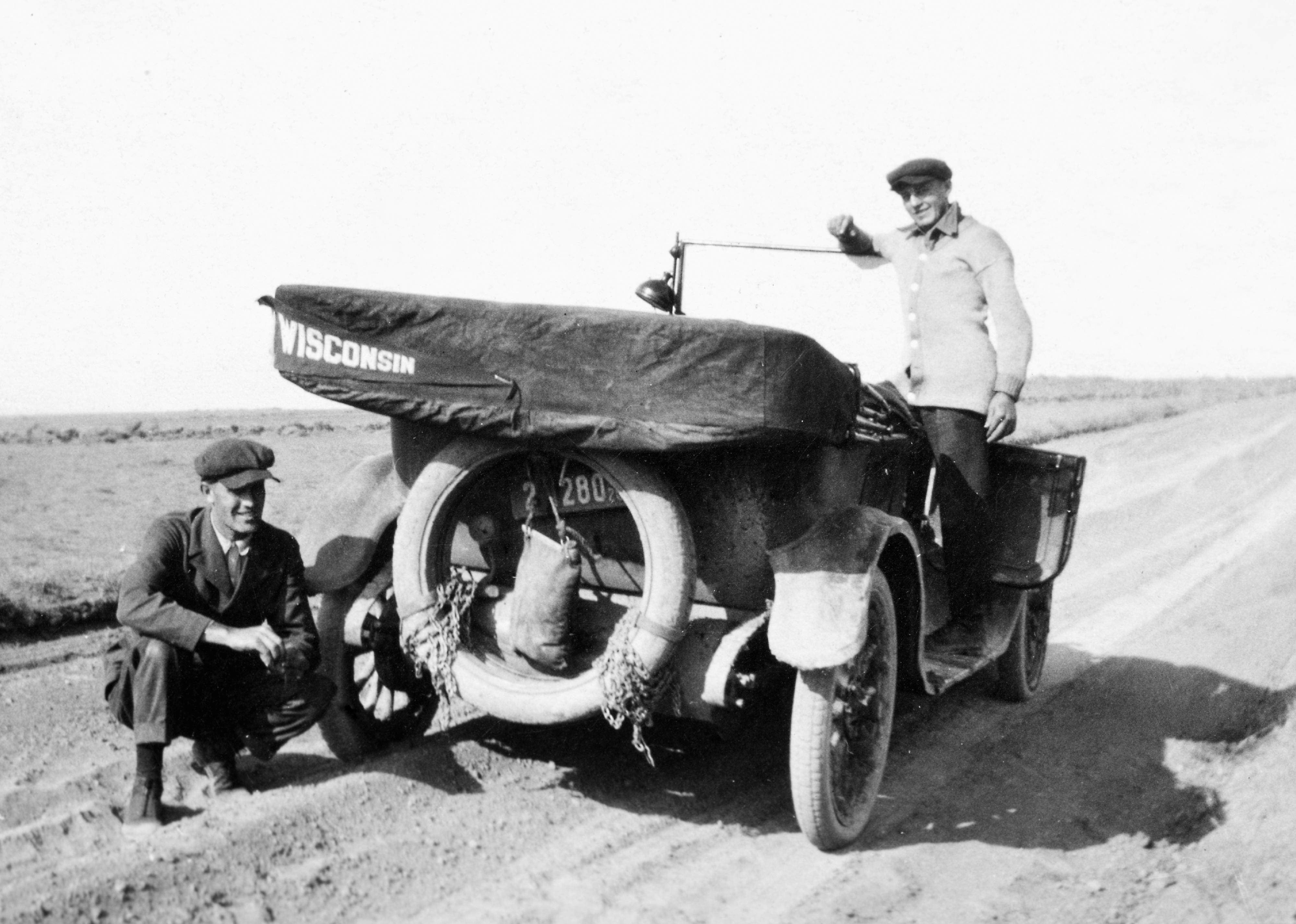 Kirn Vintage Stock // Getty Images
Today, many folks buy bumper stickers from their road trip destinations to brag to other drivers about where they're from and where they've been. We tend to think of this phenomenon as relatively new, but as evidenced by this 1925 picture of two men with a Wisconsin flag pinned to the back of their vehicle, it isn't—it's just now as simple as peeling off a paper backing.
A drive through Yellowstone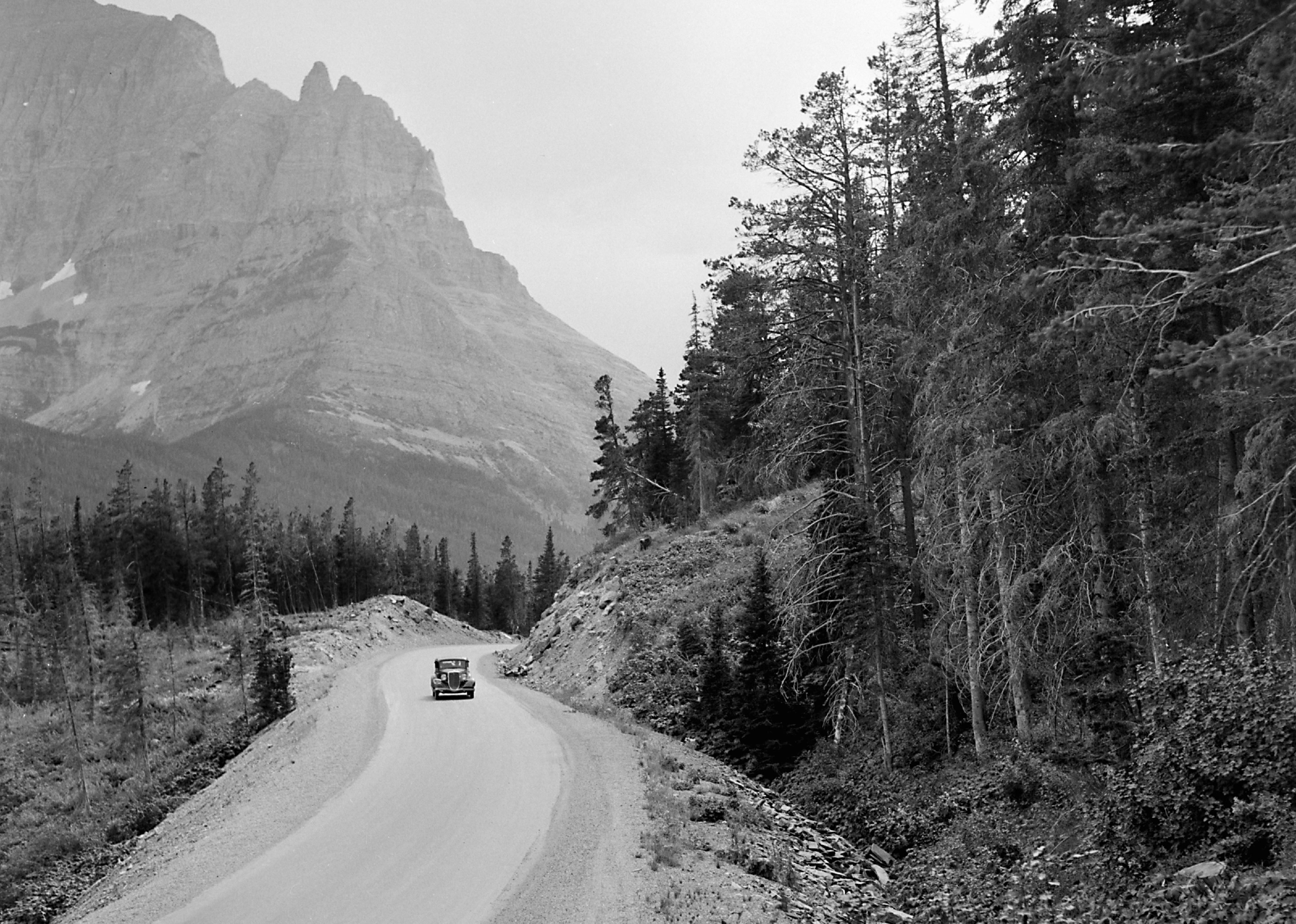 Kirn Vintage Stock // Getty Images
Since the country's first national park, Yellowstone, was established in 1872, the protected areas have become popular destinations for road trippers. In 2022 alone, nearly 312 million people visited our more than 400 national park sites. There is no official word about how many of those guests were on road trips, but it's likely to be a significant percentage.
Getting ready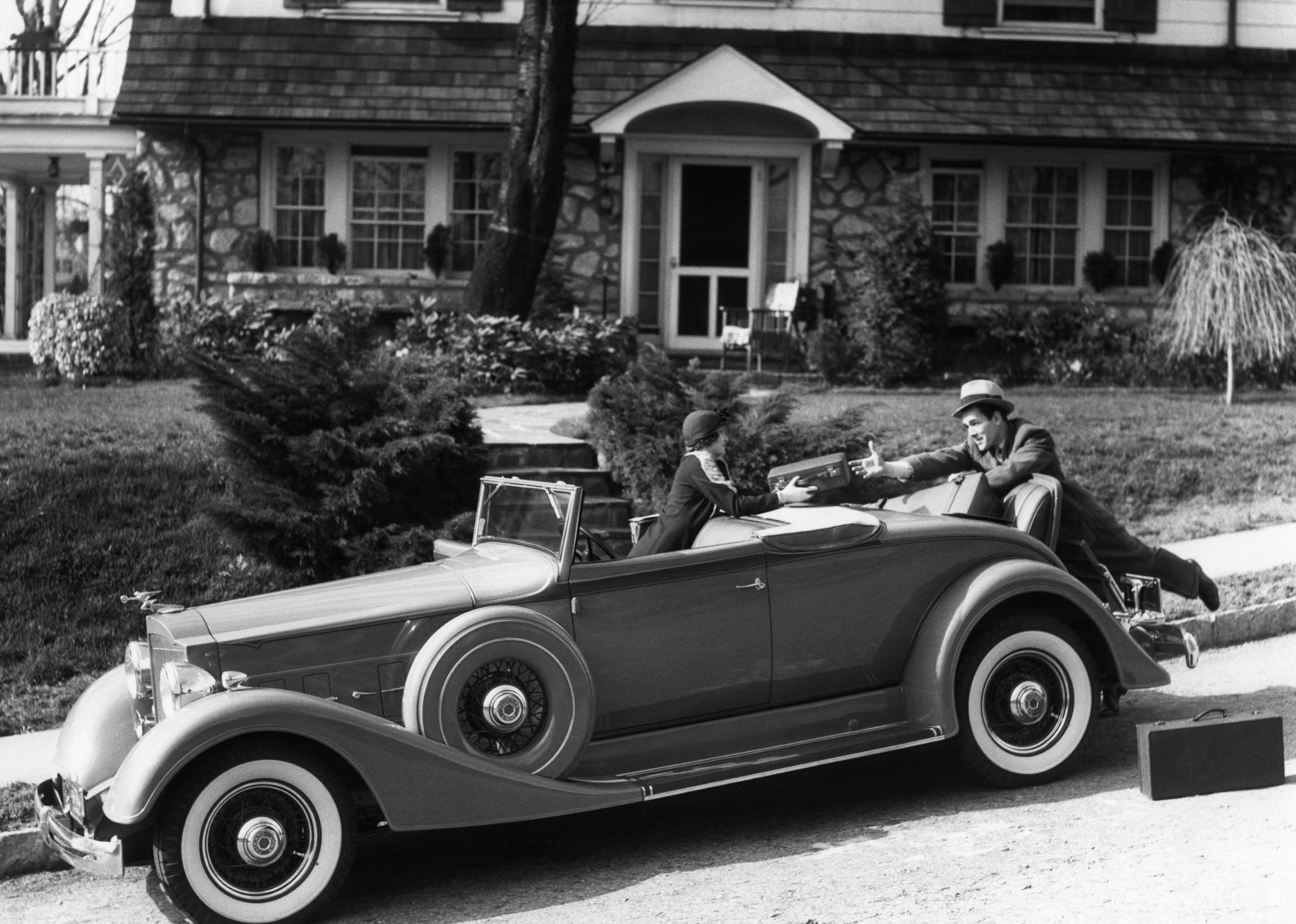 H. Armstrong Roberts/ClassicStock // Getty Images
A couple loads up their trunk with their luggage before setting out on a car trip in the early 1930s.
Early fast food options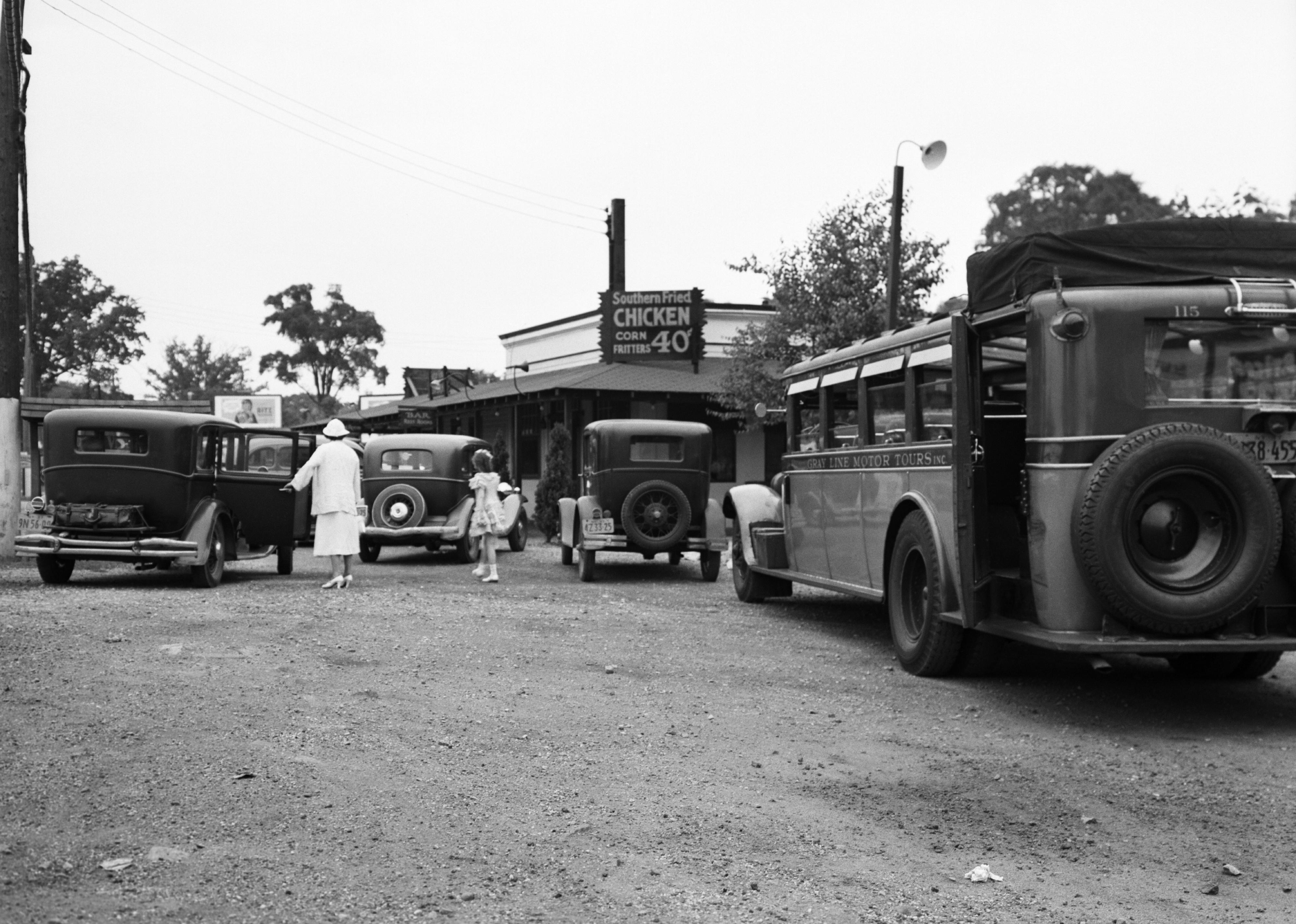 ClassicStock // Getty Images
While many fast food chains took off in the '50s and '60s with the development of the highway system, some chains, like White Castle, and locally owned roadside restaurants began operating in the '20s. Here, a group of travelers stops at a fast food joint selling Southern fried chicken sometime in the 1930s.
Packing the trunk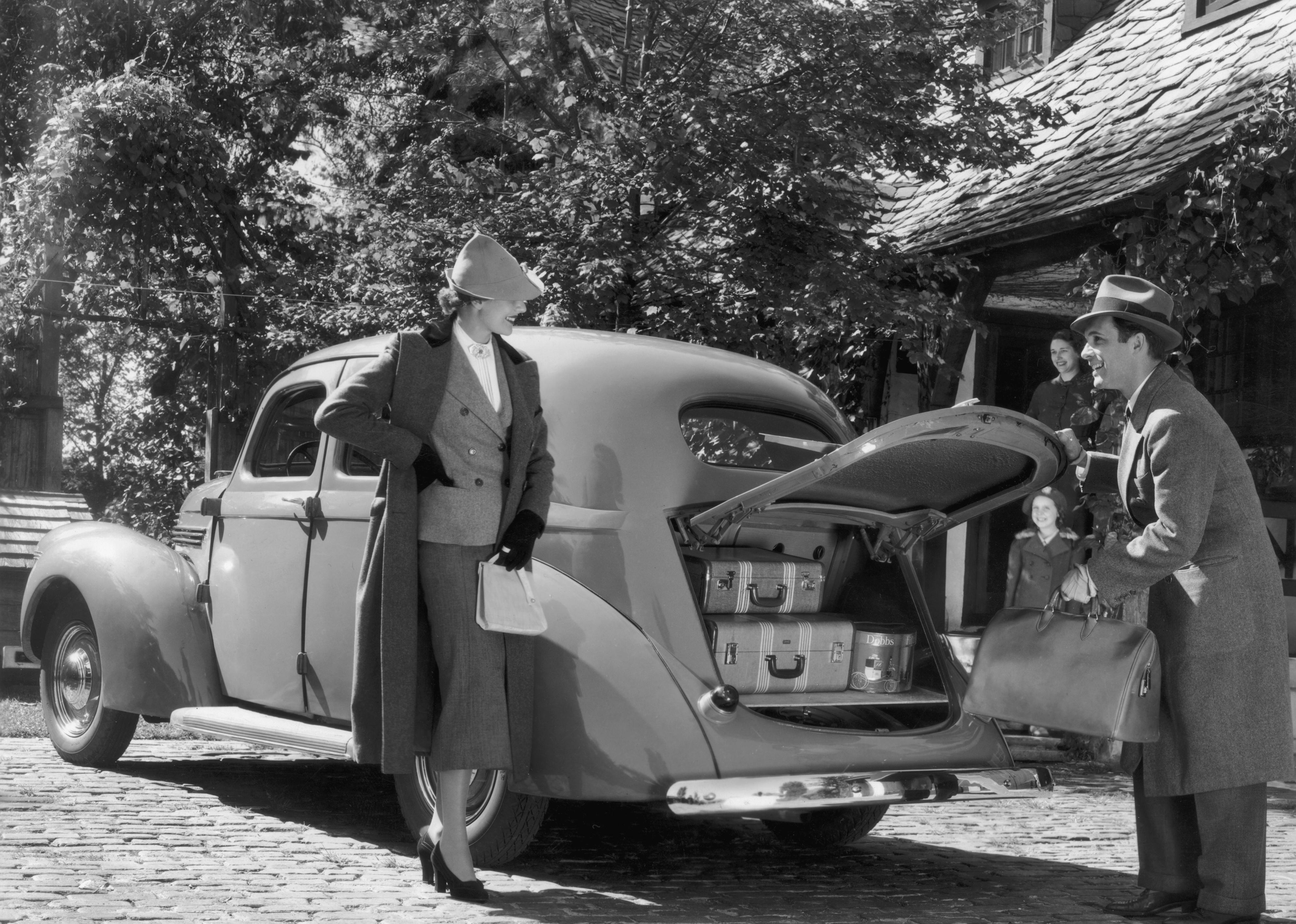 FPG // Getty Images
In the 1920s, manufacturers began adding built-in trunks to the rear of their cars. As these developed over time, they went from small compartments able to hold just one or two items to roomier spaces with sections for everything from picnic paraphernalia to luggage. By the early 1930s, the luggage compartment, or the trunk, became standard in motor vehicles.
Hitting the open road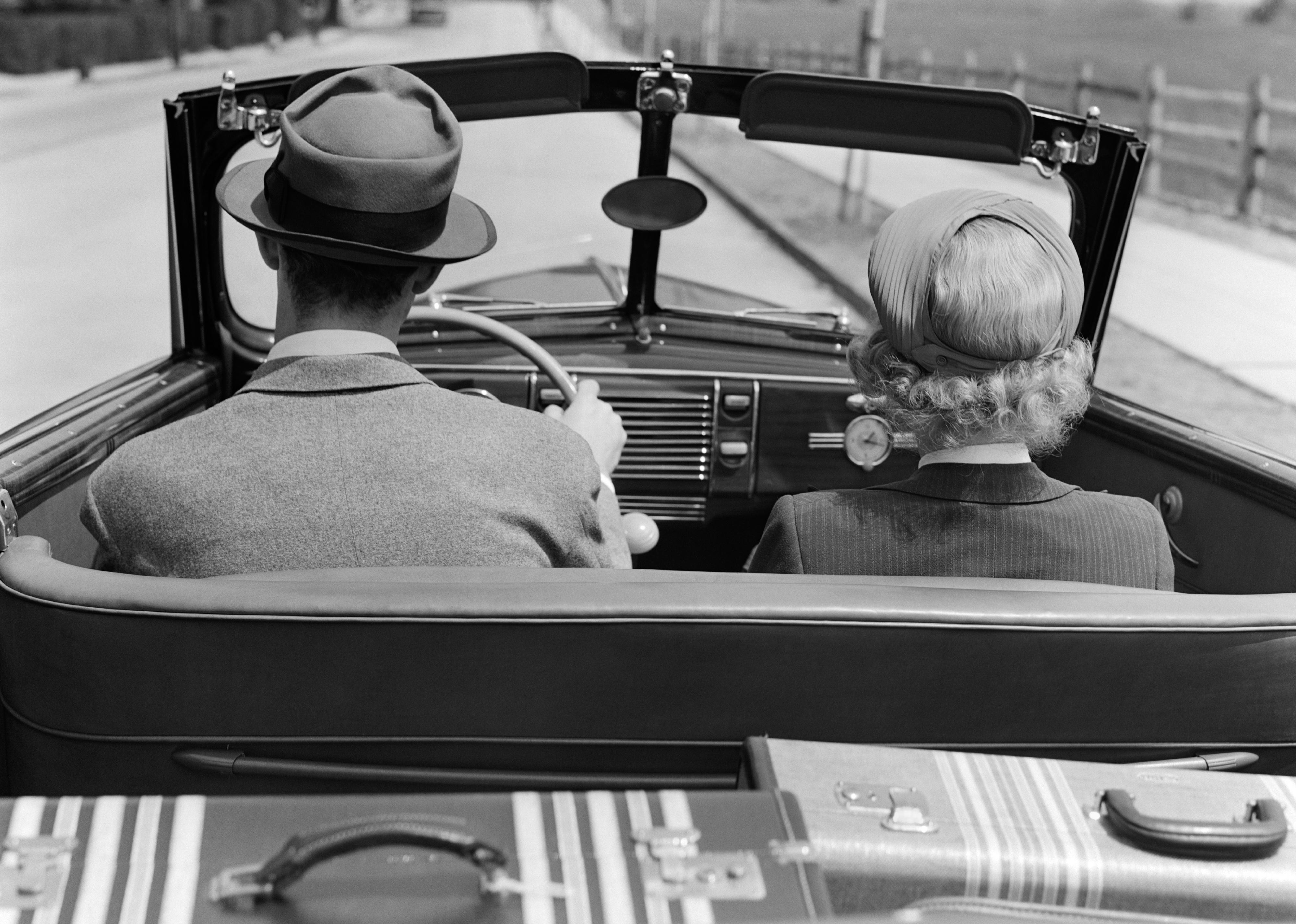 H. Armstrong Roberts/ClassicStock // Getty Images
A couple, decked out in their best traveling clothes, set off on a journey in their top-of-the-line convertible.
Taking in the Grand Canyon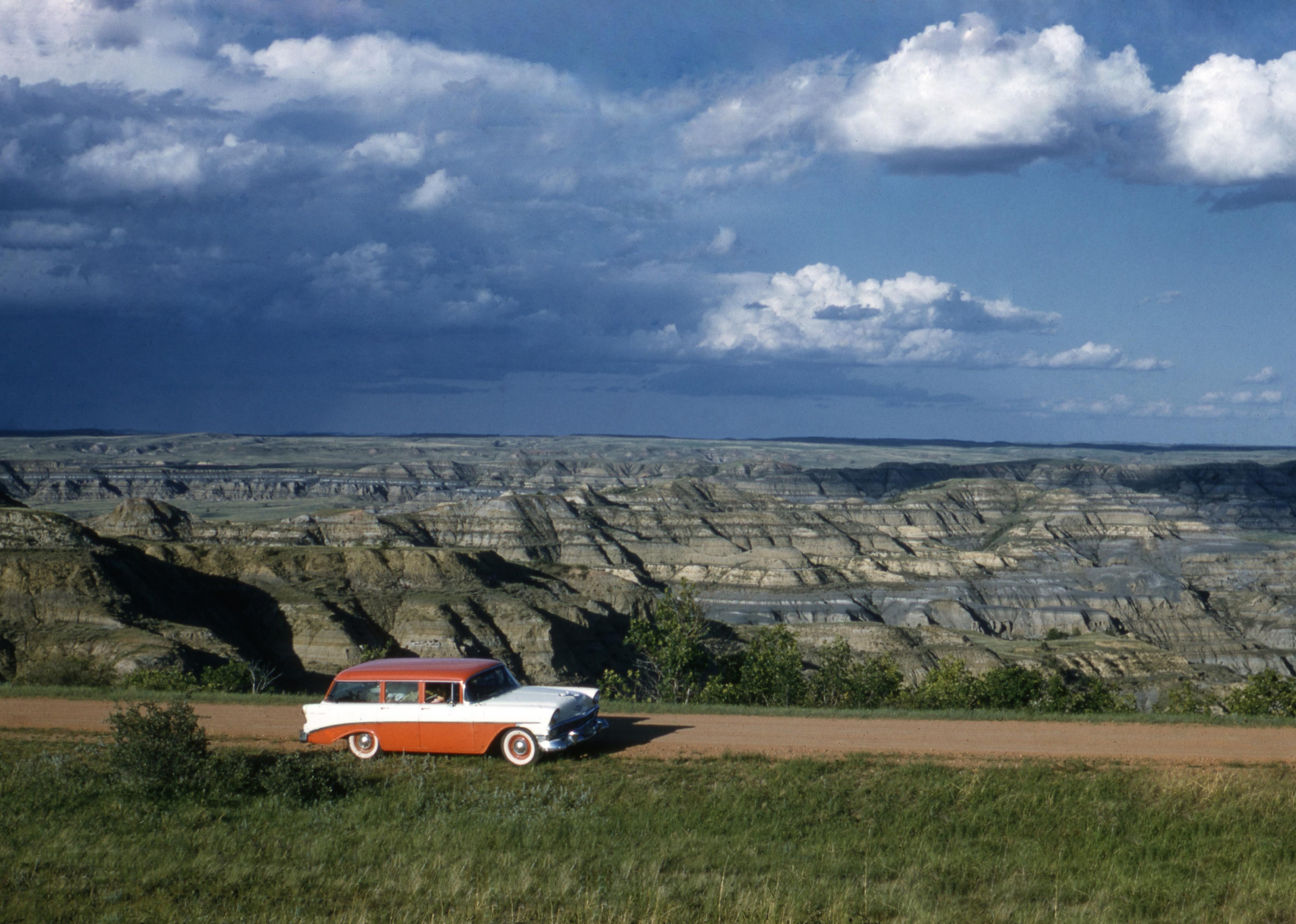 Jim Heimann Collection // Getty Images
The Grand Canyon National Park, which first opened in 1919, remains one of the country's most popular road trip destinations. Bigger than the state of Rhode Island, there's plenty for travelers to check out and tons of gorgeous views, like this one from the 1940s, to capture.
Car trouble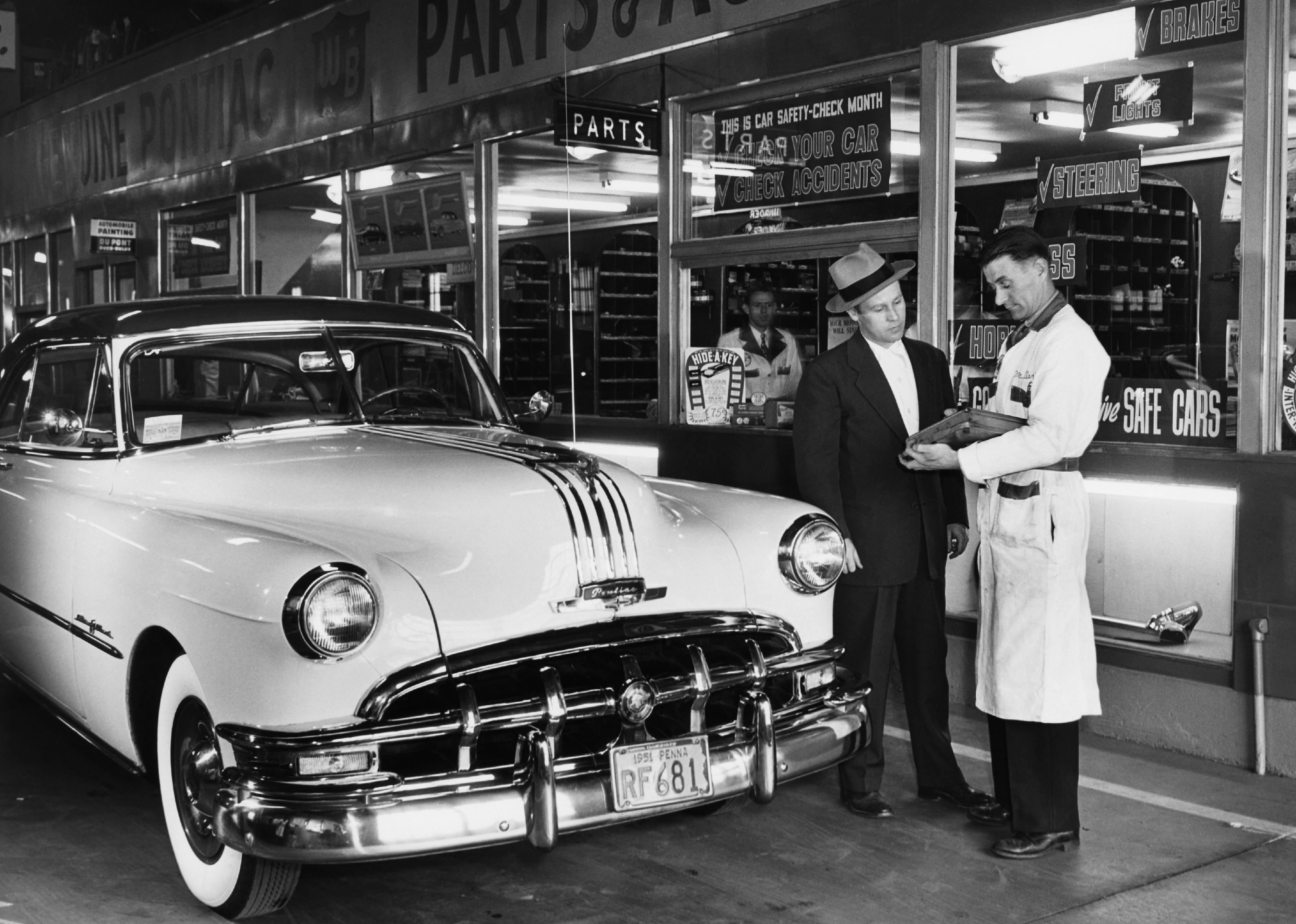 Harold M. Lambert // Getty Images
An unlucky traveler discusses repair costs with a small-town mechanic in the early 1950s. AAA wouldn't establish its Approved Auto Repair program (which helps consumers identify reputable and affordable mechanics) until 1975, so drivers could only cross their fingers and hope they were getting a good deal.
A fashionable affair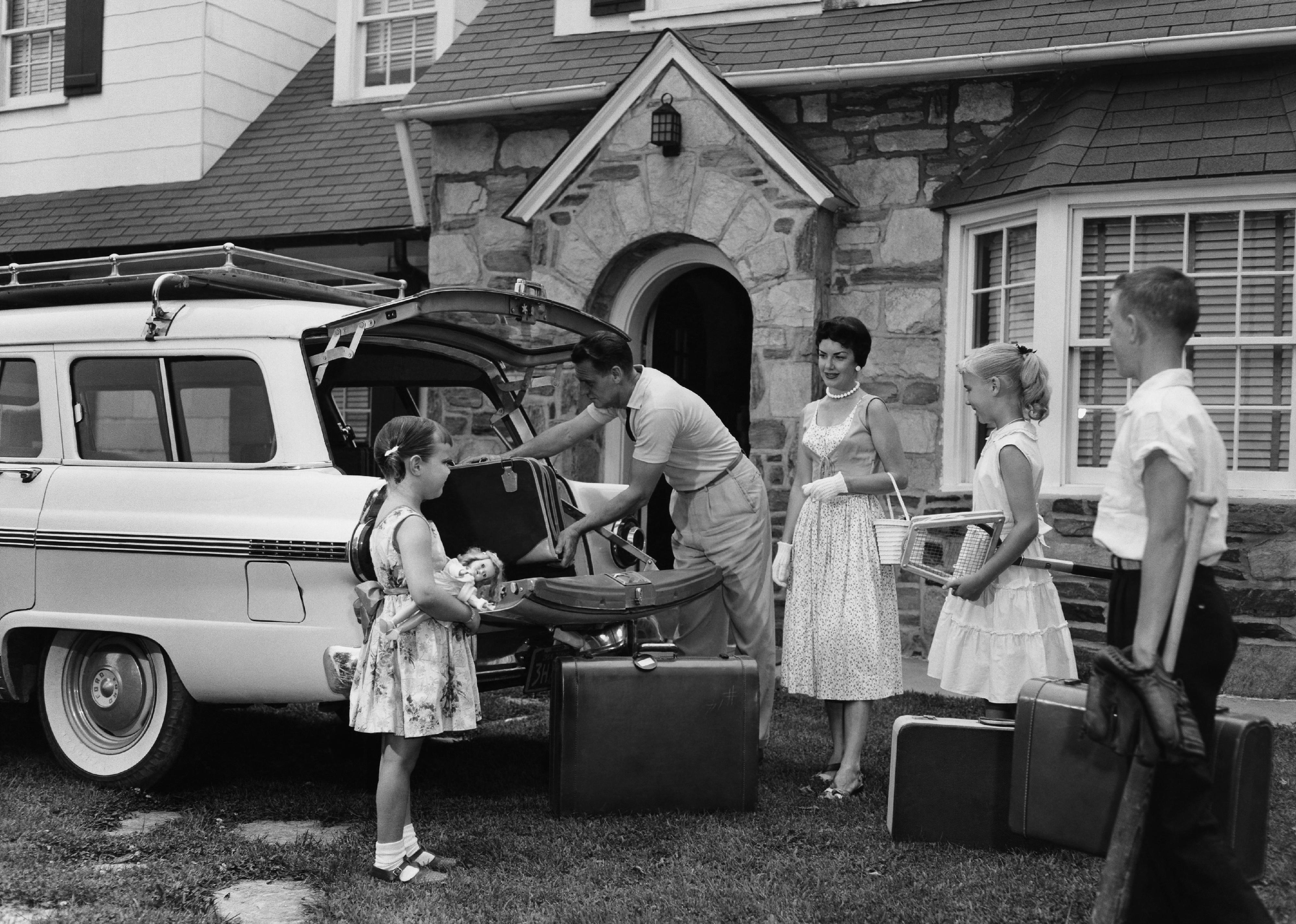 Harold M. Lambert // Getty Images
In contrast to today, people in the mid-20th century would often dress up for travel, whether on a family road trip or a cross-country flight. Today, it's much more common to see people set out on a trip in athleisure.
Getting gas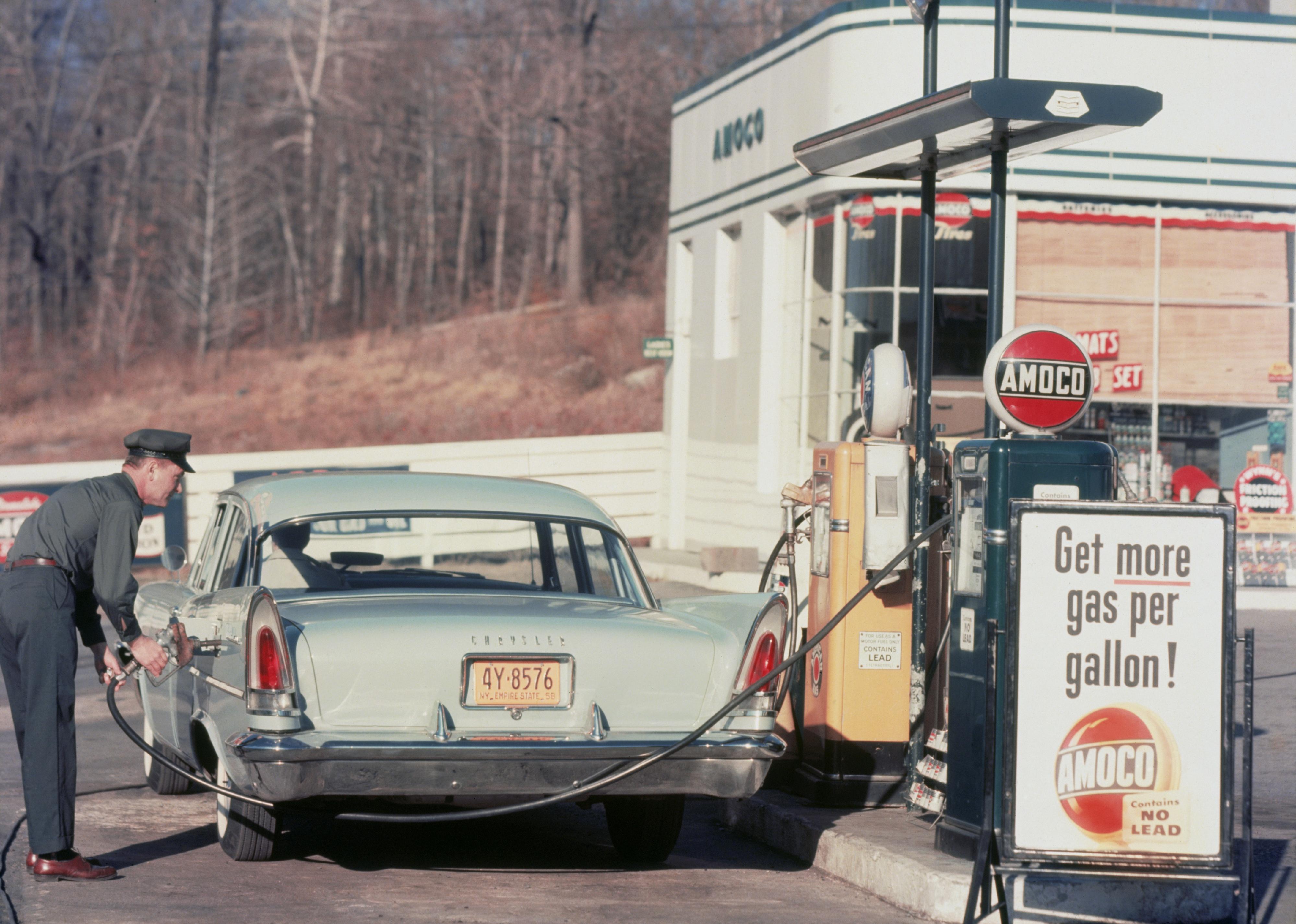 FPG // Getty Images
In the early part of the 20th century, most gas stations were manned with attendants who would pump your fuel and collect your payments (which is now only the case in New Jersey). The first self-service station opened in Los Angeles in 1947,  but it wasn't until the 1970s that self-service stations became the norm.
Greyhound trips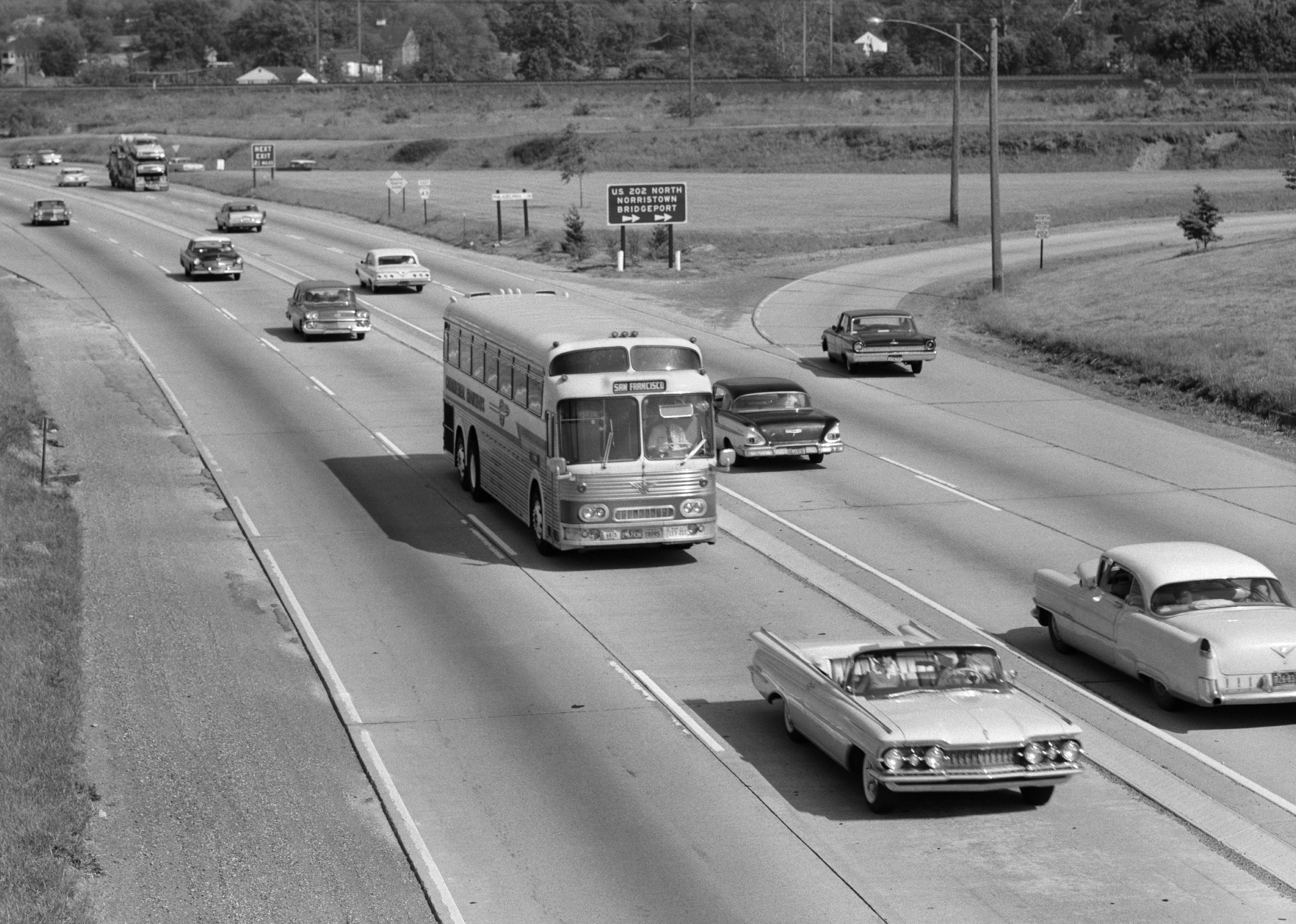 H. Armstrong Roberts/ClassicStock // Getty Images
Since its founding in 1914, Greyhound has been the most popular company for long-haul bus trips. In the '50s and '60s, the chain poured quite a bit of cash into improving their coaches, adding things like picture windows and on-board bathrooms that would make the journeys significantly more comfortable.
Stopping for a bite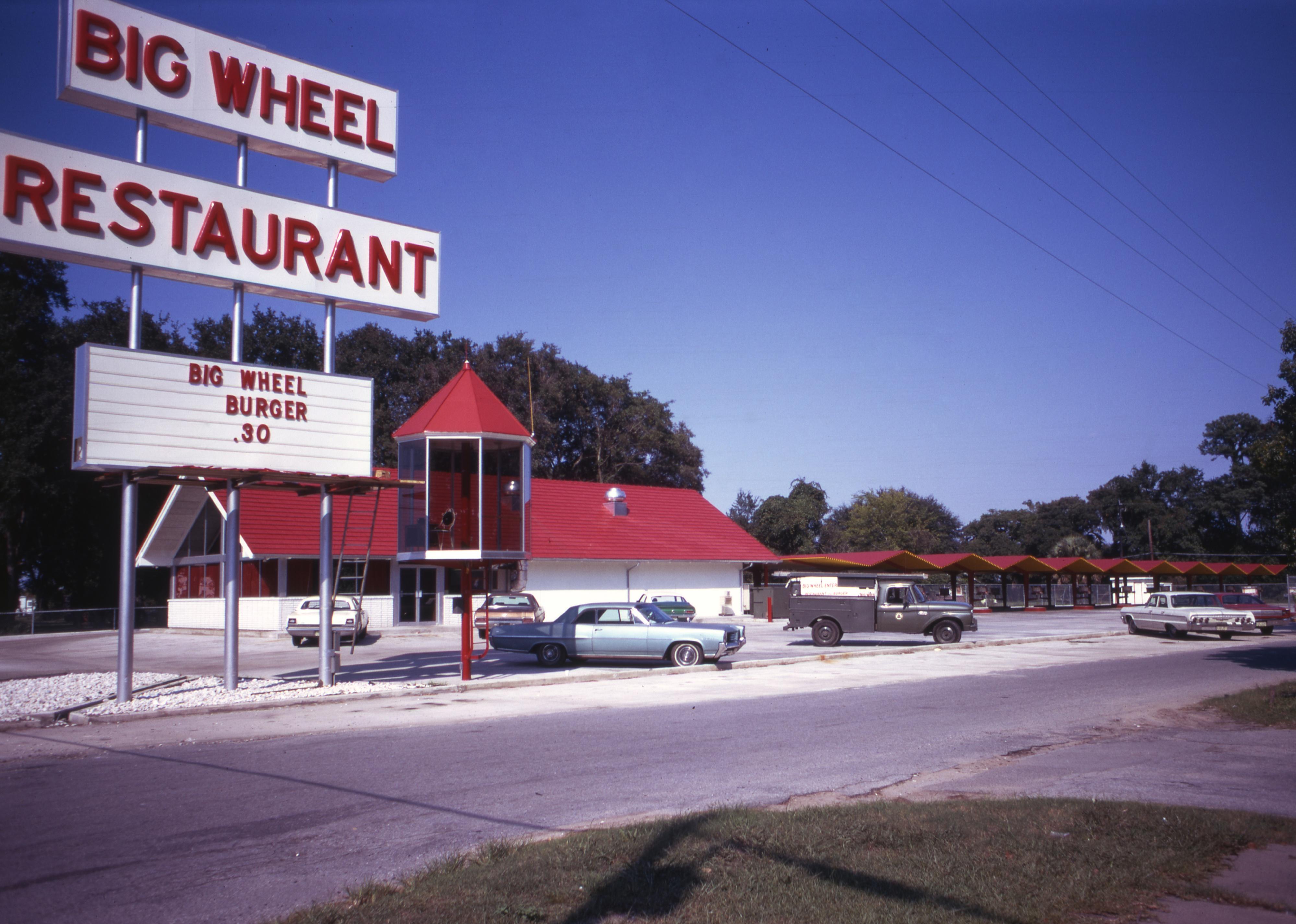 Jim Heimann Collection // Getty Images
McDonald's, the world's largest fast-food chain, began selling hamburgers in the 1940s. After seeing how popular the item was with diners, many other roadside restaurants followed suit, establishing the sandwich as a quintessential road trip food.
Motels galore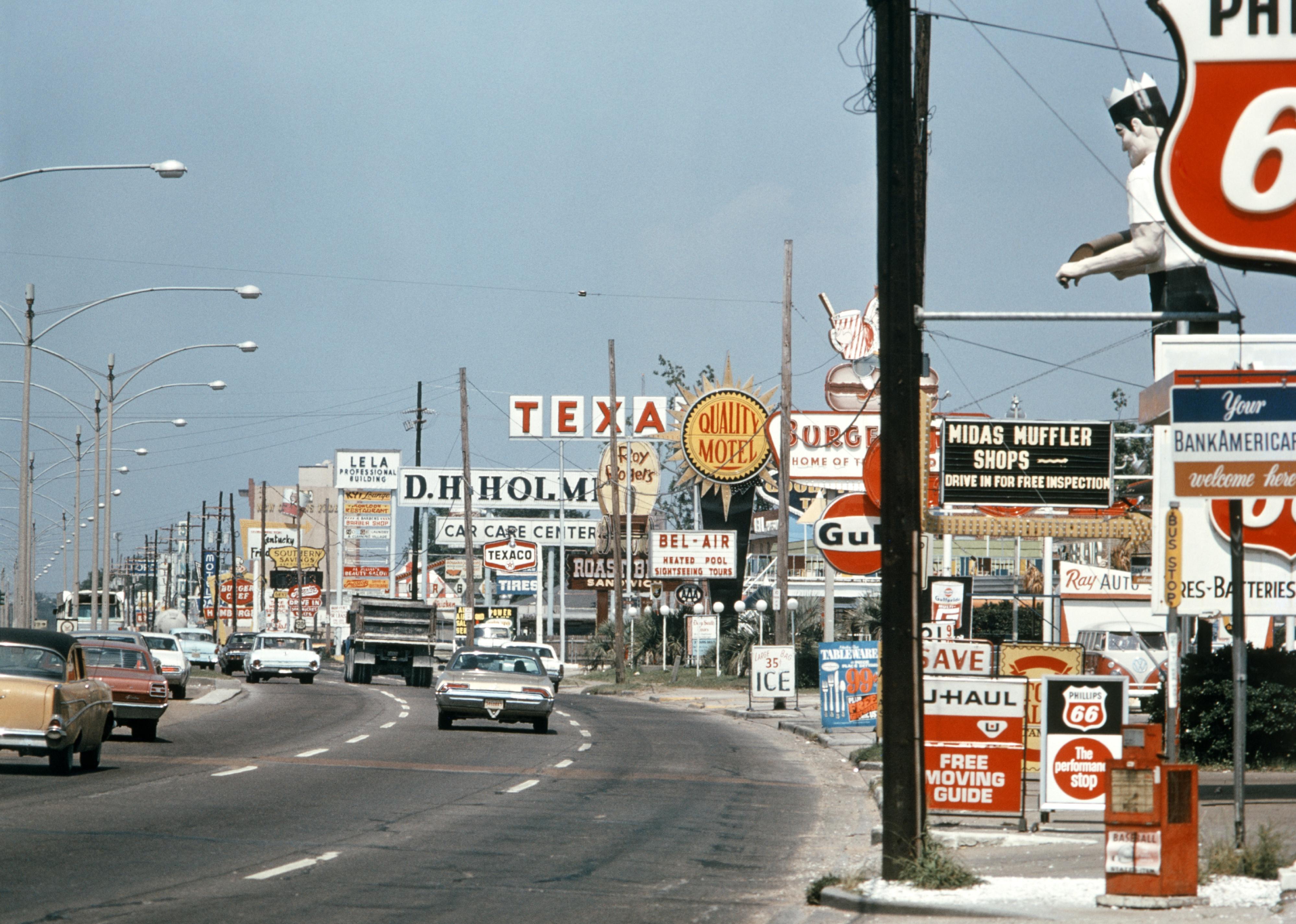 ClassicStock // Getty Images
Following World War II, motels became one of the most popular overnight stay options for road trippers, beating out campsites and tourist homes. In 1964, a whopping 61,000 mom-and-pop motels were operating across the United States.
Filling the tank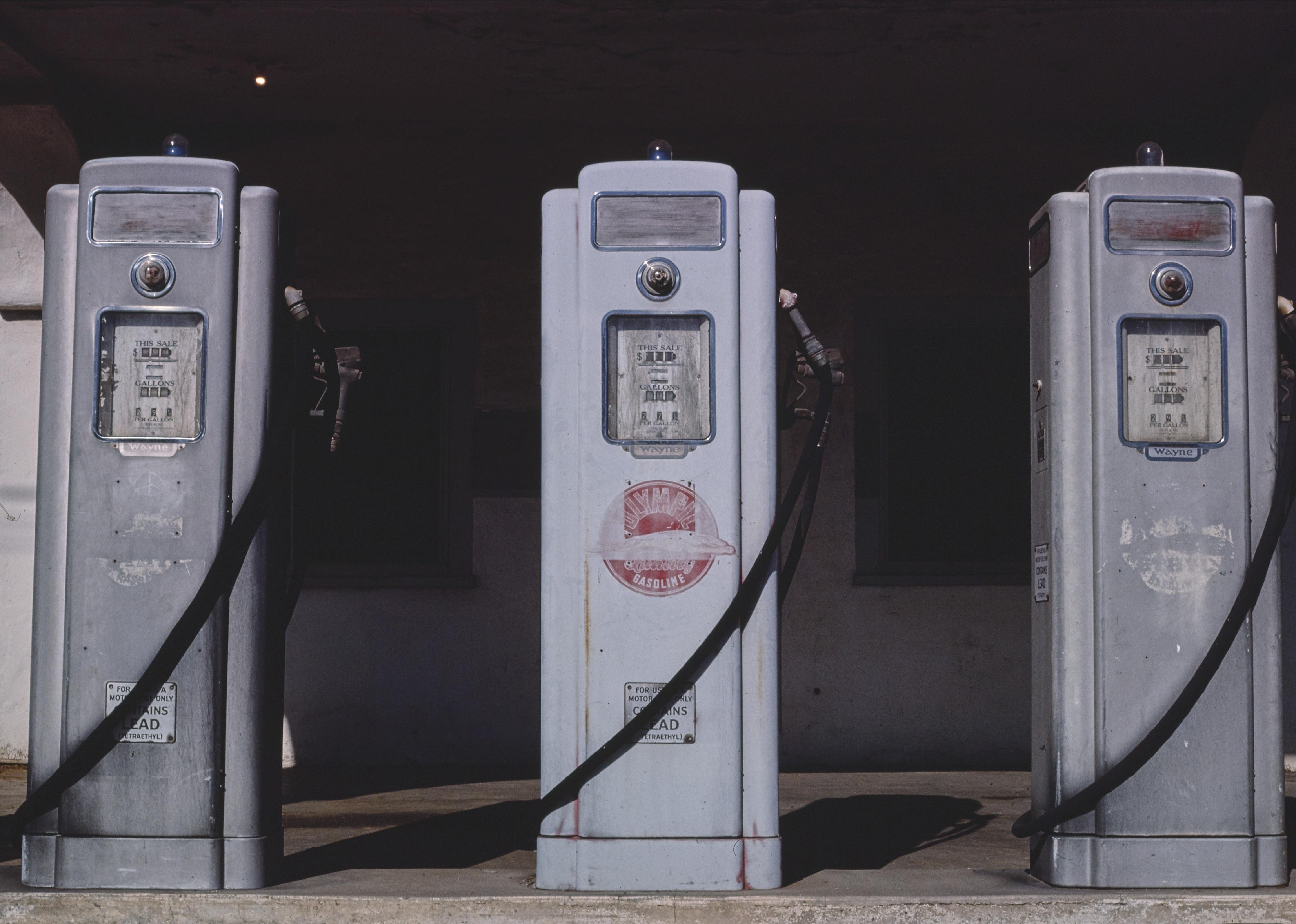 Universal History Archive // Getty Images
In 1964, an inventor named Herb Timms created a system that allowed a single attendant to control all the pumps at a gas station from a remote location. The pumps pictured here at a San Diego gas station are early examples of self-service stations.
A golden beacon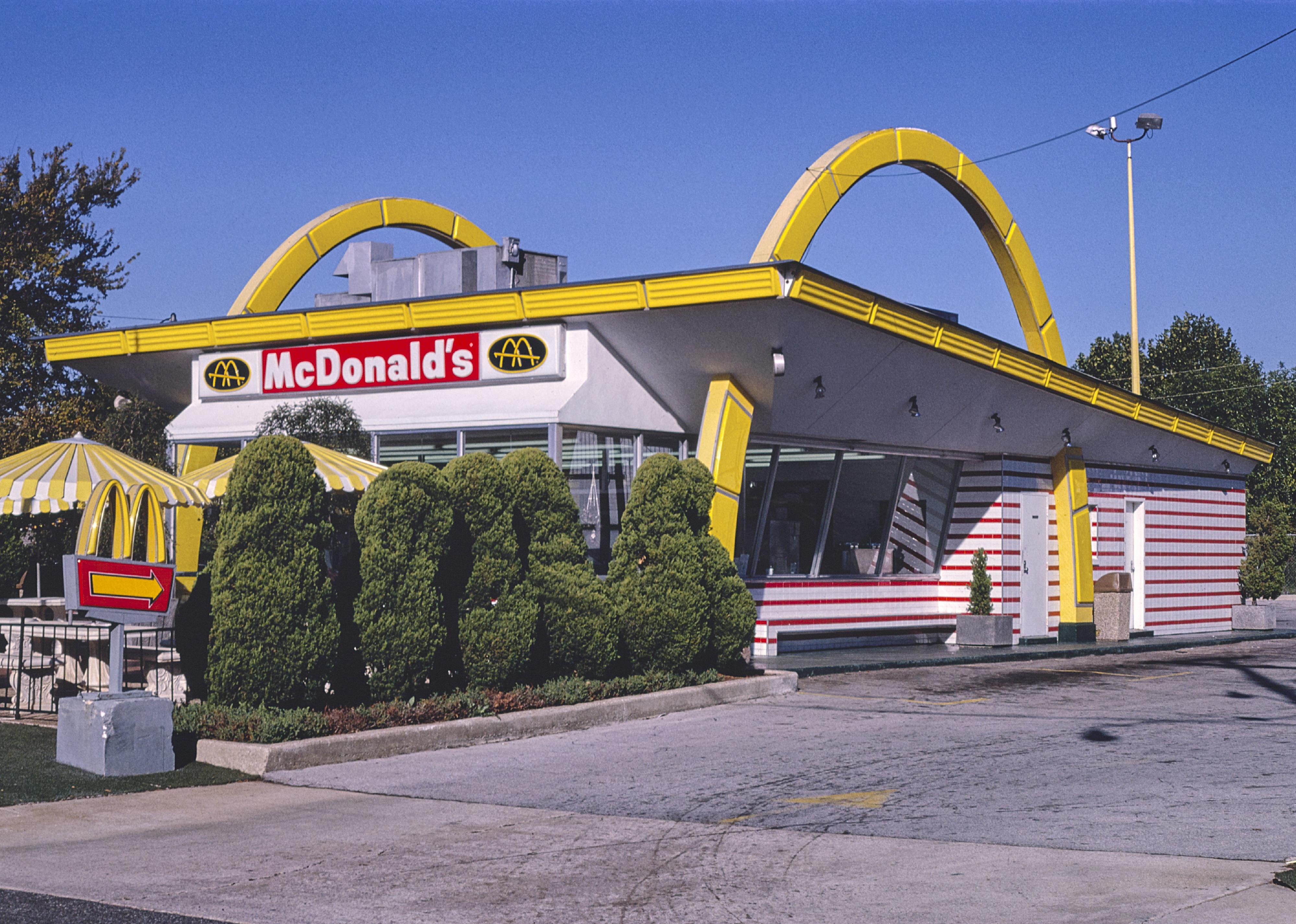 Universal History Archive // Getty Images
The golden arches and their cheap, quick meal options welcome road trippers off Route 11 in Birmingham, Alabama, in 1980.
Roadside camping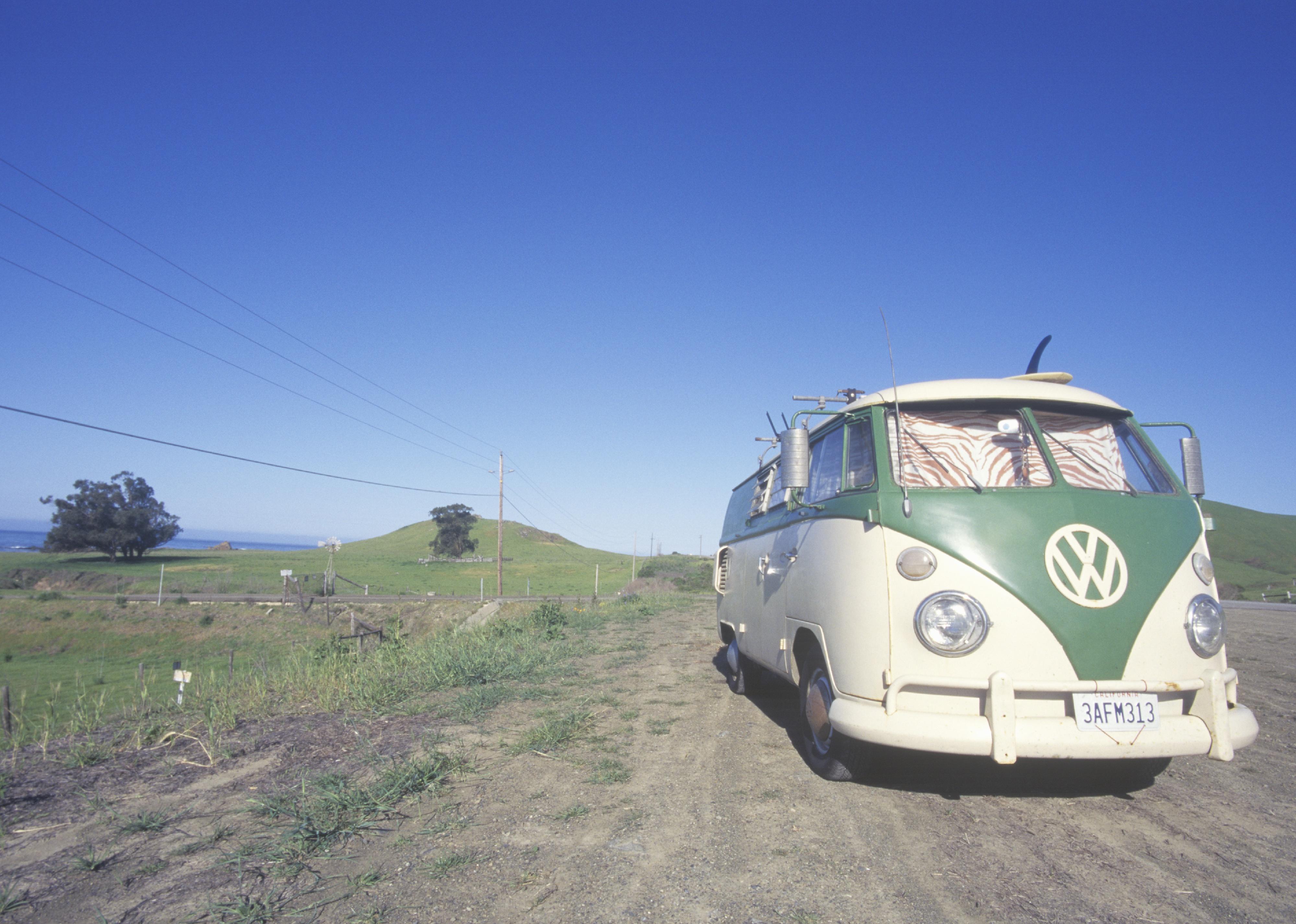 Joe Sohm/Visions of America // Getty Images
The Volkswagen Microbus became a symbol of the counterculture almost as soon as it rolled off the assembly line in 1950. Here, a road tripper camps in their bus on a roadside in California.
Heading through town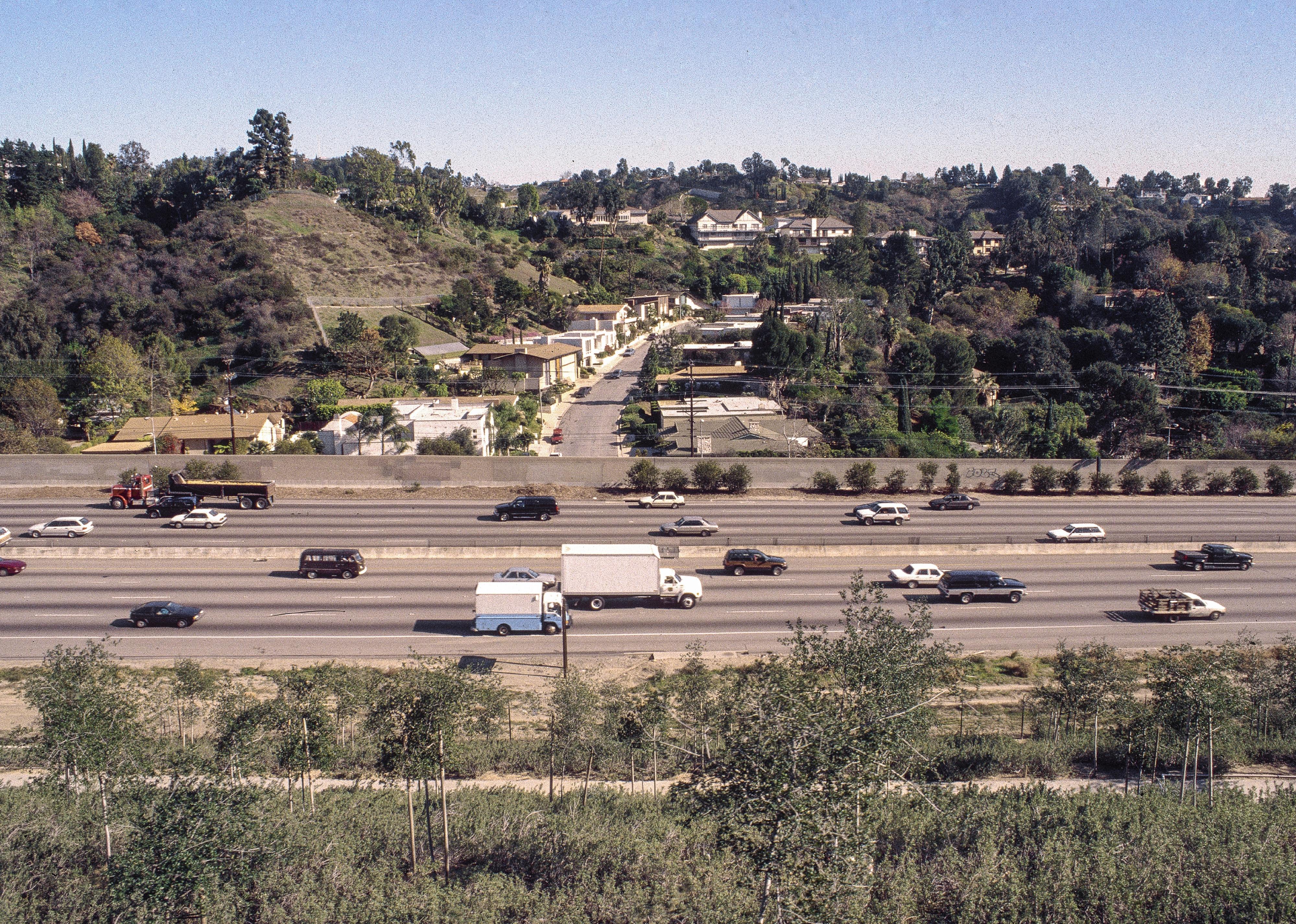 Barbara Alper // Getty Images
Long stretches of America's highway system are fairly desolate, where the only things visible out the window are rolling hills and free-roaming cattle. Once in a while, however, the interstate will cut through busy city centers, like this piece of the 405 in Los Angeles, making for much more exciting window-watching.
The Pacific Coast Highway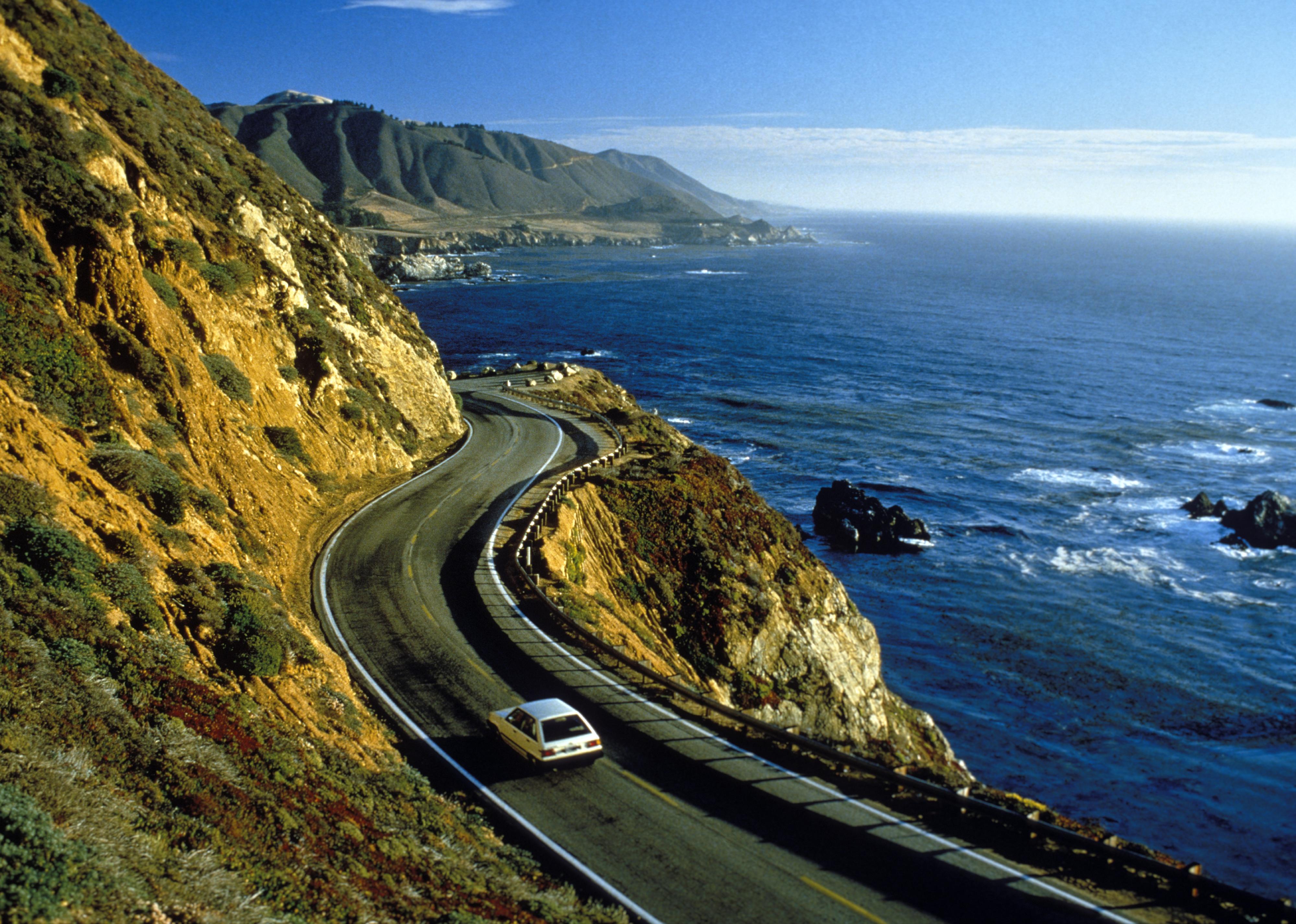 Camerique/ClassicStock // Getty Images
Talk about jaw-dropping views: California's Pacific Coast Highway, constructed in the 1930s, offers some of the most impressive road trip views in all of America. Stretching nearly 660 miles from San Fransisco to San Diego, the stretch can be traveled in just 10 hours, but nearly all travelers suggest drawing out the drive so you can take in all the trip has to offer.
Route 66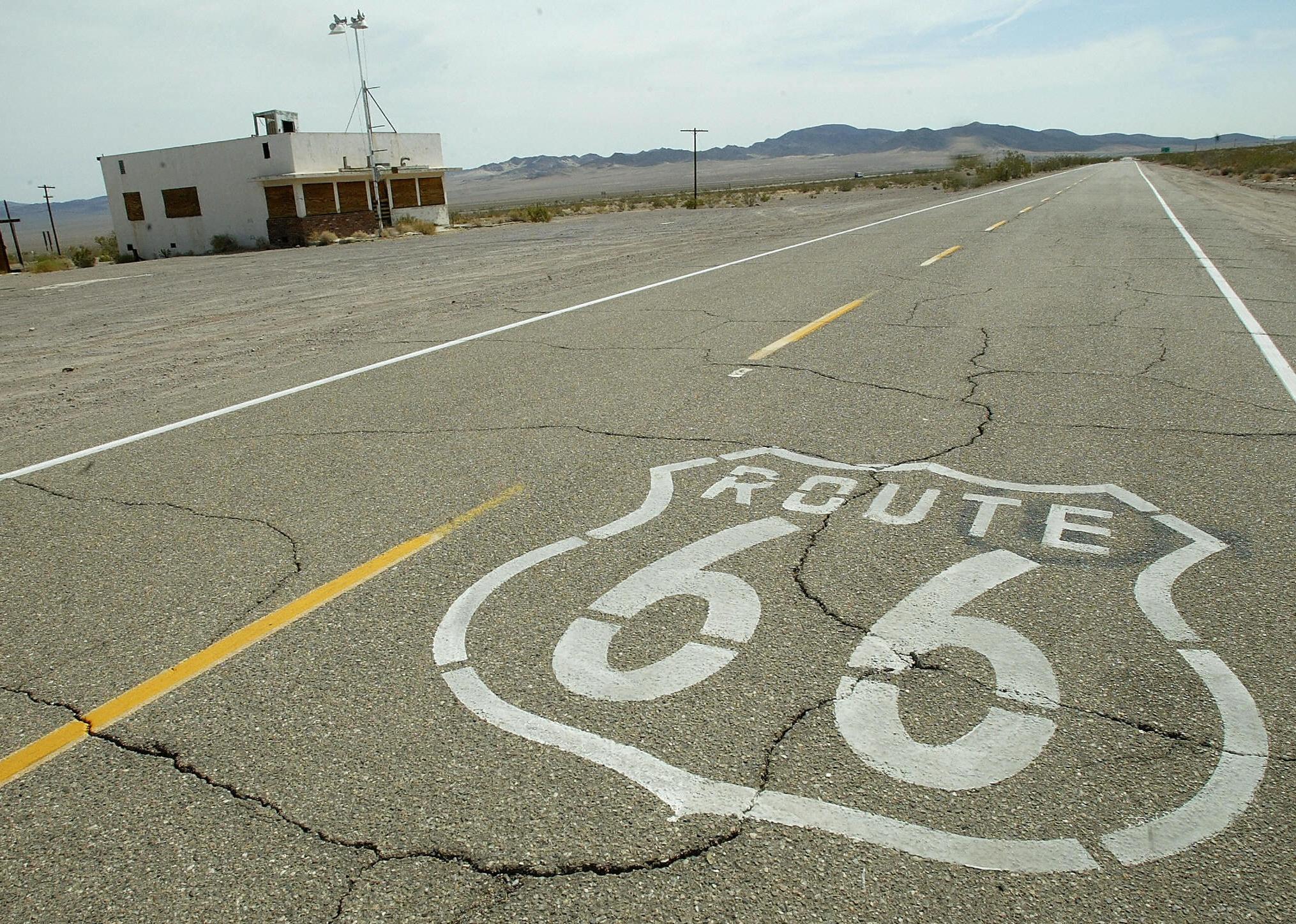 ROBYN BECK // Getty Images
Stretching from Chicago to Los Angeles, Route 66 was once one of America's busiest highways. Today, sections of the road are all but obsolete, utilized primarily by nostalgia-minded tourists.
Modern self-service stations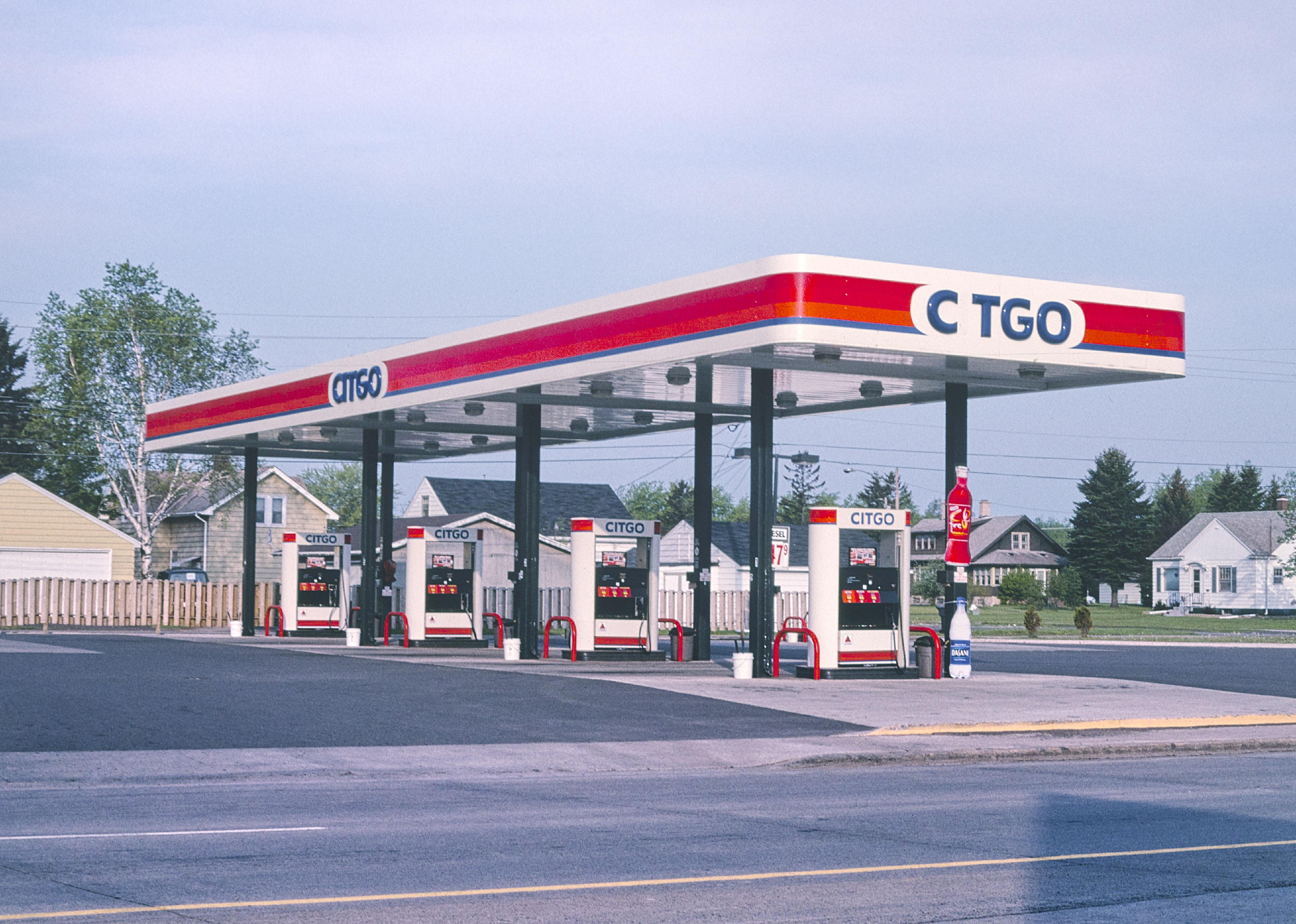 Universal History Archive // Getty Images
A modern-looking gas station awaits travelers alongside Route 2 in Wisconsin.
Interstate 95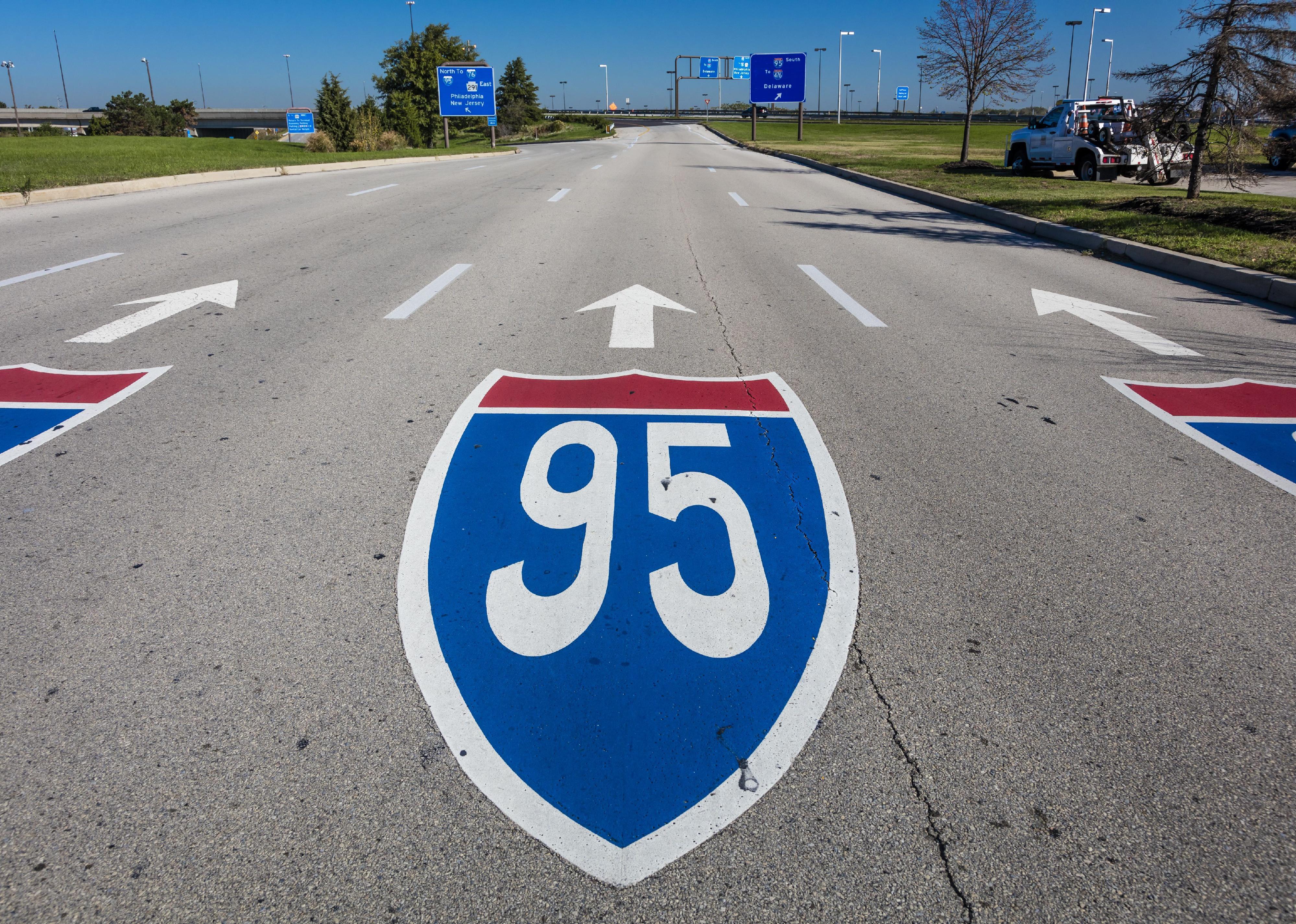 Joe Sohm/Visions of America // Getty Images
Interstate 95 is the East Coast's primary highway. Stretching from Florida to Maine, road trippers looking to drive the length of the Atlantic Coast will spend most, if not all, of their trip on this interstate highway.
Crossing the Rockies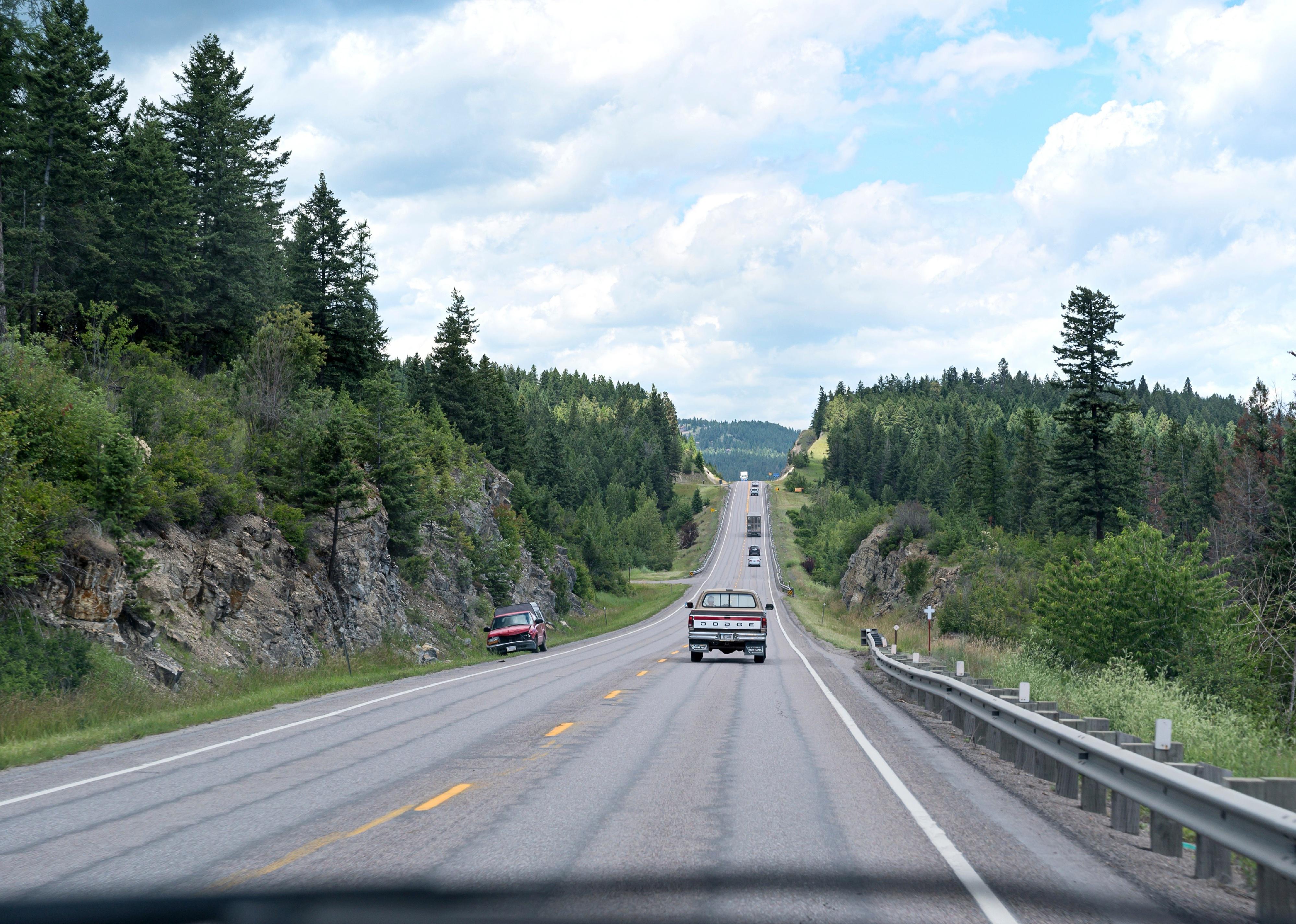 Prisma by Dukas // Getty Images
Travelers head through the most famous mountain range in the United States—the Rocky Mountains. With hundreds of peaks, some of which reach 14,000 feet, there are incredible views along the entire range of the Rockies.
This story originally appeared on CheapInsurance.com and was produced and distributed in partnership with Stacker Studio.