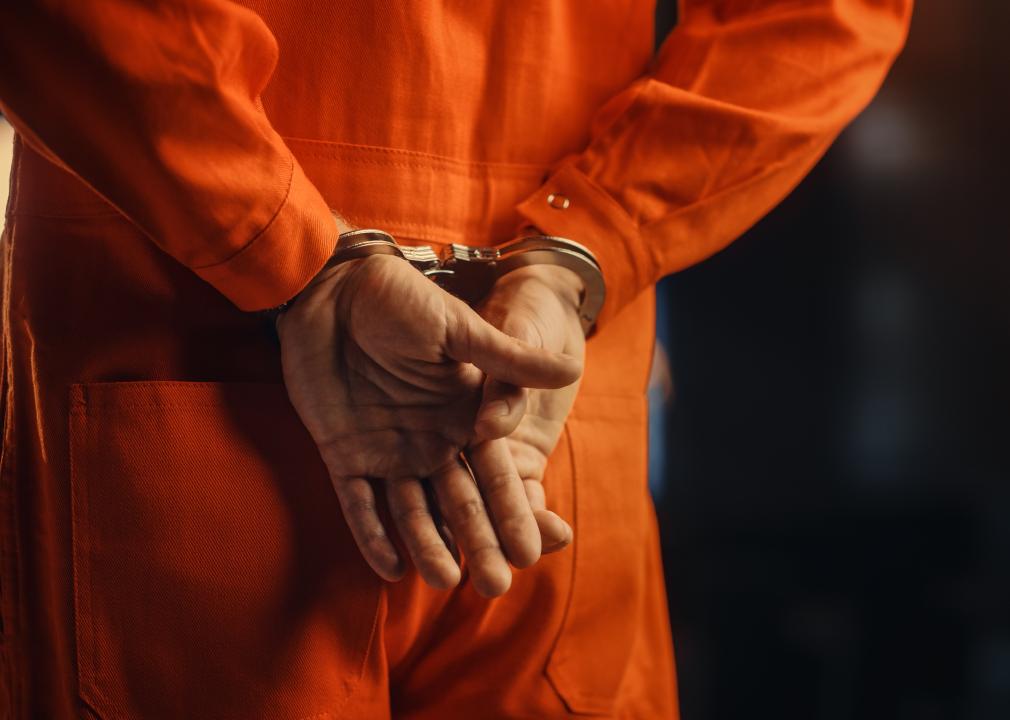 Gorodenkoff // Shutterstock
Human trafficking is a complex crime to quantify and even more difficult to root out.
The most trusted studies say around 27.6 million people globally are victims of human trafficking, unable to choose where they live or work. However, experts suggest there may be far more human trafficking victims in the U.S. than officials, scholars, and activists have been able to count.
Spokeo analyzed news reports and data from the Department of Justice to illustrate ways high-tech tools are used to catch traffickers and help victims, sometimes with the collaboration of the technology companies behind them and often by making more data available to law enforcement.
Human trafficking encompasses more than just forced sex work; it also includes other forms of forced labor. The Department of Homeland Security defines human trafficking as the use of violence, fraud, or coercion to force someone into work or commercial sex acts. Sex trafficking and forced labor generate an estimated $150 billion in profit for traffickers and those who aid them, whether employers or private individuals.
U.S. Assistant Attorney General Eric Dreiband put the problem simply in a 2019 address at the National Human Trafficking Summit, describing human trafficking as "the trading in human beings that slave traders and 'masters' engaged in to exploit other human beings for compelled servitude."
The nation's anti-trafficking efforts are part of "our nation's long and complex fight to remove the stain of slavery from our country," he said.
Today, the ongoing climate crisis and the conflict in Eastern Europe and the Middle East serve as factors that could make many more people, like refugees of war, vulnerable to trafficking.
Economic factors like China's Belt and Road Initiative, aimed at dominating manufacturing across more than 100 countries, and the global push for green energy have created circumstances that could increase the potential for forced labor and coerced commercial sex nationwide, according to a 2022 State Department report.
Prosecutors' ability to put traffickers behind bars grew over the last decade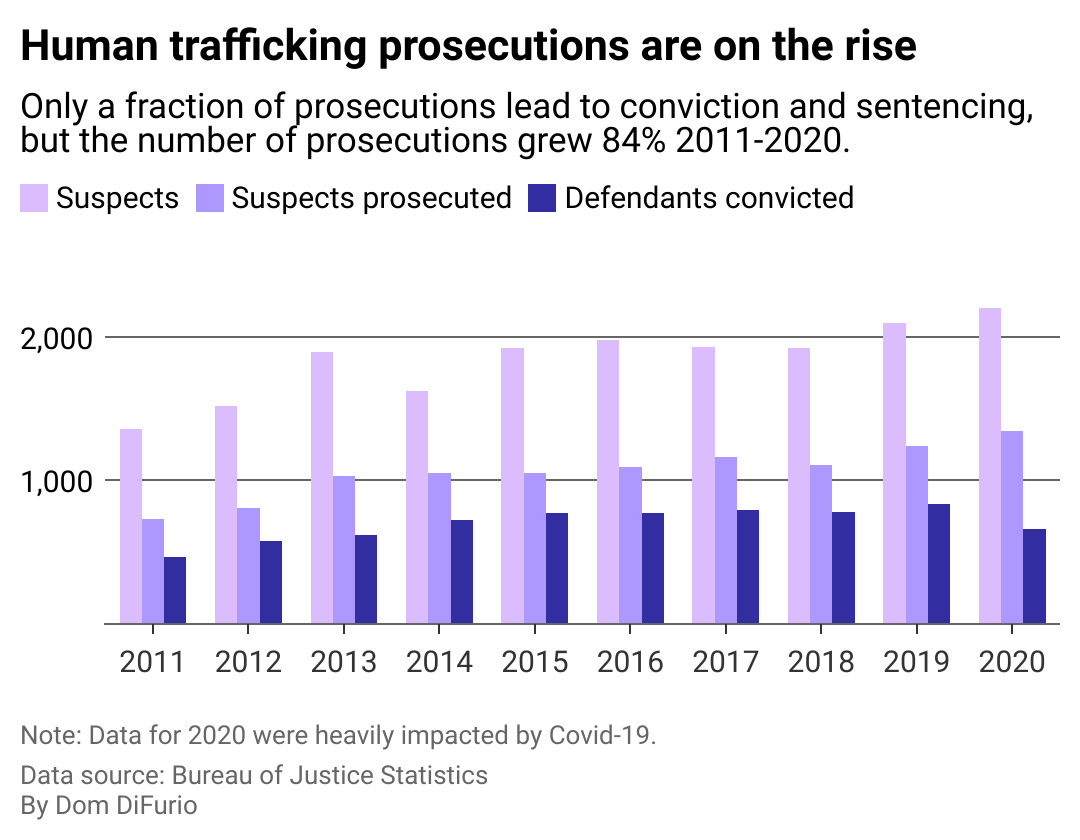 Dom DiFurio // Spokeo
Attorneys with the Department of Justice increased the number of cases they prosecuted against suspects in human trafficking cases from 2011 to 2020, according to the most recent data from the Bureau of Justice Statistics.
Law enforcement faces challenges in prosecuting this modern-day slavery, including vulnerable populations reluctant to cooperate, hard-to-identify networks of criminals, and a lack of actionable public data..
State officials around the country continue to implement laws that might give investigators the upper hand in these cases. For example, legislation signed recently by New York Gov. Kathy Hochul requires airports and bus and truck stops to provide information to the public about efforts to fight human trafficking. The hope is that victims might see the information and alert authorities to their situation.
Tech companies, too, have been contributing new weapons in the fight against trafficking over the past decade, with government encouragement. As gatekeepers of the software that connects so many of our daily activities and employment data, the private sector is often closest to the victims and perpetrators of trafficking and can develop internal controls and measures to prevent it, the State Department said in its most recent annual Trafficking in Persons Report.
Image recognition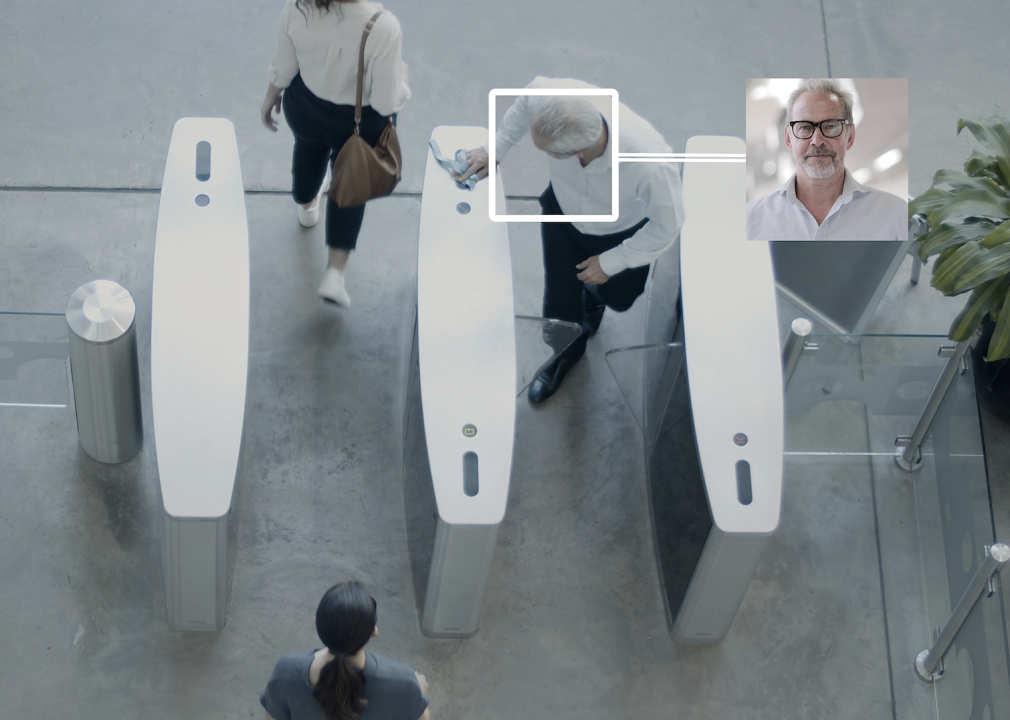 ReeldealHD // Shutterstock
Image recognition technology has become more ubiquitous since Google first made its reverse image search available to the public in 2011. Today, experts say it can identify unique patterns like tattoos and birthmarks, which can help spot trafficking or its perpetrators. Researchers also pull qualitative data like name tags, skin tone, and hair length into databases so that it is searchable.
Microsoft partnered with Dartmouth College in 2009 to launch a tool called PhotoDNA, which assists police departments in identifying potential suspects and trafficking victims. Clearview AI has also provided tools to law enforcement.
The technology is imperfect and not free from criticism, however.
In 2018, the American Civil Liberties Union of Northern California found that Amazon's facial recognition technology system, called Rekognition, falsely identified 28 members of Congress as matching people in its database of criminal mugshots. The recognition software's basis is machine learning models trained by humans.
IBM released public datasets for corporations to train algorithms on that contain images of people of varying races and ethnic backgrounds after researchers at the Massachusetts Institute of Technology found commercial versions were less accurate at identifying people other than white men.
Natural language processing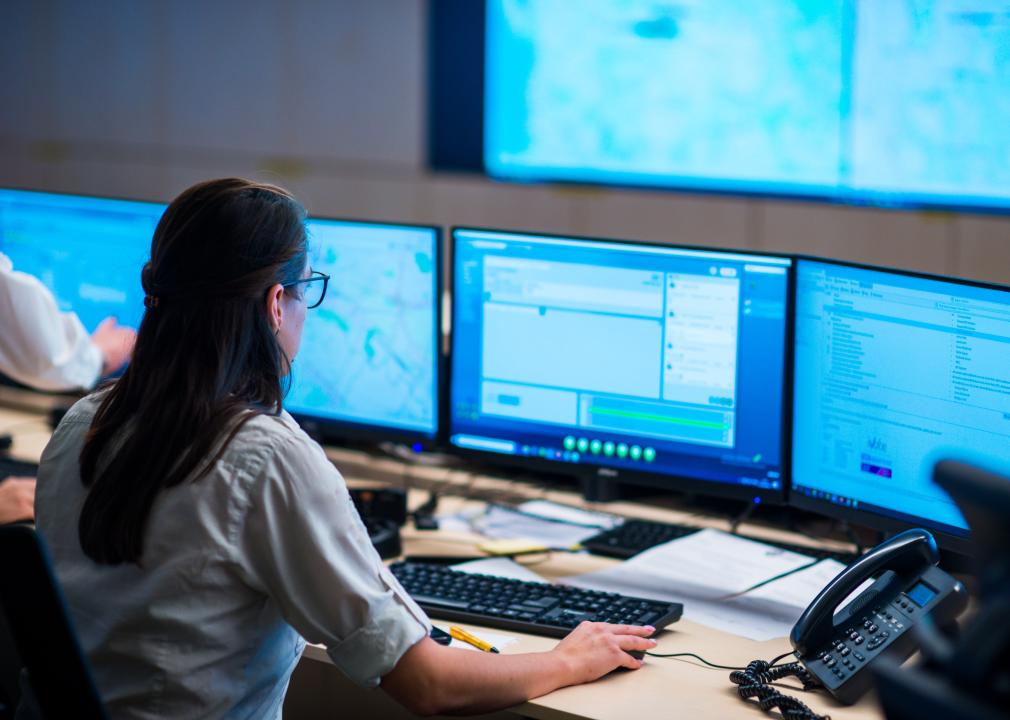 Gorgev // Shutterstock
Experts at MIT have been working to find creative, tech-forward ways to identify trafficking ever since one of the largest platforms for the trading of humans, Backpage.com, was taken down by law enforcement in 2018. The researchers study criminal networks' advertising language and train large language learning models to point investigators toward signs of crimes fragmented across the broader internet.
Scraping advertisements in an attempt to identify trafficking victims has resulted in the targeting of consenting sex workers, too, whose work remains criminalized at the federal level. These software suites intended to avoid child exploitation have received ethical backlash in recent years, leading Amazon to forbid the use of some of its proprietary software by law enforcement.
Anti-money laundering programs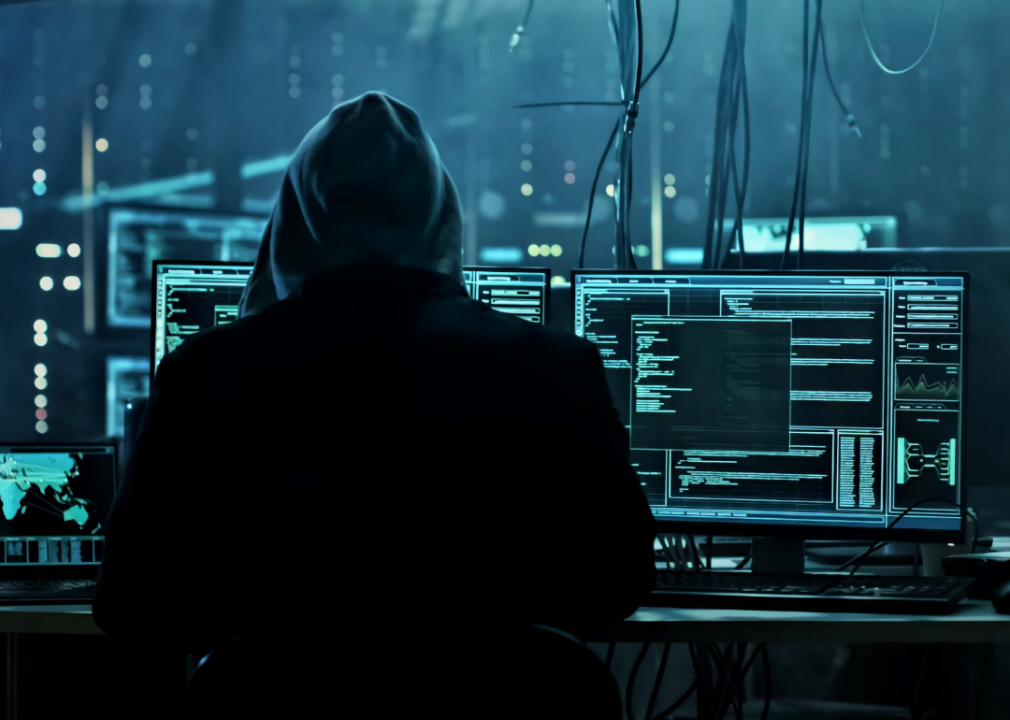 Canva
Human trafficking is a profitable enterprise, but all that money can attract attention from the government and banks. New technologies have also worked to help traffickers hide their activities.
In particular, cryptocurrency has grown in popularity since Bitcoin was introduced in 2010, making anonymous payments easier than ever. Congress' investigative arm found that suspicious activity reports filed with the Financial Crimes Enforcement Network about illegal trafficking of drugs and cryptocurrency "increased fivefold" from 2017 to 2020 and that federal agencies have inadequate data to measure the true scope of crypto's use in the trafficking of both humans and illegal drugs.
The same Government Accountability Office report cites a report from the nonprofit human trafficking organization Polaris, which found that cryptocurrency was the second most common payment method on dozens of online commercial sex platforms where trafficking victims can be among the providers of advertised services.
But technology companies are trying to help detect illegal transactions, too. Silicon Valley-based cryptocurrency analytics firm Ciphertrace is among the firms that have partnered with financial institutions, providing tools for detecting illegal activity through transaction logs. Mastercard ultimately acquired the company in 2021.
Story editing by Jeff Inglis. Copy editing by Kristen Wegrzyn. Photo selection by Clarese Moller.
This story originally appeared on Spokeo and was produced and distributed in partnership with Stacker Studio.