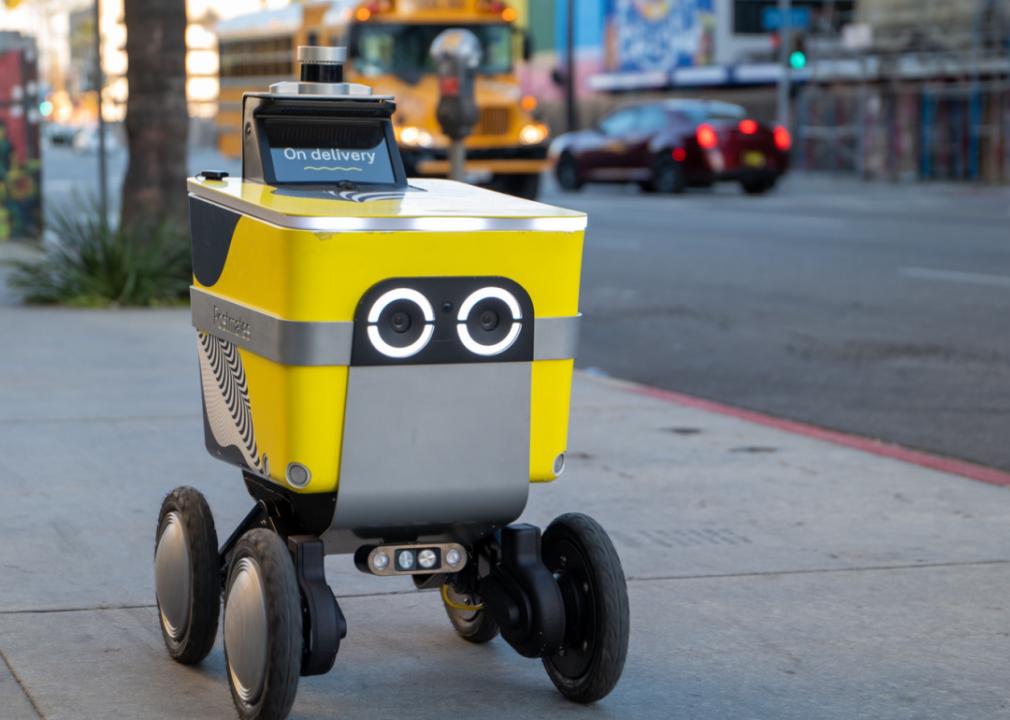 Austin Nooe // Shutterstock
In a March 2023 Deloitte survey, 47% of Americans said they would order from a restaurant that delivers food with a drone or an autonomous vehicle. That's up 3 percentage points from the company's 2021 survey about restaurant trends.
In that first survey, researchers noted there was "massive uncertainty in the industry, and many worried that restaurant patronage might never recover" from the COVID-19 pandemic. It found that two-thirds of consumers believed they would not immediately return to their pre-pandemic restaurant habits.
In 2023, most restaurant customer behavior is back to normal—though some changes have blended into the industry's practices. Task Group analyzed the state of autonomous delivery systems, both nationally and internationally, to measure the progress of this technology post-pandemic.
As with other industries, technology has helped maximize efficiency and improve customer satisfaction. Business owners learned new service methods, marketing strategies, and technical terminology. Food delivery skyrocketed during lockdowns, making greater strides in restaurant efficiency and, in some cases, profits. Many restaurant owners connected apps that allowed customers to order without talking to a human to state-of-the-art delivery systems that don't require a driver.
Restaurants and transportation companies in North America and Europe are experimenting with new automated delivery techniques that can reduce their costs as long as they do not compromise customer satisfaction. And consumers are ready—but how soon will it become standard practice?
What are drones and sidewalk delivery vehicles?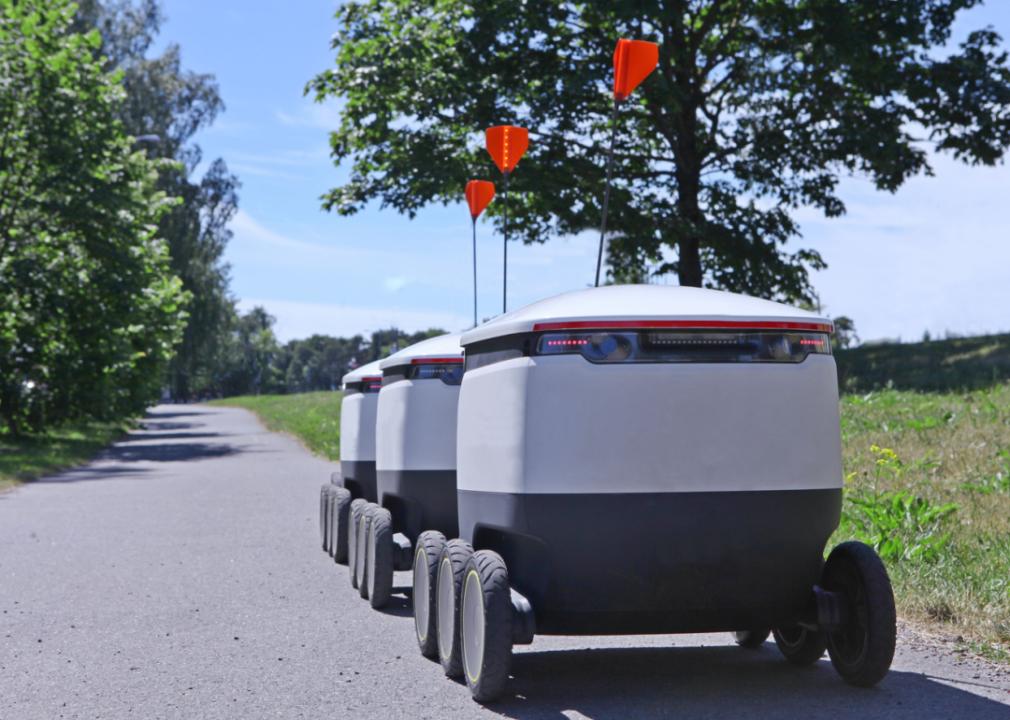 Julija Sh // Shutterstock
The robots most commonly used in the food delivery industry are aerial drones and wheeled autonomous delivery vehicles that travel along sidewalks to reach customers.
Drones are classified by how they generate lift—with fixed wings, rotors, or a combination—by how they're used, such as food delivery, and what equipment they have on board, including batteries and cameras.
In the U.S., the Federal Aviation Administration regulates drone use. The agency requires pilots to be certified—and bans drones within five miles of airports.
For many years, the FAA stood in the way of companies seeking to use drones for deliveries, but in 2019, the agency agreed to allow uncrewed delivery flights beyond the pilot's line-of-sight by UPS and Wing Aviation, owned and operated by Google's mothership Alphabet. Since then, the agency has approved drone delivery operations for several companies, including Amazon and Walmart.
According to a study published by the Harvard Kennedy School in 2022, autonomous delivery vehicles are not the future. They're already here. Self-driving machines about the size of a large cooler are already traveling down our sidewalks and crosswalks to deliver various packages.
Policymakers question how these vehicles will work and interact with people and other vehicles in already congested and chaotic urban environments. The Harvard researchers believe these vehicles "offer the promise of less congestion and greener shipments," but also "raise concerns about safety and use of road and sidewalk infrastructure."
While the debate continues, the manufacturers of these robots continue to advance their technology, including using machine learning to improve navigation, efficiency, and safety.
How far off are drone or sidewalk deliveries?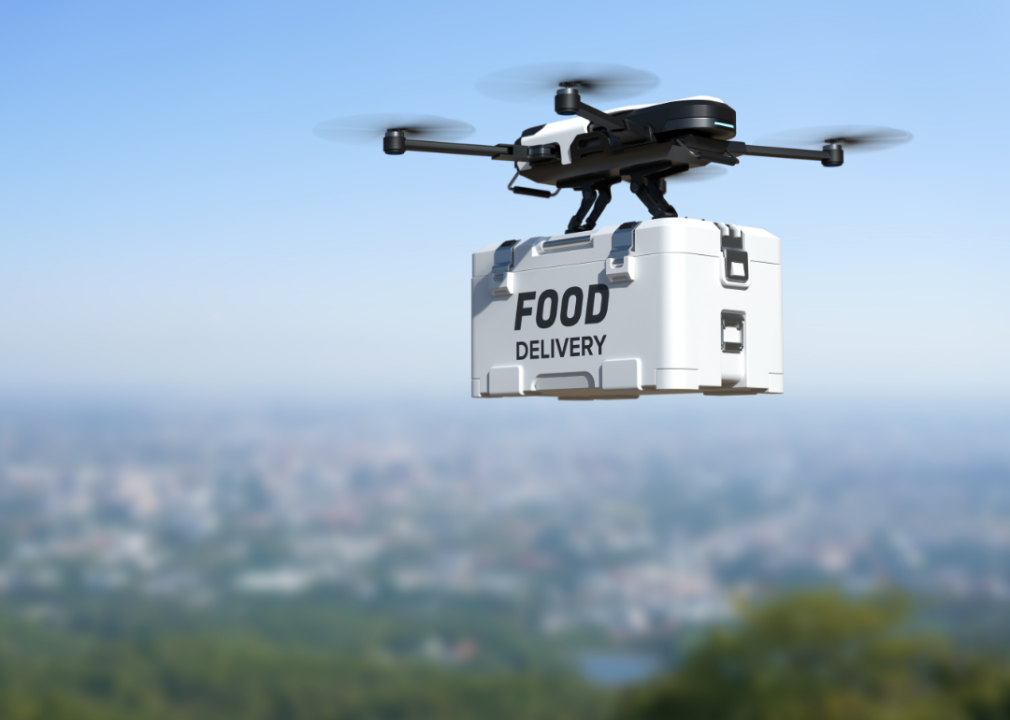 Canva
Estonia-based delivery startup Bolt, working with Starship Technologies, has been trialing sidewalk deliveries in Estonia, the U.K., and the U.S. and plans to formally launch robot deliveries later this year in as many as 500 cities in 45 countries.
Bolt's main competitor, Uber, signed a deal in 2022 with autonomous vehicle startup Nuro "to test driverless food deliveries" in Mountain View, California, and Houston, Texas. Before the agreement, Uber ran a pilot program for sidewalk delivery in Los Angeles, while Nuro delivered Domino's pizzas in specific areas of Houston for a year. 
Story editing by Jeff Inglis. Copy editing by Kristen Wegrzyn.
This story originally appeared on Task Group and was produced and distributed in partnership with Stacker Studio.