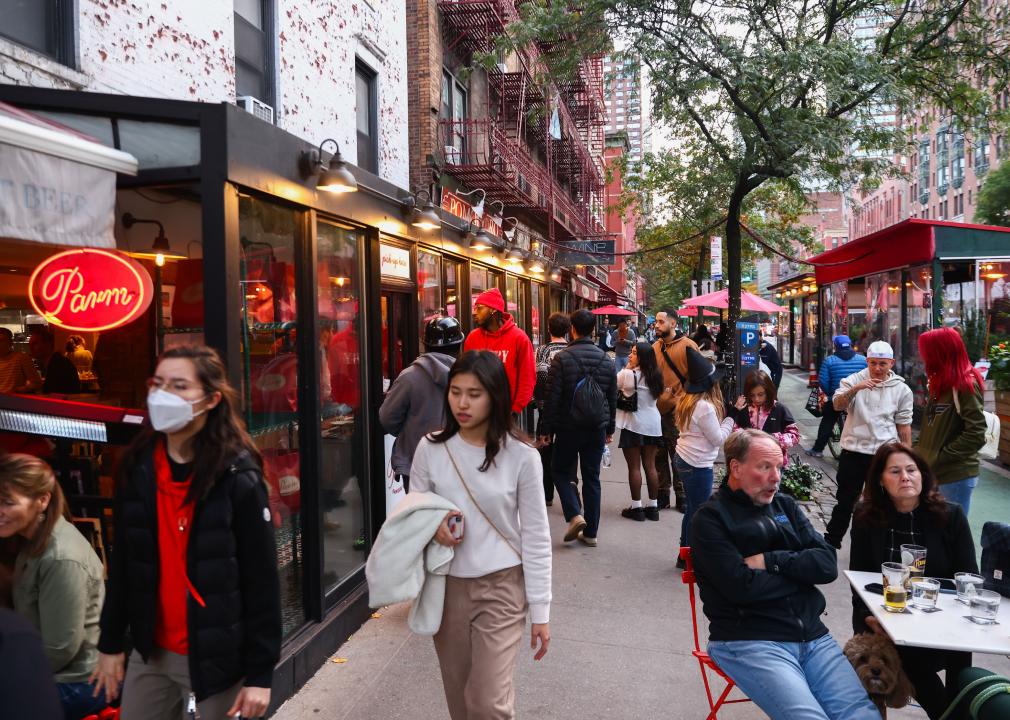 Beata Zawrzel/NurPhoto // Getty Images
Rapidly rising prices have made eating out about 25% more expensive in 2023 than it was before the COVID-19 pandemic, according to Bureau of Labor Statistics data, making finding the right spot for date night all the more important.
However, consumers these days aren't using review-specific sites to find the best options; a simple Google search is actually the preferred way for Americans to find new restaurants online.
That's according to a Task Group analysis of PYMNTS data identifying the top platforms through which people search for restaurants. The data originated from PYMNTS' May 2023 survey of more than 2,200 consumers across the U.S.
At least 3 in 5 consumers (62%) said they used Google when looking for a fresh spot to chow down. The next most popular platforms were Facebook, YouTube, Instagram, and TikTok.
The PYMNTS study also found a generational difference in how Americans discover restaurants. Not all of them are going straight to the source. Millennials are more likely to get restaurant information from the restaurant's website itself, whereas Gen Z is more likely to learn about restaurants through social media influencers. On the other end of the generational spectrum, just 5% of baby boomers report following content creators who share reviews of places to eat.
All diners, however, are more likely to order from establishments with positive reviews, emphasizing the importance of restaurants' online presence in the digital era.
Google and common social media platforms round out the top 5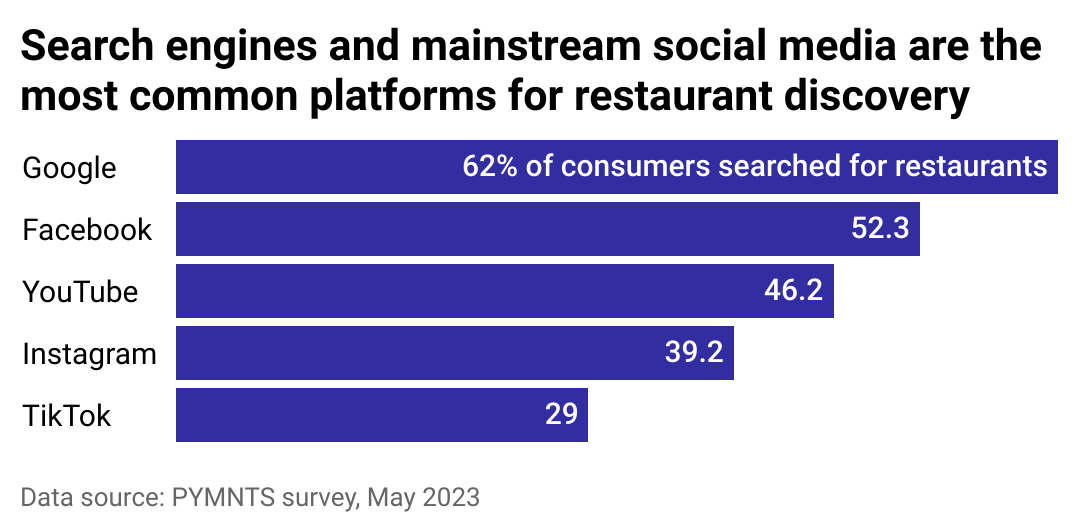 Task Group
Generational differences aside, most consumers report using at least one social media site in their discovery habits. One in 3 consumers reported using the massively popular platform TikTok to find new eating establishments.
Some habits are hard to break, and for those accustomed to Googling nearly everything, the site remains a go-to for food. But the data is also revealing about which platforms are no longer as useful to consumer as they once were.
Along with travel app Tripadvisor, Indian delivery and restaurant aggregator Zomato, and social platform Pinterest, Yelp brings up the rear among platforms favored by consumers when they're searching for grub.
It was once a tech darling and popular platform for reviewing businesses but is favored today by just 12% of consumers, according to PYMNTS. In what is partially a testament to Google's largesse in the advertising space, Yelp started foundering in 2018 after Google changed its search algorithm in a way that negatively impacted the service. In the aftermath, the company's advertising struggled and sales representatives began leaving the company.
Story editing by Ashleigh Graf. Copy editing by Paris Close. Photo selection by Lacy Kerrick.
This story originally appeared on Task Group and was produced and distributed in partnership with Stacker Studio.